The Rehearsal Trailer: Nathan Fielder Is Bringing His Brand Of Weird To HBO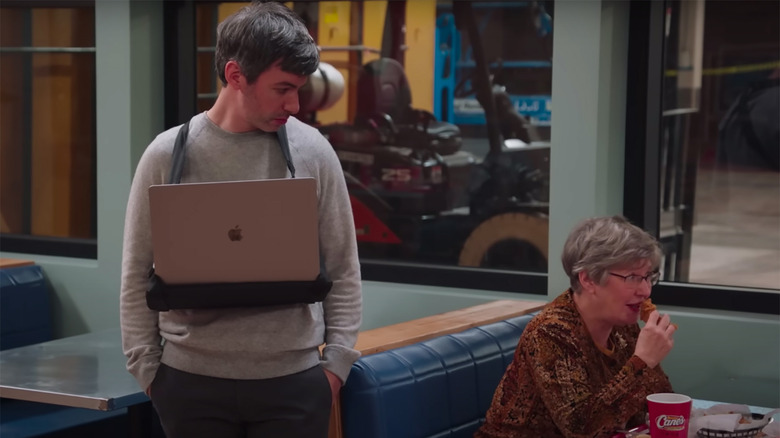 HBO Max
It's unusual when you come across a trailer that makes you wonder about the nature of reality and what the hell you just saw. HBO Max has released a new trailer for the upcoming series "The Rehearsal," and if you're familiar with Nathan Fielder, you might have some idea of what we're about to see. If you don't, here's the deal: Fielder is the star of the docu-parody "Nathan For You," in which he played a fictional version of himself, coming up with bizarre schemes to "help" struggling small business owners. He's the guy who created the viral Dumb Starbucks Coffee store that parodied the coffee shop giant. 
This new seres, which is part of Fielder's 2019 overall deal with HBO, is described like this by Warner Media: 
Nathan Fielder ("Nathan For You," "HBO's How To with John Wilson") returns to television for a new series that explores the lengths one man will go to reduce the uncertainties of everyday life. With a construction crew, a legion of actors, and seemingly unlimited resources, Fielder allows ordinary people to prepare for life's biggest moments by "rehearsing" them in carefully crafted simulations of his own design. When a single misstep could shatter your entire world, why leave life to chance?
That's a lot to take in, particularly since the trailer makes it look like some of these rehearsals don't go very well. Is that the actors freaking out? The real people in the real situations? I need to look away for a moment. It's very cringe-y.
Watch Nathan Fielder's The Rehearsal trailer
I haven't seen a ton of "Nathan For You," because unscripted stuff that isn't a cooking competition makes me very uncomfortable. I could feel myself twisting up in my seat while watching this. That said, "Nathan For You" has a ton of diehard fans, and if this is up your alley, this looks like it will be fascinating. In fact, maybe you folks out there can watch it for me, and tell me what's going to happen. It might be the only way I can watch without turning myself into a pretzel from second-degree awkwardness. 
The idea of rehearsing for a big conversation or life event totally makes sense, despite the fact that I'm a little skeeved out watching it. Every one of us has had a rehearsed conversation in the shower or in the car, trying to psyche yourself up for a significant social interaction. Maybe you've even written out a conversation or practiced for as many responses to big news as you can come up with. It's actually a helpful tool to practice, and rehearse what you might say. I just don't want to watch other people do it, especially when Nathan Fielder is actively trying to make things as unsettling as possible. But I know "The Rehearsal" will make plenty others very happy..
"The Rehearsal" is executive produced by Fielder, who also writes and directs the episodes. Christie Smith and Dan McManus will produce through Rise Management. The show will premiere on HBO and HBO Max on July 15, 2022.