The Rehearsal Teaser: Nathan Fielder Prepares For Life's Biggest Moments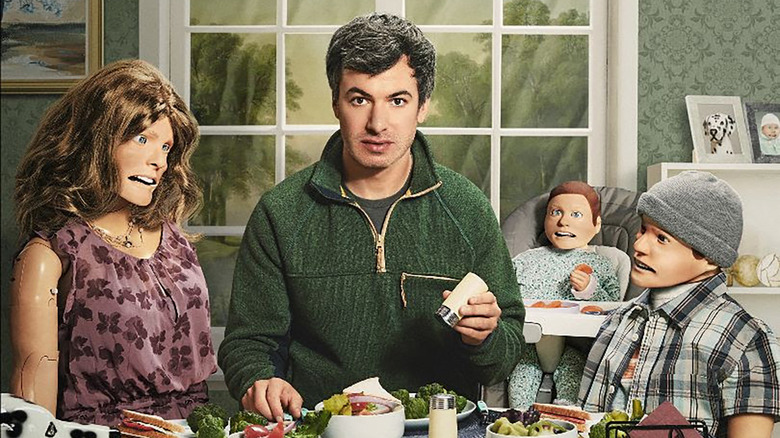 HBO
If you're anything like me, you've probably rewatched Nathan Fielder's Comedy Central reality series "Nathan For You" about a hundred times now while waiting for something, anything, more from the hilarious comic. I'm pleased to be the one to tell you that something new is finally on the horizon.
A new comedy series called "The Rehearsal," starring Fielder, is coming to HBO — and, of course, will be available to stream on HBO Max — on July 15. This week, Fielder shared the first teaser for the series on Twitter with the caption, "very soon." The sneak peek features Fielder and others watching CCTV feeds of a woman playing with a cooing baby in a crib. After the title card is displayed, the only other information we get about the series is that it is "coming soon." According to WarnerMedia, "The Rehearsal" is: 
A new series that explores the lengths one man will go to reduce the uncertainties of everyday life. With a construction crew, a legion of actors, and seemingly unlimited resources, Fielder allows ordinary people to prepare for life's biggest moments by 'rehearsing' them in carefully crafted simulations of his own design.
Sounds intriguing! Check out the cryptic teaser below.
A new Nathan Fielder jawn
Considering how smart and hilarious Fielder's first entry into television was, I have equally high hopes for "The Rehearsal." Not only was "Nathan For You" a unique show in general, the specificity to Fielder's comedic style catapulted him to an almost viral status, especially where certain episodes were concerned. His parody location of a Starbucks built for the show — known as "Dumb Starbucks" — was a sensation, and got a lot of people eagerly watching the series. His project was later allegedly shut down by Los Angeles County Department of Health Services, though the governing body claims they have no record of actions taken. Starbucks even nearly took action against Fielder, but ended up standing down. Parody law is pretty strong, after all, and clearly, it makes for some great entertainment.
Fielder will executive produce, write, direct, and star in "The Rehearsal." The comic is also set to star in the upcoming comedy series "The Curse," which he co-created with Benny Safdie and will also feature Emma Stone.
"The Rehearsal" premieres Friday, July 15, 2022, on HBO and HBO Max.