Clips Round-Up: Chris Pine In Doula, The Enormity Of Life Trailer With Breckin Meyer & More! [Exclusive]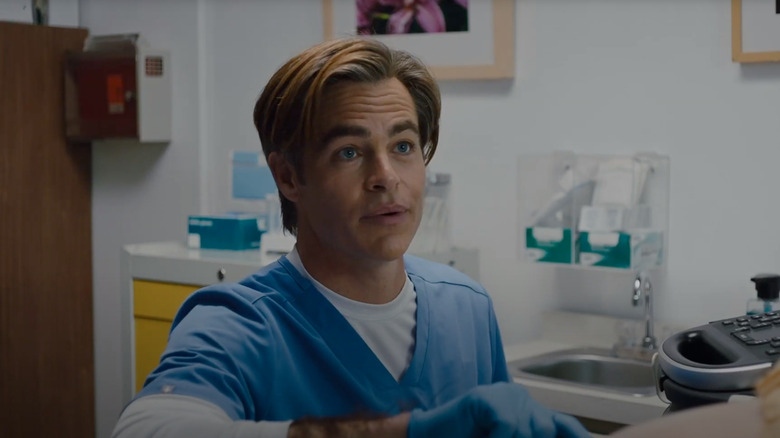 Universal Pictures
(Welcome to SlashClips, a series where we bring you exclusive clips from hot new Digital, Blu-ray, and theatrical releases you won't see anywhere else!)
In this edition:
"The Enormity of Life"
"Doula"
"The Road to Galena"
"11th Hour Cleaning"
"Neon Lights"
The Enormity of Life
First up we have an exclusive trailer for "The Enormity of Life," a drama starring Breckin Meyer and directed by Eric Swinderman ("Made in Cleveland"). The film ⁠— which opens via Virtual Cinema, VOD and digital on July 22, 2022 ⁠— was nominated for Best Feature at the 2021 Paris Art & Movie Festival, where Meyer captured the Best Actor award.
Here is the official synopsis: 
After his life hits rock bottom, emotionally despondent Casey (Breckin Meyer, "Happily," "Clueless," "Road Trip") decides to end it all. But when a timely phone call with some unexpected news about a substantial inheritance forestalls his suicide, it sets off a chain of events that just may save his life including meeting a quirky single mother (Emily Kinney, "The Walking Dead," "The Flash") and her precocious, yet troubled, young daughter (Giselle Eisenberg, "Life in Pieces," "American Housewife"), who happens to have an unhealthy obsession with mass shootings. When his bipolar mother goes missing, Casey enlists their help, along with his selfish, estranged sister, Missy (Debra Herzog). And together, through numerous jarring twists and emotional turns, they embark on a journey of hope and healing in "The Enormity of Life," a tender, poignant dramedy about life, love and the pursuit of lost innocence.
Doula
Next up is an exclusive clip from the Chris Pine-produced comedy "Doula," starring Troian Bellisario and directed by Cheryl Nichols. It is now available from Universal Pictures on all digital platforms.
Here is the official synopsis:
Troian Bellisario ("Pretty Little Liars") stars in this delightfully dry and witty comedy about a pregnant couple who reluctantly hires a male doula, from director Cheryl Nichols ("Cortez"). After dating for a matter of months, thirty-somethings Deb (Troian Bellisario) and Silvio (Arron Shiver) are expecting their first child. When thSeir elderly midwife, Penka, passes away suddenly, Silvio makes the hasty decision to hire Penka's son, Sascha (Will Greenberg), as their live-in doula. Deb is nonplussed, as Silvio didn't consult her before hiring, but before long, Sascha's unconventional style wins her over. As Deb and Sascha grow closer, and the pregnancy nears its inevitable conclusion, Silvio starts to feel like the odd man out. His continued efforts to exert control over the pregnancy lead to a blow-up fight in which he forces Deb to choose between him and Sascha. Rounding out the cast is Chris Pine, who stars as Deb's doctor, with Amanda Walsh, Ally Maki, Elyse Levesque, Alex McKenna and Robert Baker.
The Road to Galena
Vertical Entertainment has provided us with an exclusive clip from the drama "The Road to Galena," written and directed by Joe Hall. The film is out in theaters and on VOD on July 8, 2022.
Here is the official synopsis:
"The Road to Galena" follows one man's pursuit of personal fulfillment over traditional success. Cole Baird (Ben Winchell) has everything – a beautiful wife, successful career, large home and fancy toys. Behind the facade, however, is a man trapped by his surroundings and falling ever behind in the pursuit of his life's dream. Not strong enough to confront his father's expectations, he left his true love, his best friend and a fulfilling small-town life to embark on a legal career – intent, one day, to return. Now the rising star in Washington social circles and the youngest managing partner in the history of a powerhouse D.C. law firm, Cole is given the choice to continue the path of success in a life to which he never aspired or to return to the community that nurtured him.
11th Hour Cleaning
Next up is an exclusive clip from the horror film "11th Hour Cleaning." Directed by Ty Leisher in his feature directorial debut, the film comes out on DVD, digital, and video-on-demand today.
Here is the official synopsis:
Chloe Brooks ("Embed"), Eddie Finlay ("2 Fast 2 Furious"), Anita Leeman-Torres ("Speed Kills"), Ed Morrone ("Final Kill") and Dave Baez ("Dexter") star in the horror film about a group of crime scene cleaners who struggle to escape a murder house. After becoming trapped by an ancient Nordic demon hell-bent on driving them insane, they must face their most personal regrets and fears through horrific hallucinations. As they uncover what truly happened to the murder victims, they struggle to escape their own deaths by finding and destroying pieces of a relic from Norse mythology that gives the demon power. 
Neon Lights
Finally, Momentum Pictures has provided us with an exclusive clip from the horror thriller "Neon Lights," starring Dana Abraham, Brenna Coates, Brit MacRae, Stephen Tracey, Rene Escobar Jr, Erika Swayze, Lauren Howe, and Kim Coates. It arrives on demand and digital on July 12, 2022.
Here is the official synopsis:
Guests begin disappearing in an off-grid location, during a family reunion of misfit siblings and their offspring.