Jack Lemmon's 'Worst' Career Moment Would Be Any Actor's Nightmare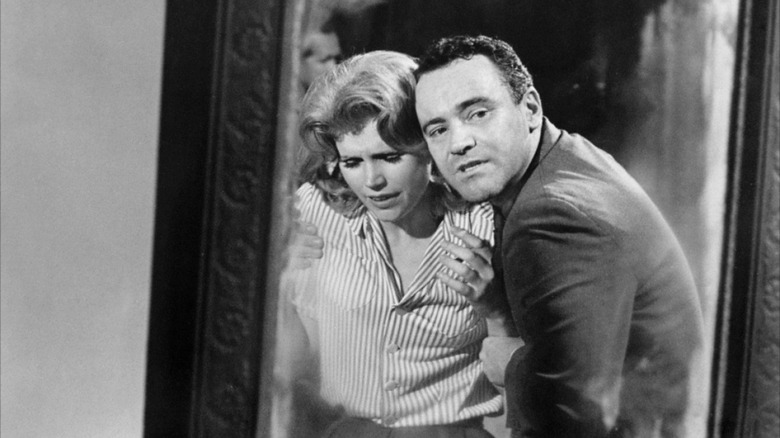 Warner Bros.
In addition to being one of the greatest actors of his generation, Jack Lemmon was also one of the more prolific. From the start of his film career in 1954 up until his appearance in Blake Edwards' "Days of Wine and Roses" in 1962, Lemmon appeared in 18 feature films, excellent in each one. By 1962, Lemmon had also appeared in multiple Hollywood classics, including the deliciously genderqueer "Some Like it Hot" and the heartbreaking and glorious "The Apartment," both for his longtime collaborator Billy Wilder. 
"Days of Wine and Roses" was a more downbeat affair than some of Lemmon's comedy films, examining the struggles associated with alcoholism and detoxification. Lemmon plays a PR executive who, along with his eventual wife (Lee Remick), find themselves engaging in more and more "social drinking" until they are drunk most of the time and losing their ability to function. He is fired. She starts fires. Eventually, Lemmon finds himself in rehab while Remick stays enslaved to the bottle. The ending is difficult and tragic, acknowledging that alcoholism is a disease and a constant struggle. "Days of Wine and Roses" makes a good companion piece to Wilder's own alcoholism drama "The Lost Weekend," which won the Academy Award for Best Picture in 1945. "Roses" scored Oscar nominations for Lemmon and for Remick. 
Working on "Roses" wasn't the most pleasant experience for Lemmon and, in a 1983 appearance on "The Tonight Show," he revealed that a certain scene in the movie was one of the more physically grueling experiences he had to endure. He described to host Johnny Carson the horrors of the greenhouse scene ... and that he need to do it more than once.
The greenhouse scene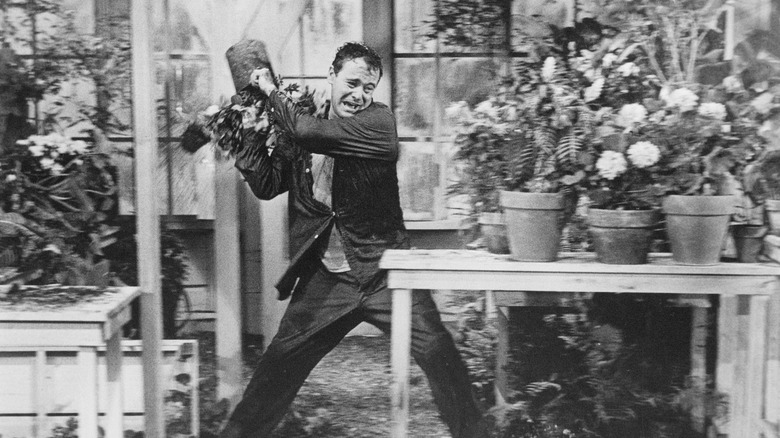 Warner Bros.
Johnny Carson handily describes the scene to his "Tonight Show" audience: Lemmon's character has fallen off the wagon, and he goes to his greenhouse to find a bottle of whiskey he had stashed in one of the potted plants. Only Lemmon can't quite remember which potted plant the booze was hidden in, and — in an extended sequence marked by two unbroken shots — he grows frustrated to the point of smashing things. According to Lemmon's response, the length of the takes was utterly grueling:
"It was the worst experience I've ever had, professionally. And it's the only time it ever happened to me. But, the only way you can do a scene like that, you can't pick it up in the middle. And Blake Edwards, the director — who did a marvelous job in it — very wisely only had one cut. But even in the second half of it, we would go back and start it all over again in the very beginning, so that you could get into it. So by the end of the day — we took a whole day — I was totally exhausted but completely elated because I really felt I had done the best work that I could possibly do."
The greenhouse scene was a challenge, but one Lemmon felt he was not only equal to, but met with aplomb. Lemmon recalls the pride he took in his work, but also the dark, horrifying moment when a bout of bad news forced Lemmon to do the entire scene all over again.
It gets worse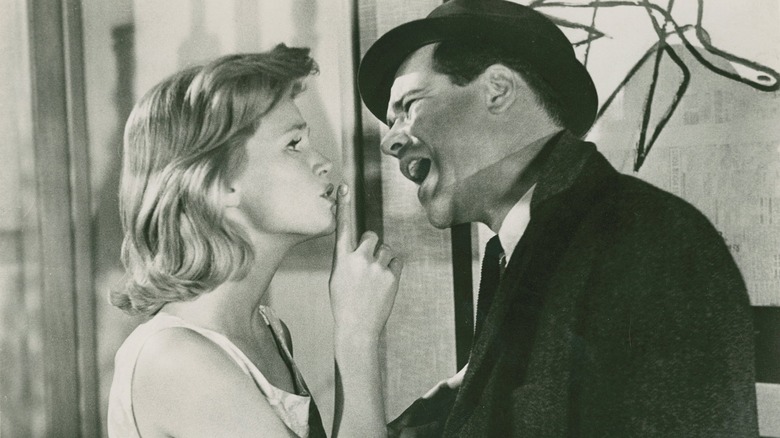 Warner Bros.
Recall that when shooting on 35mm film, prints need to be sent to the lab to be developed before the filmmakers could view the dailies and see how they turned out. The dailies — the rushes — would be wound onto reels, and projectionists would have to screen them in private screening rooms back at the studio (digital filmmaking has streamlined the process somewhat). This whole process, however, would sometimes result in lab accidents and the loss of footage — which is exactly what happened on "Roses." Says Lemmon:
"[E]verybody was just thrilled with it, we couldn't wait to come in the next day and see the rushes, to see how it was. And I got in the next morning all ready for the next scene, and I went out on the set and it was like an iceberg. Everybody was just, you know, sitting [depressed] like that. The film had been ruined in the lab. And we had to do it all day long, all over again. And I'll never know whether it was as good as the first crack or not."
The final performance in "Roses" is certainly impressive, but the Lemmon performance lost in the lab may have been — if the actor is to be believed — even better. Regardless, Lemmon received an Oscar nomination, his fourth (including a win in 1956 for "Mister Roberts"). Lemmon did not win the Oscar that year (losing, perhaps fairly, to Gregory Peck in "To Kill a Mockingbird"), but he would win Best Actor in 1974 for "Save the Tiger" and receive three additional nominations beyond. 
Lemmon was always dedicated and relatable and frequently gave his all. "Roses" is one of his more intense performances. It's currently streaming on The Criterion Channel.