Steven Spielberg Changed Vin Diesel's Life With Saving Private Ryan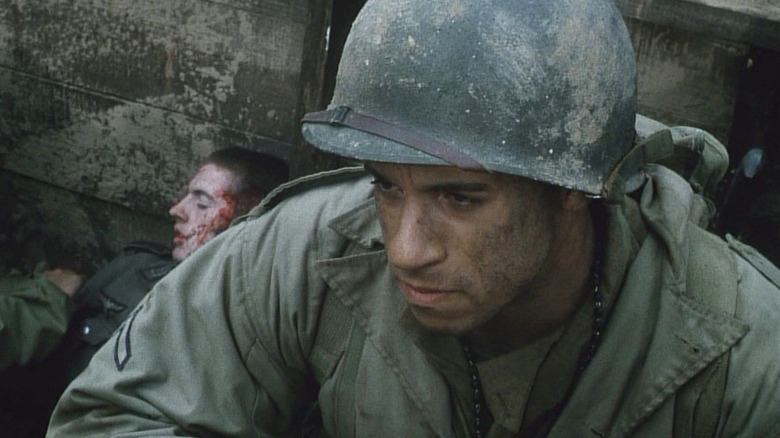 DreamWorks Pictures
Long before he was beefing with The Rock and (allegedly!) driving away directors with his off-screen antics, Vin Diesel was just a humble up-and-comer in Hollywood. His first credited role was in the 1995 short "Multi-Facial," a drama Diesel directed and starred in as a multiethnic actor who struggles to find work due to his appearance (mirroring Diesel's own real-world experience). He would follow that by writing, directing, and starring in the 1997 feature film "Strays." In that case, Diesel drew inspiration from his upbringing in New York City to play a hustler who's searching for a greater purpose to his life.
A year after "Strays" was released, Diesel would find himself on the fast-track to success after playing a small but pivotal role in Steven Spielberg's classic WWII film "Saving Private Ryan." Things didn't slow down from there, either. 1999 would see him lend his voice to the titular character in "The Iron Giant," Brad Bird's critically acclaimed box office bomb-turned-animated cult hit. Then came "Pitch Black" in 2000 and "The Fast and the Furious" in 2001, kicking off two of Diesel's longest-running franchises in the process.
Prior to all that, however, Diesel's career nearly ended before it could really begin. In an interview with the Los Angeles Times to commemorate the 20th anniversary of "Saving Private Ryan" in 2018, Diesel recounted how Spielberg changed the course of his life overnight — somewhat literally — by casting him in the film.
'I'm such a fan of your work'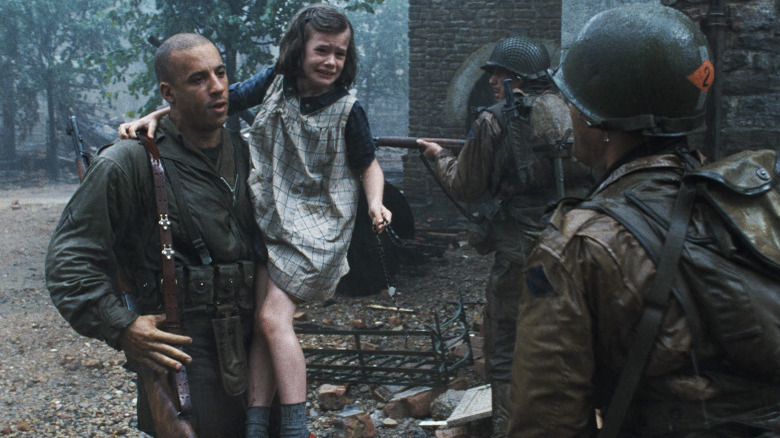 DreamWorks Pictures
As Vin Diesel explained, his failure auditioning for roles as an actor is what led to him making films about his real-life struggles in the first place. He was actually making ends meet as a telemarketer when he got the call from Steve Spielberg about a potential job in 1997. As Diesel remembered it:
"He asked me to meet him on the set of 'Amistad.' And I remember thinking, 'How should I look?' He's writing a role for me based on my being a director, so what do I do here? And what was I going to say to him? I promised myself I wouldn't say something he's probably heard a thousand times, like, 'I'm a big fan of your work.' And, lo and behold, I get in front of him and he says, 'I'm a fan of your work,' and I say, 'I'm such a fan of your work.'"
Spielberg, who wanted to work with Diesel after seeing "Multi-Facial," was clearly charmed by this response. He would go on to cast Diesel as the decent-but-doomed Private Caparzo in "Saving Private Ryan," solidifying him as a talent on the rise. The rest, as the proverbial saying goes, is history, with Diesel evolving into a full-blown action star over the course of the aughts.
In 2020, Diesel told The National about another encounter he had with Spielberg:
"... He had said to me, 'When I wrote the role for you in 'Saving Private Ryan,' I was obviously employing the actor, but I was also secretly championing the director in you, and you have not directed enough. That is a crime of cinema and you must get back in the directing chair.' I haven't directed enough."
I guess there's still "Fast X: Part 2"?