Chris Hemsworth's Spiderhead Dance Was A Moment Of Self-Discovery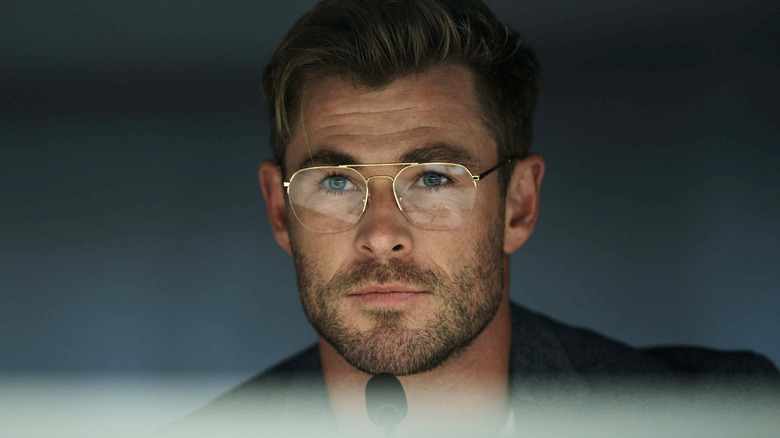 Netflix
Chris Hemsworth's "Spiderhead" character, Steve Abnesti, is a distinctly modern antagonist. He's a CEO who hides his sociopathic outlook behind a casual smile and dudebro attitude, assuring his employees he's "just like them" while not-so-subtly lording his power over those around him. He recalls Nathan Bateman (Oscar Isaac) from "Ex Machina," down to the pair's shared fondness for impromptu dancing.
In Joseph Kosinski's film (adapted by "Deadpool" writers Rhett Reese and Paul Wernick from George Saunders' short story "Escape From Spiderhead"), Abnesti oversees the titular prison. It's a place where convicts allow him to test mood-altering drugs on them in return for reduced sentences and cushy living conditions. But as much as Abnesti is a stickler for getting his subjects to consent to these experiments, he never hesitates to remind them their privileges could all be gone in a flash. Then, just as suddenly, he's grooving to Roxy Music's synth-rock 1982 tune "More Than This," not a care in the world.
"Spiderhead" is the latest entry in the expanding "Evil Chris Hemsworth Dances" universe, coming after his hip-wagging in the 2016 "Ghostbusters" (in his defense, his character was possessed by an evil spirit at the time) and 2018's "Bad Times at the El Royale." The actor touched on this in an interview with Entertainment Weekly:
"I'm building up quite a library of impromptu dance sequences in my cinema. I'm a self-admitted bad dancer and I enjoy taking the piss out of myself."
Adding oddity to Abnesti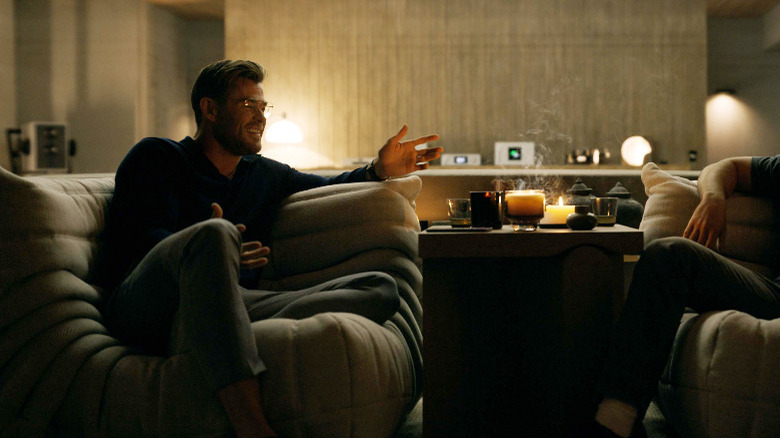 Netflix
Abnesti's "Spiderhead" dance — which Chris Hemsworth insists was neither choreographed nor done at Joseph Kosinski's prodding – and general laid-back demeanor are juxtaposed with his actions, his true intentions becoming clearer and clearer over the course of the film. It's similar to how Kosinski employs songs in the soundtrack, contrasting feel-good hits like Hall & Oates' "You Make My Dreams" with the increasingly dark and dire developments. Certain needle drops can be on-the-nose (see the use of Thomas Dolby's "She Blinded Me With Science"), but, again, Abnesti isn't always discreet about what he's up to, either.
As Hemsworth sees it, his dance was a way of "adding oddity" to his character, making it all the harder for audiences to make heads or tails of him:
"Just when you think you have him pegged and pinned down, [the dance] was a chance to throw people a little bit more. He's not a traditional hero nor a traditional villain, but you often don't get to see what those individuals do in their spare time. And this was, I think, a little doorway into his private life and his world, which then made everything else he was doing seem even more complicated."
Dancing to "More Than This" also had a special meaning for Hemsworth, who called it one of his favorite tunes and one his father would often play when he was growing up. ("I don't think I've ever danced quite like that to that song. It opened up a part of me I was unaware of," he added.) Would that we could look forward to even more colorful, personal flourishes from the actor in the future as he continues to evolve his craft.
"Spiderhead" is streaming on Netflix.