Paper Girls Trailer: From The Paper Route To Saving The World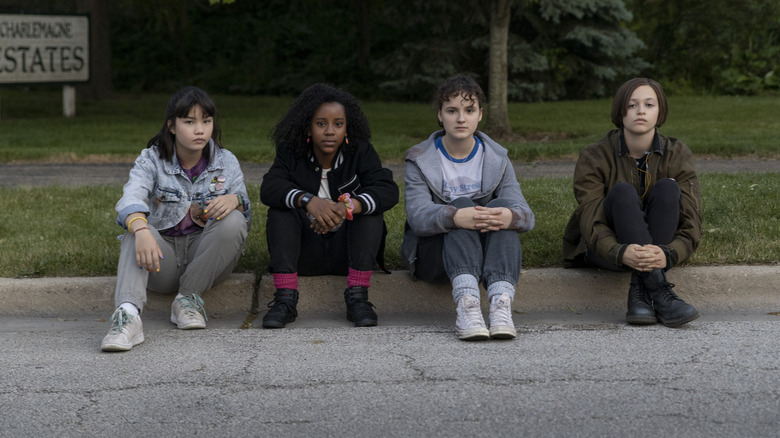 Prime Video
Paper routes feel like something from a bygone era, when the news wasn't delivered to us via our unhealthy obsession with our phones, but by some local kids who wanted to make a few bucks. It's a part of Americana that feels almost forgotten even as we relish the resurgence of the Amblin "kids on bikes" sub-genre through shows like "Stranger Things" or the Andy Muschietti "It" movies. Thankfully, "Paper Girls," the new Prime Video series based on the comic book series by Brian K. Vaughan and Cliff Chiang, will provide a little nostalgia for every kid who ever had a paper route. Then again, these paper girls don't exactly end up just delivering newspapers, they end up saving the world. 
The sci-fi coming-of-age series follows four 12-year-old girls who end up discovering a time machine that transports them from 1988 to 2019, where they end up meeting their adult selves and getting embroiled in a time war. Along the way, they learn some things about themselves, and about growing up. 
A terrifying time-warp
"Paper Girls" stars Sofia Rosinsky as Mac Coyle, Camryn Jones as Tiffany Quilkin, Riley Lai Nelet as Erin Tieng, and Fina Strazza as K.J. Brandman. Comedian Ali Wong will play the adult version of Erin, as we can see in the trailer. Just imagine somehow ending up 21 years in the future and meeting your future self, or minding your own business and suddenly encountering 12-year-old you. It's nightmarish, and the trailer definitely plays with that feeling of unease despite having some dark humor to make it relatable. I'm sure I'd drop some pretty serious swear words if I ever met myself — wouldn't you? 
Here's the official synopsis: 
In the early morning hours after Halloween 1988, four paper girls—Erin, Mac, Tiffany, and KJ—are out on their delivery route when they become caught in the crossfire between warring time-travelers, changing the course of their lives forever. Transported into the future, these girls must figure out a way to get back home to the past, a journey that will bring them face-to-face with the grown-up versions of themselves. While reconciling that their futures are far different than their 12-year-old selves imagined, they are being hunted by a militant faction of time-travelers known as the Old Watch, who have outlawed time travel so that they can stay in power. In order to survive, the girls will need to overcome their differences and learn to trust each other, and themselves.
"Paper Girls" will premiere on Prime Video on July 29, 2022.