The Disney+ Percy Jackson Series Will Use The Mandalorian's StageCraft Technology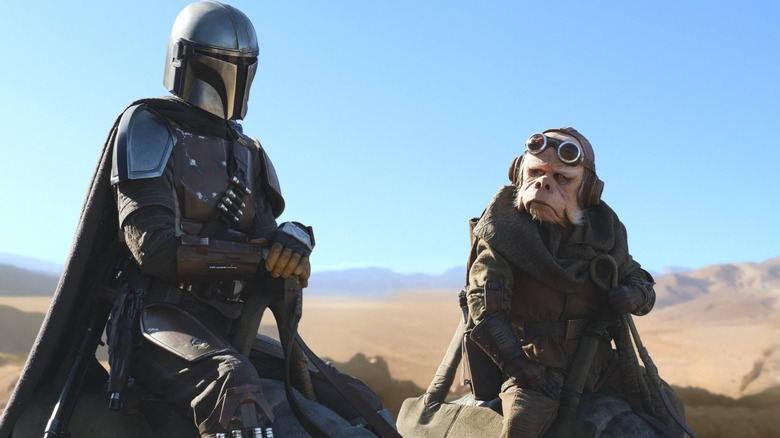 Lucasfilm
Production has already begun on the upcoming Disney+ adaptation of Rick Riordan's "Percy Jackson" series, and The Hollywood Reporter has just revealed that the project has a fantastic visual effects system in place. "Percy Jackson and the Olympians" will reportedly be using StageCraft, the system Industrial Light & Magic uses to bring "The Mandalorian" and "Obi-Wan Kenobi" to life.
The immersive system uses photorealistic and dynamic renderings of scene backgrounds, projected via LED panel walls, to create a 360 degree on-set visual effect in real time. This means that, rather than acting against green screens, actors are able to feel as if they're on location while post-production teams aren't inundated with extra effect work. While other companies use similar tech, often called LED "volumes," Lucasfilm division ILM in particular is known as an industry forerunner.
In addition to recent Star Wars films and shows, StageCraft has reportedly been used on "The Midnight Sky," "Thor: Love & Thunder" — for which ILM built a temporary stage in Sydney, Australia — and in the upcoming film "Ant Man and the Wasp: Quantumania." This means the "Percy Jackson" series joins a still relatively exclusive group of projects that's been able to harness the power of the high-quality effects system. The series will also be the first to utilize the new StageCraft studio in Vancouver, per THR.
Greek myth gets the cutting edge effects treatment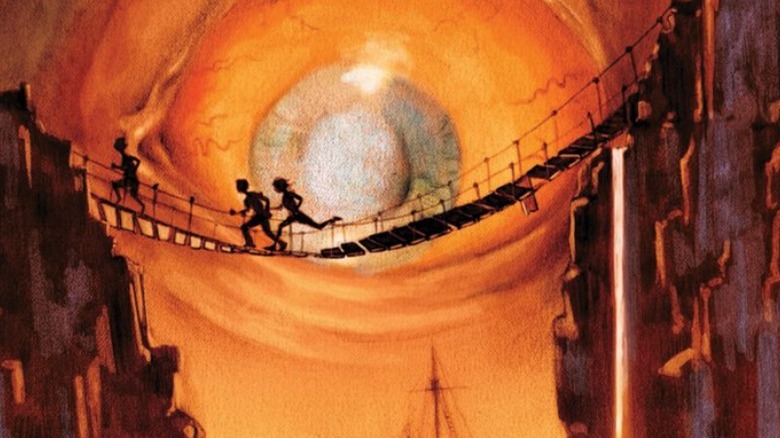 Scholastic
While shooting on location of course brings verisimilitude to a project, the Percy Jackson book series features lots of settings drawing from Greek mythology, including the River Styx, the Sea of Monsters, and Mount Olympus. My fellow book fans may be bothered to hear that the saga will unfold largely on a soundstage, but heavy visual effects were always going to be a given with any adaptation this story. If it's going to happen, StageCraft seems like the best way to make it happen.
Riordan, who authored the "Percy Jackson" series and is serving as the show's creator, executive producer, and co-writer, seems to agree. He said the following in a statement to THR:
"The story of Percy Jackson has such an epic scope. I am over the moon that we have forged such a great relationship [with ILM] to give this show such a cutting-edge look and feel."
Chris Bannister, the executive producer at ILM StageCraft, also put the novel technology in layman's terms, saying, "With ILM's StageCraft technology we allow filmmakers to design, light, and shoot the digital world as they would in the practical world all integrated in front of the cast and crew on stage." We can't wait to see how the final product turns out.
"Percy Jackson and the Olympians" will debut on Disney+, though the release date has not been announced.