Disney's Percy Jackson: Everything We Know So Far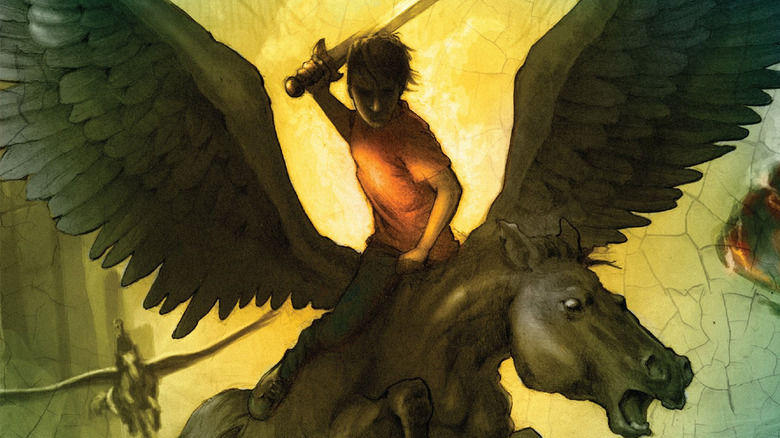 Netflix
Calling all demigods! Rick Riordan's bestselling middle-grade series "Percy Jackson and the Olympians" is finally getting the TV treatment it has always deserved! For those of us who grew up cheering Percy on, resenting the Gods of Olympus, and pondering which Camp Half-Blood cabin would be our home, this a dream come true. Better yet, this adaptation will introduce Riordan's mythology-packed coming-of-age tale to a new generation. 
First released in 2005, "Percy Jackson and the Olympians" brings Greek mythology into the 21st century by following the adventures of a young demigod caught in the middle of a war between the Gods. With grit, friendship and a pen, Percy manages to survive and even save the world along the way. Interest piqued? Below is everything you need to know about the upcoming adaptation.
When and where to watch Percy Jackson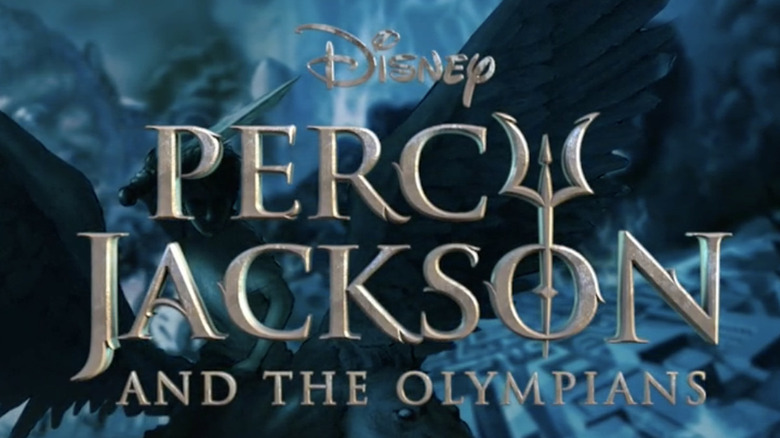 Disney
"Percy Jackson And The Olympians" will stream exclusively on Disney+, though its premiere date is currently unknown. Filming is currently underway in Vancouver, though once the release date becomes official, fans won't have to wait very long to find out — author of the books and executive producer of the TV series Rick Riordan likes to keep fans updated via his blog, which has also been used to reveal casting news and production updates.
From the fan perspective, much of the excitement for the series is rooted in Riordan's support, both creatively and in spirit. Riordan was famously critical of the first attempt at a "Percy Jackson" film adaptation, a franchise launched by 20th Century Fox in the hopes of capitalizing on the "Harry Potter" hype train. The first movie is currently available to stream on Disney+, but given it was poorly received by fans, critics, casual viewers, and even the actual author, it's probably worth waiting for the series to roll around.
What Percy Jackson will be about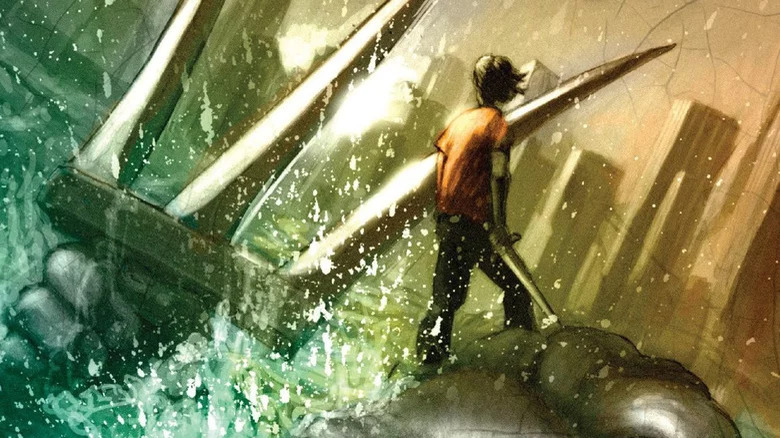 Disney Hyperion
"Percy Jackson And The Olympians" will be your typical coming-of-age story, but with the addition of magic, monsters, and Gods terrorizing a very resilient group of teenagers. If the series adapts a single book per season, then the first will center around the events of "Percy Jackson and The Lightning Thief," following 12-year-old demigod Percy Jackson on a dangerous quest to save the world, soon after learning that his father is Poseidon, the Greek God of the seas.
Just as Percy is coming to terms with his new reality — meeting fellow demigods and learning to defend himself from dangerous mythological monsters — the sky God Zeus accuses him of stealing his master lightning bolt. This kickstarts Percy's adventure to clear his name and restore order to Olympus. Along the way, he meets Gods, famed heroes, their deadly villains, and other figures from myths and legends. Disney+ has provided the following logline:
The series follows a 12-year-old boy who learns he is a demigod. He's just coming to terms with his newfound supernatural powers when the sky god Zeus accuses him of stealing his master lightning bolt. Now, Percy must trek across America to find it and restore order to Olympus.
What we know about the Percy Jackson cast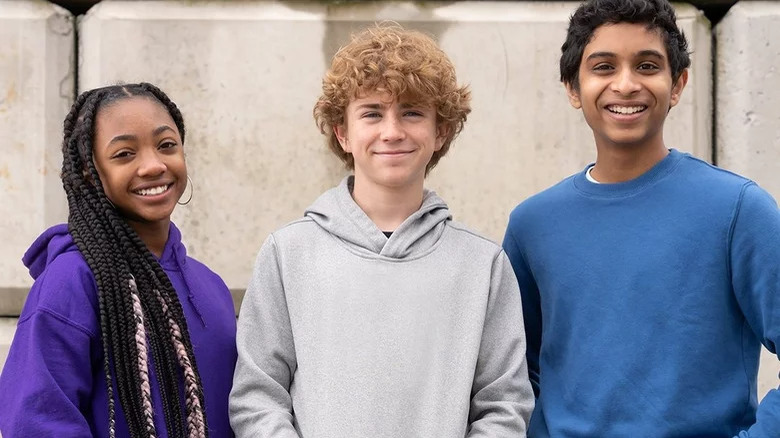 Disney
Rick Riordan's excitement alone was more than enough reason for fans to get pumped, but that doesn't mean folks aren't on the edge of their seat every time a new bit of casting is announced. The film series messed the saga up from the very start by aging up its main characters, but thankfully, the Disney+ won't make the same mistake. 
"The Adam Project" star Walker Scobell (seen above in the middle) has been cast as the series lead, the eponymous demigod who quickly proves himself courageous, kind-hearted and a force to be reckoned with. Despite all his strengths, Percy has a tendency to land himself in trouble — he's impulsive and occasionally reckless so while he's certainly willing to charge into dangerous situations, he can't do it alone. 
Scobell is joined by Leah Sava Jeffries ("Empire," "REL") and Aryan Simhadri ("Spin," "Cheaper By The Dozen") as Annabeth Chase and Grover Underwood, respectively. Annabeth is a true daughter of Athena (the Greek goddess of wisdom and war), who spent years training at the demigod training facility Camp Half-Blood. Meanwhile, Grover is Percy's best friend who reveals himself to be a satyr (half boy and half goat). The main trio aren't the only demigods at the center of this story: Dior Goodjohn is set to star as Clarisse La Rue, a child of Ares (God of war) and a competitive fighter who initially clashes with Percy. Charlie Bushnell will star as Luke Castellan, the counselor of the Hermes cabin and "the undisputed coolest kid on the block." The series will also star Olivea Morton as Nancy Bobofit, a loud, proud teacher's pet who picks on Percy.
Even though this series 99% about chaotic children in perilous danger, adults are occasionally a factor. Jason Mantzoukas will star as the Greek god Dionysus, aka Mr. D., the begrudging head of Camp Half-Blood. Glynn Turman will play Chiron, a centaur and father figure to Percy, while Megan Mullally will play the Fury called Alecto. Percy's cruel stepfather, Gabe, will be played by Timm Sharp, and his mother, Sally, will be played by Virginia Kull.
Percy Jackson's directors, writers and more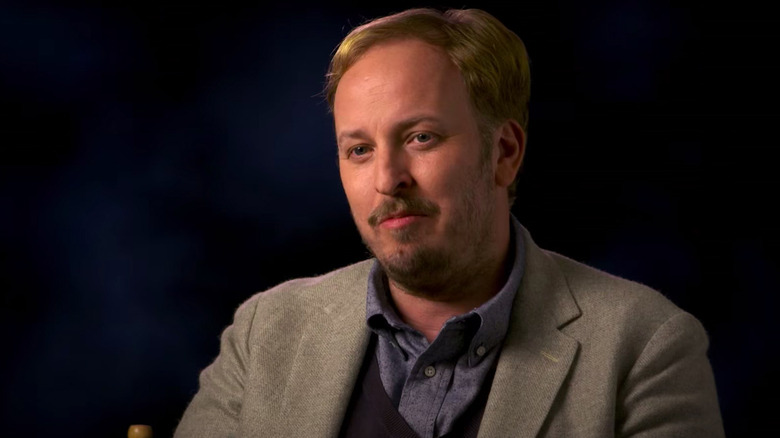 Paramount Pictures
Production on the show is currently underway in Vancouver, with a script penned by Riordan and Jonathan Steinberg, a longtime TV writer known for work on "Jericho," "Black Sails," and 2022's "The Old Man." James Bobin (seen above), director of "Dora and the Lost City of Gold," will helm the pilot for this upcoming adaptation. 
Given the unexpectedly fun adventure that Dora's live-action adaptation turned out to be, it's safe to say that Percy's story is in very good hands. Bobin is also the director behind the award-winning and much-beloved comedy "The Muppets," and its sequel, "Muppets Most Wanted," in addition to also executive producing and directing the pilot for another Disney+ original, "The Mysterious Benedict Society." Producers on the upcoming series include Bobin, Riordan, Steinberg, Dan Shotz, Rebecca Riordan, Bert Salke, Monica Owusu-Breen, Jim Rowe, Anders Engström, Jet Wilkinson, and Gotham Group's Ellen Goldsmith-Vein, Jeremy Bell, and D.J. Goldberg.