One Of Liam Neeson's Least Famous Films Is Also One Of His Favorites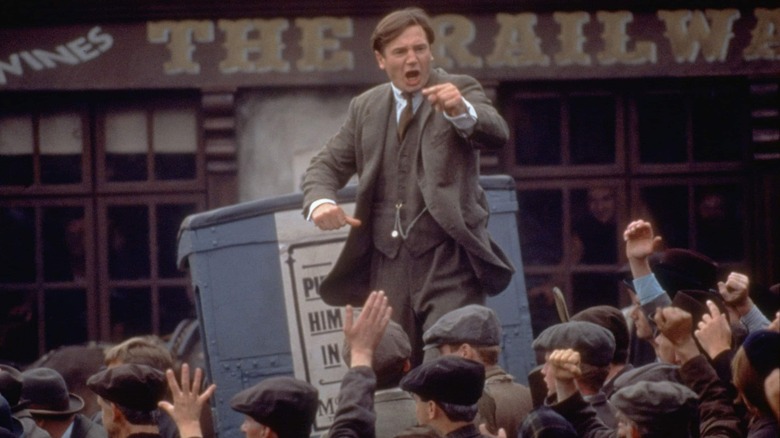 Warner Bros.
Looking back at Liam Neeson's early career, one finds a young bruiser more likely to be seen throwing punches than delivering intimate, soulful monologues. Prior to a career-making turn in Steven Spielberg's "Schindler's List" in 1993, one might find Neeson hamming it up as "Darkman," fighting alongside Patrick Swayze in "Next of Kin," or swinging swords in "Excalibur." The actor's large stature (he's 6' 4") and youth spent fighting (he boxed from age 9 to 17) often saw casting agents placing him in "tough guy" or fighting roles. In the 1990 film "The Big Man" (aka "Crossing the Line"), Neeson even played a bare-knuckle fighter, reduced to sparring during a union strike. 
After "Schindler's List," Neeson began appearing in more high-end "prestige" roles that could take advantage of his now-famous ability to play sensitive and soulful characters. In 1994, he appeared in Jodie Foster's film "Nell," a story about a "wild child," now an adult, who must reintegrate into society. In 1995, he played the title character in Michael Caton-Jones' excellent "Rob Roy," about the famed Scottish folk hero. At the time, one couldn't discuss "Rob Roy" without also bringing up the much more popular "Braveheart," in whose shadow "Rob Roy" lived. Today, both films have achieved lives of their own. 
During this post-"Schindler" prestige period came a 1996 biopic that Neeson recently admitted (via an interview with Coming Soon) was the actor's favorite role: Neil Jordan's "Michael Collins."
Michael Collins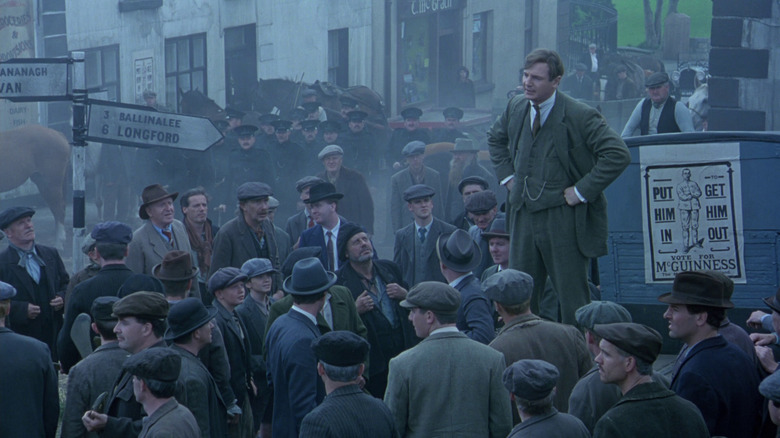 Warner Bros.
The real Michael Collins was a famed revolutionary who fought for Irish independence in the 1910s, serving as a leader within the Sinn Féin, a democratic/socialist party in Ireland, and served as a minister in the An Chéad Dáil, the Irish parliament. The 1996 biopic "Michael Collins" takes place from 1916 up until his murder in 1922, just as treaties were being recognized and Ireland was emerging as an independent state. Collins is perhaps controversial because he advocated for terrorist tactics ... which just happened to work. Neil Jordan, in the filmmaker's usual idiom, photographs the heck out of "Michael Collins," and the film keeps the camera low to the ground, concerned with the rights of the citizens on a personal level. Collins is depicted, by Neeson, as an ordinary man, perhaps a bit distant, perhaps a bit violent, with a talent for oratory. 
Neeson feels it's one of his best movies, and also feels it's woefully underseen:
"I made a film called Michael Collins with Neil Jordan. Oh my gosh, 26, 27 years ago. That's a personal favorite of mine, because he was one of the founders of the modern Irish state. He's highly controversial because he is regarded as one of the founders, if that's the right word, of modern-day terrorism in that he kind of invented little cells, pockets of cells, two people, three people, all fighting for the same cause."
This is all dramatized in the film, and Collins' compatriots are played by recognizable actors like Alan Rickman, Aiden Quinn, Brendan Gleeson, and Jordan regular Stephen Rea. Julie Roberts plays Collins' lover Kitty Kiernan.
Michael Collins and Menachem Begin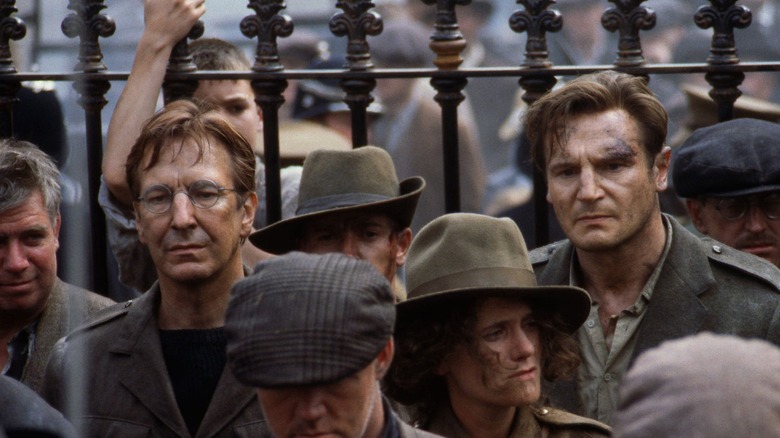 Warner Bros.
Neeson found Collins to be fascinating, but also understood that the man's guerilla tactics of violence have been adopted all over the world by other terrorists and political dissidents, often with tragic results. But that Collins did so successfully — he did see his demands met by the English government — is what made Neeson take notice. He talked about how Collins may have invented the notion of a "terrorist cell." Also that the first cells weren't terribly organized:
"[E]ach cell didn't know what the other was doing because the fear of informers. So Collins invented that and it's been adopted, as we know, all over the world. He's, as I say, very controversial figure, he died in 1922 at the age of 31. But I was fascinated by that character, fascinated by it. I love the movie 'Michael Collins.' I love it.
He went on to point out that Israeli politician Menachem Begin followed Collins' model when it came to certain tactics, even going so far as to naming some of their operations "Michael" after him. Neeson also laments that "Michael Collins," while doing well in Ireland, wasn't widely seen in the United States. "That film," he says wistfully, "I'd love for people to see again."
"Michael Collins" is available for rent on various platforms, but is not currently on any streaming service.