The 15 Greatest Liam Neeson Movies Ranked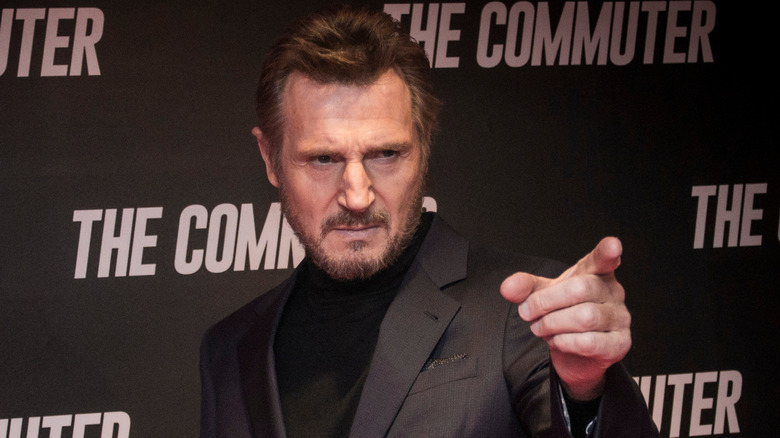 G Holland/Shutterstock
Liam Neeson has had an unpredictable career. The Irish star began acting at the Lyric Theatre in Belfast and slowly began appearing in films throughout the 1980s. He delivered his breakthrough performance as Oskar Schindler in Steven Spielberg's 1993 biopic, "Schindler's List." Considered one of the greatest films of all time, it earned Neeson an Academy Award nomination for best actor.
After proving that he could tackle challenging material, Neeson became one of the most compelling leading men of his generation. He has worked with some of the industry's greatest filmmakers. Neeson completely redefined his career in 2008 when he appeared in the action film "Taken." Although Neeson had little faith in the project, he committed himself to the role and spent months undergoing intense physical training. "Taken" became an unexpected smash hit and inspired two sequels. Although he's hinted that he will retire from the genre soon, Neeson has several new action films in the works. 
Neeson has many memorable screen credits, and he rarely turns in a bad performance. Here is our ranking of his best films.
15. The Chronicles of Narnia: The Lion, The Witch and the Wardrobe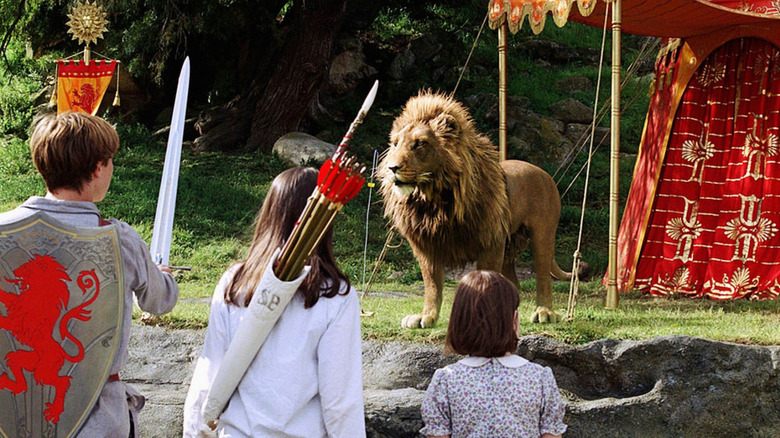 Buena Vista Pictures
The mighty lion Aslan (voiced by Liam Neeson) is one of the most important characters in the "Chronicles of Narnia" franchise. The wise leader of Narnia's denizens is a mentor to the four Pevensie children when they travel to the mythical land for the first time. They seek out Aslan, whose wisdom is heralded by all the creatures they encounter. As the White Witch (Tilda Swinton) gathers the forces of darkness, the Pevensies seek out Aslan's guidance.
Aslan is best used in the first film, "The Lion, The Witch and the Wardrobe." While his epic monologues grow repetitive in subsequent installments, Aslan is very inspirational in the first film. He is a messianic figure among the creatures of Narnia who seek his guidance as war grows closer. The computer-generated imagery perfectly syncs Neeson's voice with the massive, realistic-looking feline.
14. The Dead Pool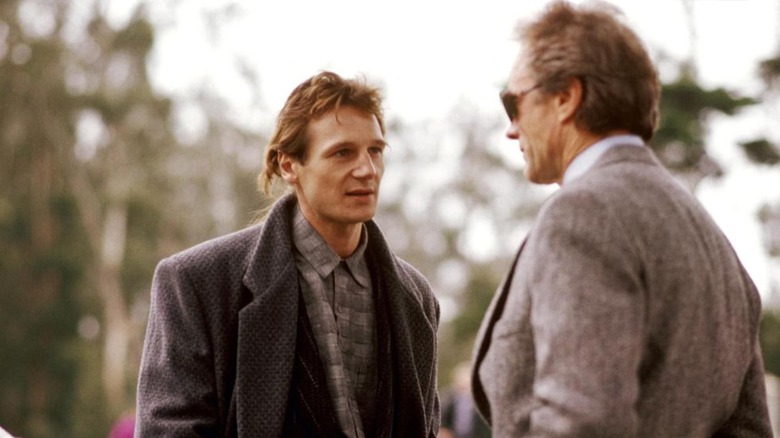 Warner Bros.
While the fifth film in the "Dirty Harry" franchise is one of the most action-packed entries in the series, it has a compelling mystery element as well. "The Dead Pool" follows the San Francisco Police Department Inspector Harry Callahan (Clint Eastwood) as he investigates a series of seemingly connected celebrity murderers. The unidentified assailant has singled out many famous targets, including Harry himself. The killer's latest victim is rock star Johnny Squares (Jim Carrey).
Harry's chief suspect is Liam Neeson's character, Peter Swan, the pretentious filmmaker behind Squares' music videos. Although he is ultimately revealed to not be the killer, Neeson does a great job at making Swan seem as suspicious as possible. Neeson captures the egocentric nature of an obsessive artist who is so intent on completing his vision that he's ignorant of safety. It's understandable why Harry would suspect him and why Swan's overblown personality rubs the weary detective the wrong way.
13. Love Actually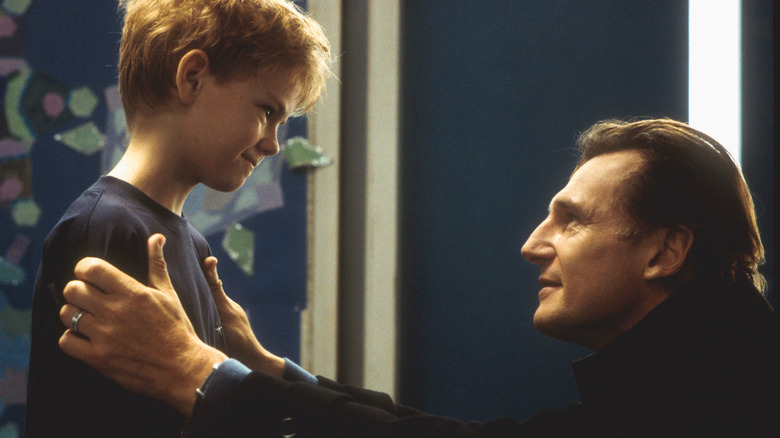 Universal Pictures
An iconic modern romantic comedy, "Love Actually" tells a series of loosely-connected stories set during the Christmas season. Of all the intertwining narratives in the film, the relationship between grieving husband Daniel, played by Liam Neeson, and his stepson, Sam (Thomas Brodie-Sangster), is the most touching and heartfelt. After his wife, Joanna, dies, Daniel struggles to connect with Sam. Overcome with grief, the two have lost the ability to communicate without Joanna's unifying presence.
However, Daniel is happy when he realizes that his stepson has a crush on a girl. Sam wants to impress an American classmate, who, coincidentally, is also named Joanna (Olivia Olson). To get close to her, Sam wants to learn how to play the drums so they can perform together in the finale of the school's Christmas pageant. Teaching Sam music re-energizes Daniel, and he forms a close bond with his stepson for the first time.
12. Gangs of New York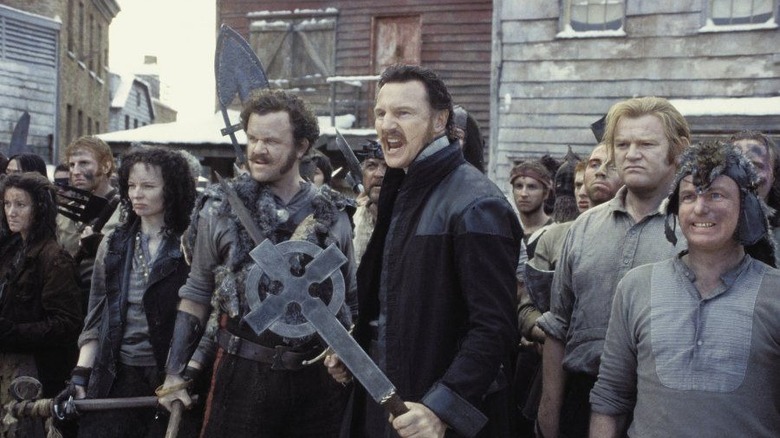 Miramax Films
The death of Liam Neeson's character, "Priest" Vallon, is critical in setting up the stakes of "Gangs of New York." Martin Scorsese's historical epic takes place during the war between the rival Protestant Confederation of American Natives gang and the Irish Catholic Dead Rabbits workers in 19th century New York. The Protestants and Catholics meet at the Five Points and battle to determine who will control the territory. The ruthless Protestant leader, Bill the Butcher (Daniel Day-Lewis), refuses to accept any compromise with Vallon and the Catholics.
An epic battle ensues, and Bill brutally executes Vallon in front of his young son Amsterdam. Bill claims the territory for himself and bans the Irish Rabbits. Years later, Amsterdam (Leonardo DiCaprio) seeks revenge on Bill for his father's death. Bill does not recognize him, and Amsterdam is able to infiltrate the Protestant leaders' council. A vivid memory of his father's kindness motivates Amsterdam to get his vengeance.
11. Kingdom of Heaven
20th Century Fox
Although he only appears in a few scenes, Liam Neeson's presence is felt throughout "Kingdom of Heaven." Set during the 12th century, the film follows disgraced French blacksmith Balian (Orlando Bloom), who mourns the death of his wife and their unborn child. Balian is approached by his father, Baron Godfrey (Neeson), who he has not seen in many years. Godfrey is a Crusader and urges Balian to join him in a campaign to defend the Holy Land from the Ayyubid Sultan, Saladin (Ghassan Massoud).
Although he initially declines, Balian decides to join his father and atone for his sins by visiting Jerusalem. However, Balian kills a local priest who stole his wife's possessions before they can depart. When the local authorities come to imprison Balian, Godfrey defends his son's honor. During their ensuing battle, Godfrey is tragically killed. His death motivates Balian to complete his father's mission and honor his memory by protecting Jerusalem from invaders.
10. Rob Roy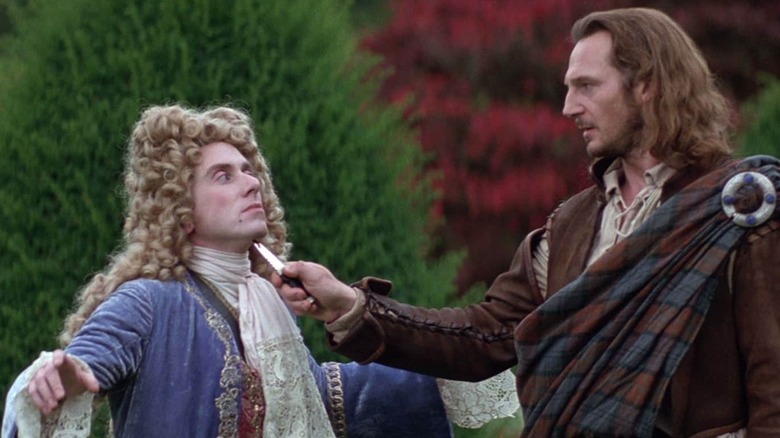 MGM
Although it was slightly overshadowed by "Braveheart," another historical epic set during the Scottish revolution that was released the same year, "Rob Roy" is still a thrilling action film. The titular Chief of Clan MacGregor rules over a small farming village in 18th century Scotland. Roy borrows money from James Graham (John Hurt), the Marquess of Montrose, to help provide for his people. However, he sadistic nobleman Archibald Cunningham (Tim Roth) murders Roy's compatriot Alan MacDonald (Eric Stoltz), assaults Roy's wife, Mary (Jessica Lange), and steals the cash for himself.
Roy seeks justice for the crimes against his family, and he's keen to get revenge on Cunningham personally. Roy rallies his people to fight against Cunningham's forces. Although he wants Cunningham to perish for his crimes, Roy takes the honorable route and builds a legal case. To settle the dispute, Roy and Cunningham duel to the death in front of the Duke of Argyll, John Campbell (Andrew Keir).
9. Taken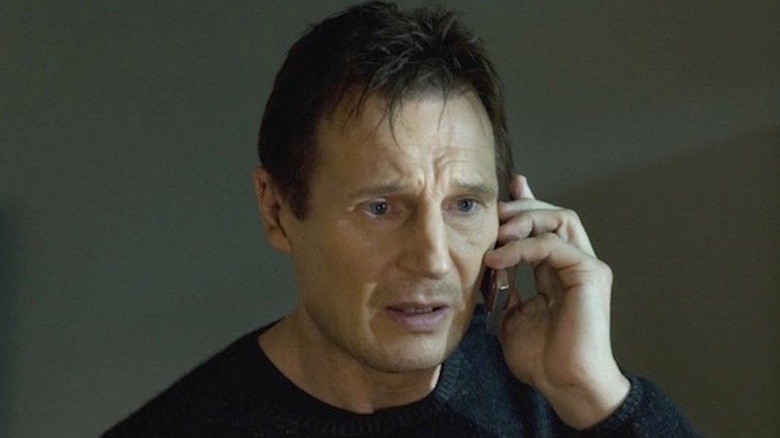 20th Century Fox
"Taken" is the film that changed Liam Neeson's career. Although he's been in many action films, none of them have been quite as effective as his first entry into the genre. Neeson's later films grew sillier, and he began to develop a sense of humor that lampooned his image. However, "Taken" is completely serious, and the film's grittiness makes it stand out from other modern action films. While the two sequels pushed the series into implausibility, the first film presents a realistic scenario in which a loving father is faced with a horrifying situation.
Bryan Mills (Neeson) is a former CIA agent who struggles to connect with his ex-wife, Lenore (Famke Janssen), and their teenage daughter, Kim (Maggie Grace). After his wife urges him to let Kim be more independent, Bryan reluctantly allows her to travel with her friends to Europe to follow a concert tour. During her vacation, Kim calls her father before she is kidnapped by human traffickers. Using all of the CIA training that he thought he could leave behind, Bryan mercilessly hunts the criminals that took his daughter.
8. Darkman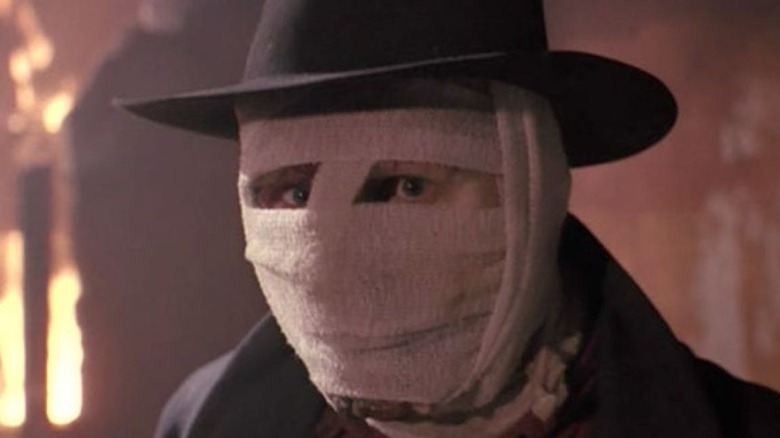 Universal Pictures
Although Sam Raimi helped create the modern comic book movie craze with his 2002 film, "Spider-Man," he made a much different type of superhero movie a decade prior. Compared to the modern wave of comic book adaptations, "Darkman" is a more violent film that borrows many elements from Raimi's background in horror. The film follows the brilliant scientist Dr. Peyton Westlake (Liam Neeson), who is disfigured when a group of criminals robs his laboratory during a dangerous experiment. The gang leaves Westlake for dead, but he develops increased strength and rushes of adrenaline.
Westlake takes on the persona of "Darkman" and tracks down the criminals to get revenge. As a result of his disfigurement, Westlake is impervious to physical pain. However, he is still an empathetic character because of the powerful relationship he has with his attorney and girlfriend, Julie Hastings (Frances McDormand). The character of Darkman seems like both a superhero and a slasher villain, and Neeson seamlessly transitions between being heroic and scary.
7. Widows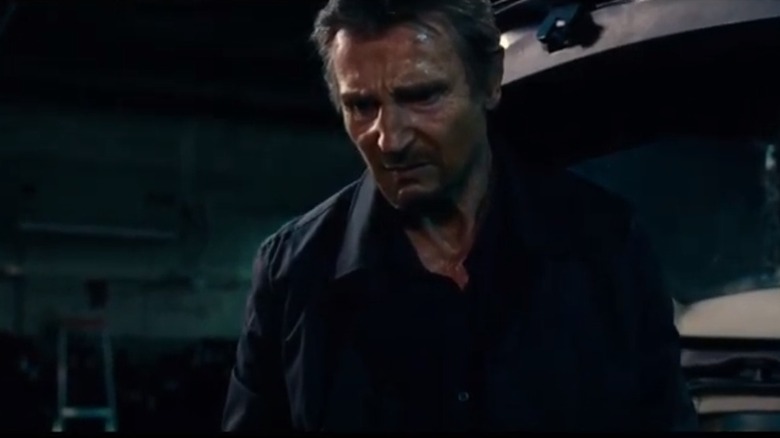 20th Century Fox
Liam Neeson is perfect in "Widows." Steve McQueen's heist thriller is one of the most underrated films of the last decade. The film uses a heist movie premise to deconstruct the political, economic, and social infrastructure of modern Chicago.
Criminal mastermind Harry Rawlings (Neeson) and his team are killed in a daring attempted robbery. Harry's wife, Veronica (Viola Davis), is heartbroken. Although the intimate moments between Harry and Veronica are brief, Neeson and Davis have great chemistry. Their relationship is complex. Veronica understands her husband's dangerous lifestyle but believes that he's only robbing wealthy targets. Harry is jaded by his experiences, but he's very compassionate to Veronica during their time together. Neeson's powerful performance in the flashbacks makes Veronica's challenges seem more realistic.
However, a shocking twist at the end of the film reveals secrets about Harry's actual intentions. He is still alive and faked his death to do a job for corrupt mayoral candidate Jack Mulligan (Colin Farrell). Veronica gathers her heist team and plans to rob Jack's father, Tom (Robert Duvall), an influential power broker. Neeson does a great job at subtly hinting at the reveal during his earlier scenes.
6. The Ballad of Buster Scruggs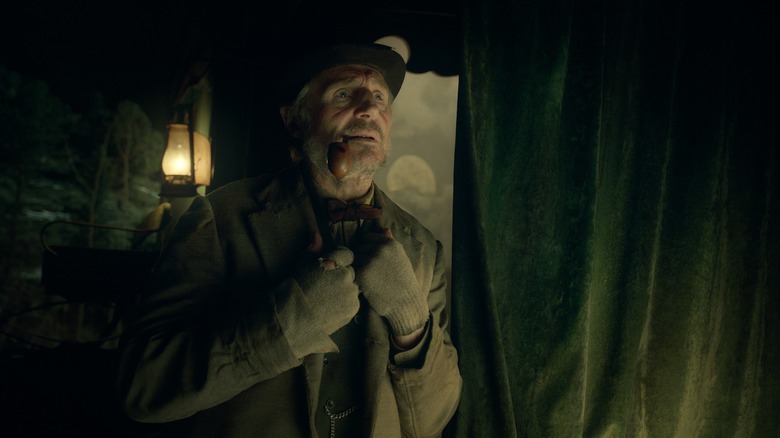 Netflix
Sadly, "The Ballad of Buster Scruggs" could be the Coen brothers' last film together. Joel Coen recently directed "The Tragedy of Macbeth" without his brother, Ethan Coen. Frequent Coen brothers collaborator, Carter Burwell, states that Ethan "doesn't want to make movies anymore." Although, unfortunately, we may never see another Coen brothers project, "The Ballad of Buster Scruggs," a Western anthology film that focuses on themes of finality, destiny, and mortality, is a fitting end to one of the most successful partnerships in film history.
Liam Neeson appears in the third story, "Meal Ticket," which is easily the darkest of the six short tales. "Meal Ticket" follows a grizzled impresario (Neeson) and a young storyteller named Harrison (Harry Melling) as they travel from town to town. Harrison has no arms or legs, and the impresario must take time to care for him. The impresario becomes fascinated by a seemingly magical chicken that can do mathematical equations and solve puzzles. He considers betraying Harrison and using the chicken in his shows instead. Neeson's brittle humor gives life to the impresario's dark thoughts.
5. A Monster Calls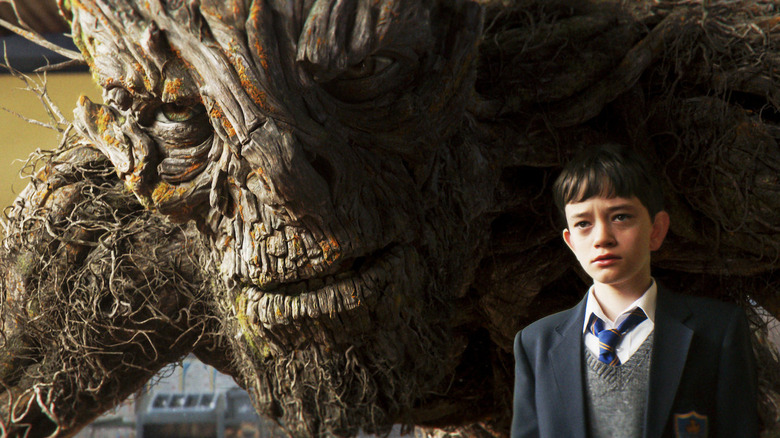 Focus Features
Liam Neeson's voice is perfectly utilized in J.A. Bayona's 2016 fantasy drama, "A Monster Calls." The film required Neeson to show great wisdom while still striking fear into the heart of a small boy. Due to the monster's metaphorical nature, it was a difficult task for Bayona to visualize the character. His eponymous monster had to be mysterious, frightening, and compassionate all at once. Thankfully, Neeson's voice was a perfect fit for the unique character.
"A Monster Calls" chronicles the difficult childhood of a young British schoolboy named Conor O'Malley (Lewis Pullman). A sensitive boy, he cares deeply for his mother, Elizabeth (Felicity Jones), who is dying of a terminal illness. Conor is bullied at school for his meek nature, and he's uncomfortable about reaching out to his family for guidance. His father Liam (Toby Kebbell) separated from Elizabeth when Conor was young, and Elizabeth's mother (Sigourney Weaver) is emotionally closed off. Conor finds solace in fantasy books and reads a story about a mysterious, tree-like monster. As he falls asleep, he dreams that the creature has come to life in his backyard. The monster reads him three stories that guide him throughout his mother's extended stay in the hospital.
A photo of Neeson appears in the O'Malley family's home at the end of the film, suggesting that the monster represents Conor's dead grandfather.
4. Batman Begins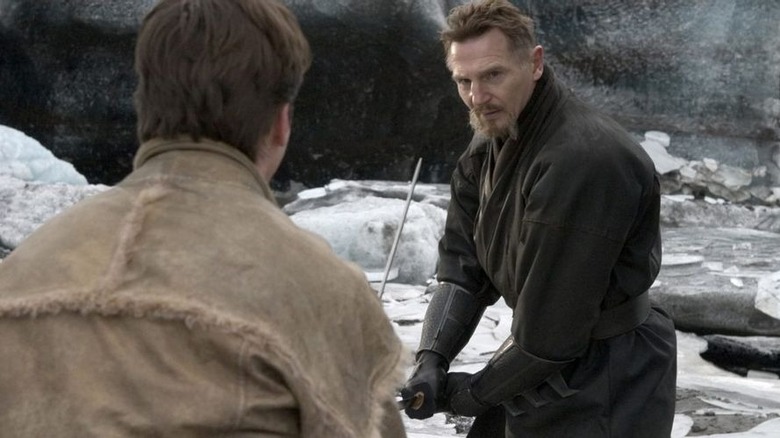 Warner Brothers
Batman has the greatest rogue's gallery of any superhero. Ra's al Ghul (Liam Neeson) is one of Batman's most unique villains. In "Batman Begins," the League of Shadows leader trains Bruce Wayne (Christian Bale) in the art of combat and becomes his mentor. He teaches Bruce the theatrical tactics that inspire his superhero alter ego. "Batman Begins" was the first film to explore that part of Batman's origin story. While previous films had depicted the death of Bruce's parents, they didn't show how he worked to become Batman. Christopher Nolan provided insight into how the childhood tragedy inspired Bruce to fight for justice, and his relationship with Ra's al Ghul is critical.
Ra's al Ghul is initially a sympathetic character. Although he is brutal during the training process, al Ghul opens up to his young initiate during an intimate moment. He reveals that his wife was killed by criminals. Bruce relates to his pain, and they bond over their shared desires for revenge. However, Neeson hints at al Ghul's radical beliefs. He believes that villains should be mercilessly punished for their crimes. After Bruce refuses to execute a murderous farmer, he and his mentor duel.
Neeson's return in the film's third act is shocking. He reveals his involvement in the plot to destroy Gotham City by unleashing fear toxins. Neeson does a great job at showing the character's villainy without being over-the-top.
3. Kinsey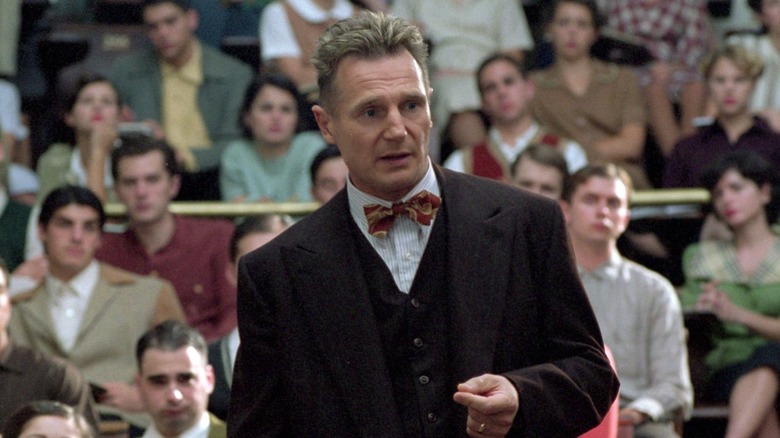 Fox Searchlight
"Kinsey" is the most sensitive performance of Liam Neeson's career. Bill Condon's 2004 biographical drama is very different from the violent action films Neeson would become known for. He is completely believable as a scientist whose work is not initially accepted by his peers. The film explores the life of sexology pioneer Alfred Charles Kinsey who conducted the first medical research study into the field of human sexual behavior in the 1940s and '50s. Because of the social stigma around addressing sexuality in public, Kinsey's research was initially mocked. Neeson shows the torment that Kinsey endured as he's accused of practicing pseudo-science, even though he is earnestly trying to investigate an emerging area of science.
The film uses Kinsey's relationship with his wife, Clara McMillen (Laura Linney), to explore his interest in understanding sexuality. When he is teaching biology at Indiana University, Kinsey falls in love with Clara and proposes to her. However, they are not able to enjoy the intimacy of marriage because of medical issues. After undergoing surgery, Kinsey is open about his condition. He wants to help other struggling couples so they can avoid the same setbacks that he and Clara faced. Neeson and Linney have excellent chemistry. Although Kinsey pursues a sexual relationship with his protege, Clyde Martin (Peter Sarsgaard), he never loses his affection for Clara.
2. Silence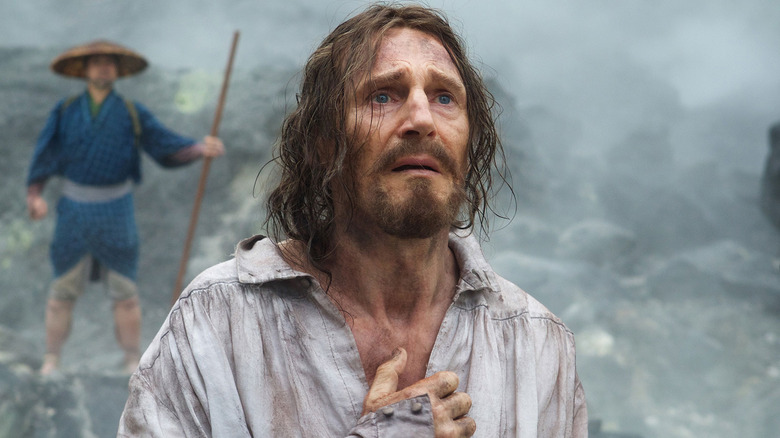 Paramount Pictures
Liam Neeson is the emotional center of "Silence." The film was a passion project for director Martin Scorsese, who adapted the classic novel by Shūsaku Endō. "Silence" takes place in the 17th century in feudal Japan. In the film, the renowned Jesuit priest Cristóvão Ferreira (Neeson) goes missing during his quest to convert Japanese citizens to Christianity. Ferreira's proteges Sebastião Rodrigues (Andrew Garfield) and Francisco Garupe (Adam Driver) travel from St. Paul's College in Macau to find him.
Ferreira witnesses many of the Japanese citizens being brutalized by the oppressive feudal lords. He has empathy for the Japanese people but is helpless during their struggle. Neeson's powerful performance shows why finding Ferreira is so important to Rodrigues and Garupe. During their mission, the two younger priests reference their respect for the veteran Jesuit father.
Garupe is tragically killed, and Rodrigues is captured by the ruthless feudal law enforcement officer Inoue Masashige (Issey Ogata). Rodrigues is relieved to finally find Ferreira alive, hoping that his mentor can offer him guidance during this difficult time. However, he discovers that Ferreira has apostatized. He believes that it is no longer possible to serve God. It's a heartbreaking moment for Rodrigues, and Neeson makes it convincing. He informs the naive, younger man that all of his struggles have been in vain. The ending of "Silence" is open to interpretation, and Neeson is critical to its ambiguity.
1. Schindler's List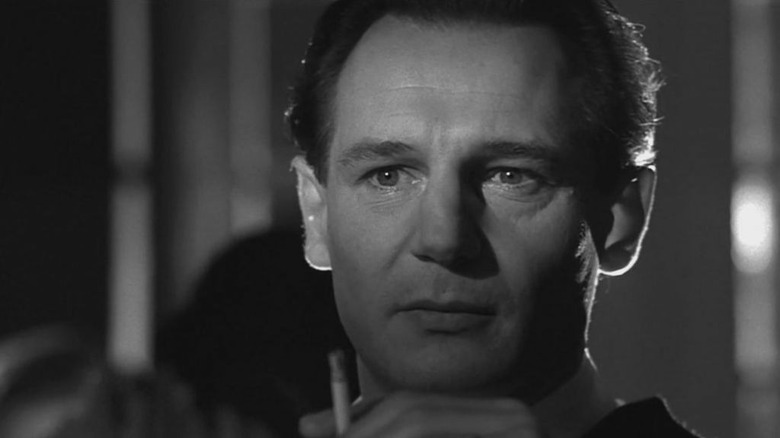 Universal Pictures
"Schindler's List" is a modern classic. Steven Spielberg's gripping historical drama tells the amazing true story of Oskar Schindler (Liam Neeson), a German businessman who helped save thousands of Jewish families during the Holocaust. It was a personal passion project for Spielberg. He hoped the film would educate future generations on the tragic events. "Schindler's List" took home seven Academy Awards and was named one of the ten greatest films ever made by the American Film Institute.
Neeson treats the sensitive subject matter with the same respect as Spielberg. It's inspiring to see how Schindler is called to action. After listening to his Jewish employees, he's horrified by the rise of fascism. Neeson shows Schindler's empathy. During the film's climax, Schindler breaks down crying after his workers thank him. He insists that if he had given up a few more luxuries, he could have saved even more lives.
In the final scene, real survivors and their families place stones on Schindler's grave. Neeson plays an essential part in sharing Oskar Schindler's story.