Upcoming Liam Neeson Movies To Keep On Your Radar
20th Century Fox
(Welcome to On Your Radar, a series where we take a look at what's next for the biggest actors and filmmakers, and why you should be excited...or not.)
Liam Neeson may be 69 years old, but he's still one of Hollywood's hottest action stars. Renowned for the "Taken" movies, he predicted in 2015 that he only had "maybe two more years" of action movies left in him. That was six years ago, and in the meantime, Neeson has starred in at least half a dozen more action flicks. 
After rising to prominence in the critically acclaimed leading role of Steven Spielberg's "Schindler's List," Neeson has starred in a raft of blockbusters. We've seen him take on Bruce Wayne in "Batman Begins" and even pick up a lightsaber for "Star Wars: Episode I — The Phantom Menace." He's played the Greek god Zeus in "Clash of the Titans" and shown us a particular set of skills in "Taken," the film that launched his old man action movie career.
Most recently, he added yet another action flick to his growing resume, starring as an ice road trucker on a perilous mission in Netflix's "The Ice Road." But what's next for the iconic action star? Here's every Liam Neeson film to keep an eye out for.
Blacklight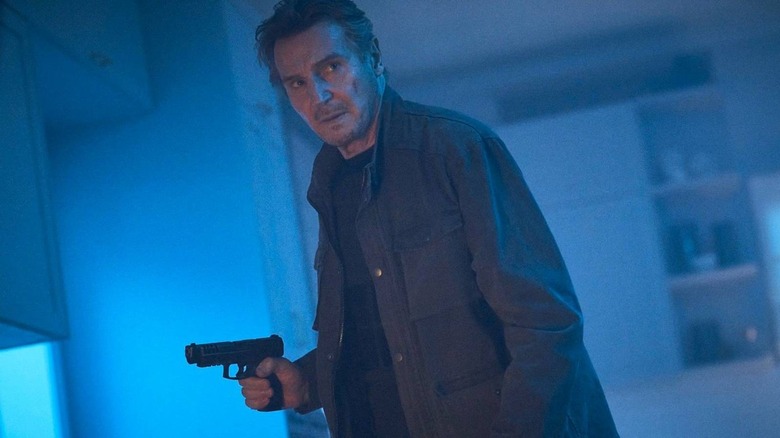 Briarcliff Entertainment
It's an exciting time for fans of Liam Neeson's action flicks as he has several new ones coming soon. The first of these is "Blacklight" which sees Neeson play Travis Block, an FBI fixer who pulls out deep cover agents when their cover is blown. Of course, it's not just another day at the office for Travis, as he soon finds himself in over his head, getting involved in a deadly government conspiracy that goes right to the top. Although little else is known about the mysterious thriller, it sounds like a great yarn for Neeson to sink his teeth into, as long as the script is up to par with Neeson's ass-kicking abilities.
In "Blacklight," Neeson reteams with "Honest Thief" director Mark Williams and stars alongside Aidan Quinn, Emmy Raver-Lampman, and Taylor John Smith. Production began back in November 2020 in Melbourne, Australia, with "Blacklight" set for a theatrical release on February 11, 2022.
Memory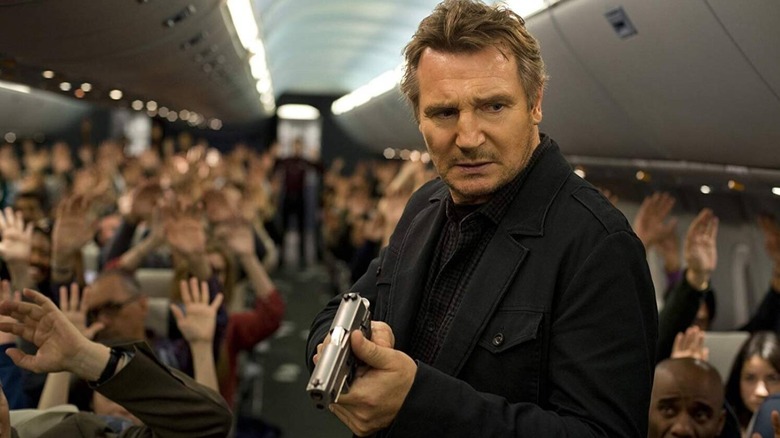 Universal Pictures
Another of Neeson's upcoming action flicks, "Memory" sees him step into the role of Alex Lewis, a renowned hitman with a reputation for precision who begins suffering from early-onset Alzheimer's. Things get even trickier when a botched job makes him a target, and Alex has no idea who he can trust.
"Memory" is helmed by "Goldeneye" and "Casino Royale" director Martin Campbell, with Neeson starring alongside Guy Pearce, Monica Bellucci, Harold Torres, Taj Atwal, and Ray Fearon. Production began in April 2021 in Bulgaria, and while "Memory" is now in post-production, no release date has yet been set.
"Memory" was once thought to be Neeson's last action film, with the aging star threatening to retire from action movies altogether. "There's a couple more I'm going to do this year — hopefully, Covid allowing us — there's a couple in the pipeline and then I think that will probably be it," he said.
Thankfully, it looks as though he's already changed his mind...
Retribution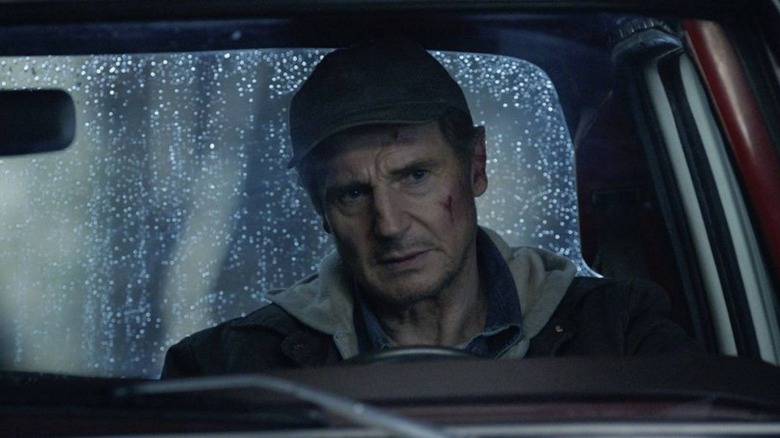 Open Road Films
Yet another action flick, "Retribution" is a little bit different. This time, Neeson stars as a businessman who discovers that an unknown assailant has rigged his car with explosives and a pressure plate — meaning that if he tries to get out, the whole thing goes boom. If that wasn't scary enough, his family is in the car with him.
"My fat Irish ass sits in a Mercedes or BMW for 98 percent of the film, with my two kids in the back," he previously explained. "I've been told it's a bomb-pressurized seat because I'm in the financial markets and I've lost a customer a lot of money and he's taking his revenge."
It sounds a lot like a cross between "Phone Booth" and "Speed," and that's not a bad thing.
"Retribution" is a remake of the 2015 Spanish film, "El Desconcido" and is directed by Nimród Antal. However, frequent Neeson collaborator Jaume Collet-Serra is on board to produce. "Retribution" is currently in post-production with no release date as yet.
Marlowe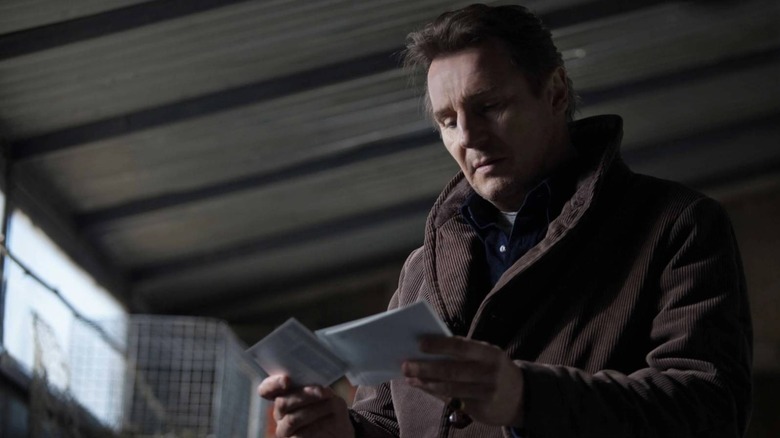 Universal Pictures
It's the one we've all been waiting for: "Marlowe" sees Neeson step into the role of Raymond Chandler's iconic gumshoe, Philip Marlowe. I've been saying it for years; we need to see Liam Neeson in more film noirs. Now, after his blisteringly tense turn in "A Walk Among the Tombstones," it looks as though I've got my wish.
"Marlowe" is based on the 2014 novel "The Black-Eyed Blonde" by John Banville, and follows the legendary private detective as he's hired to find the ex-lover of a glamorous heiress. Scouring the underbelly of Hollywood's film industry, it's a 1950s noir that sounds like it will be dripping with atmosphere. I get the feeling this is going to be special.
"Marlowe" is helmed by Oscar-winning director Neil Jordan, with Neeson joined by an all-star cast including Diane Kruger, Jessica Lange, Adewale Akinnuoye-Agbaje, Alan Cumming, and Colm Meaney. Production began in November 2021 in both Spain and Ireland, but no release date has been set.