Trevor: The Musical Review: Holden William Hagelberger Shines In The Filmed Version Of The Off-Broadway Stage Production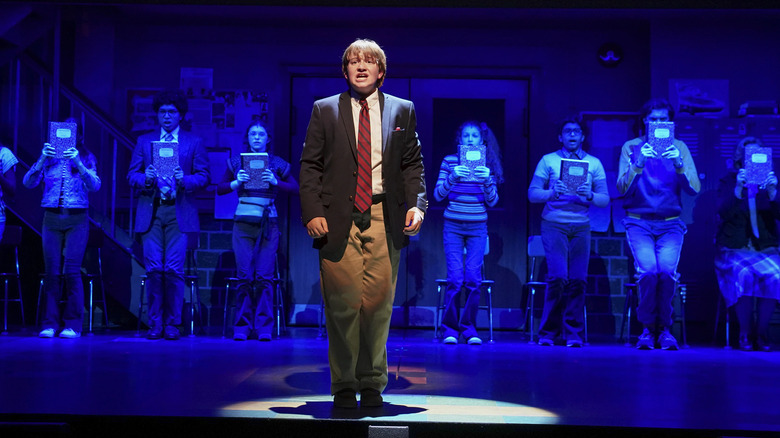 Disney/Joan Marcus
There just aren't a lot of queer-themed stage musicals starring queer kids. And when I refer to kids, I mean those on the lower spectrum of teenhood, around 13, or lower.
It was years ago I saw Carly Gold as 10-year-old Alison Bechdel perform "Ring of Keys," a signature number in the touring "Fun Home" musical. Four years later, I watched "Trevor: The Musical," based on the 1994 Academy Award-winning short film "Trevor" directed by Peggy Rajski and written by Celeste Lecesne, at Stage 42 off-Broadway in NYC. While it was by no means a groundbreaker, I realized then just how commercial theatre is starved for queer musicals centering queer kids.
I have seen my share of teen-centered (much older than 13 and pretty hetero-centric) musicals on the Great White Way, tours, or off-Broadway, from "Be More Chill" and "The Lightning Thief: The Percy Jackson Musical." Seeing "Trevor: The Musical," a musical orbiting around a gay cisgender male child, reminded me that there's still a long way to go for more higher-profile LGBTQIA-themed stage musicals starring LGBTQIA+ kids, particularly those of color. Not to say queer youths musicals don't exist or groundbreakers are not in incubation by queer creators, but both the strengths and shortcomings of "Trevor: The Musical," make the need for more kid-focused queer-affirming stage musicals more pertinent.
After previews at the Writers Theatre in Glencoe, Illinois, the musical transferred off-Broadway in 2021 at the Stage 42 Theatre (original stage direction by Marc Bruni) with a run cut short by Covid cases. Now a pro-shot, produced by RadicalMedia and directed by Robin Mishkin Abrams, has ridden the wave of pandemic-released pro-shots and landed on Disney+ streaming as a Pride Month release.
Note that the short film source material (which was based on Lecesne's one-person show "Word of Mouth") inspired the Trevor Project (which the filmmakers founded), a crisis and suicide prevention hotline for LGBTQIA+ youth. While the musical is not affiliated with the Trevor Project itself, its shared lineage can feel inseparable from first impressions. One might come in with the presumption that the musical exists solely for an "it gets better" message, which is reductive to its breadth. That said, the musical adaptation often comes off as an experiment to unravel a 19-minute film into its 1-hour and 50-minute musicality. That's more than enough time to enjoy its qualities and its inherent limitations.
Hagelberger is a huggable star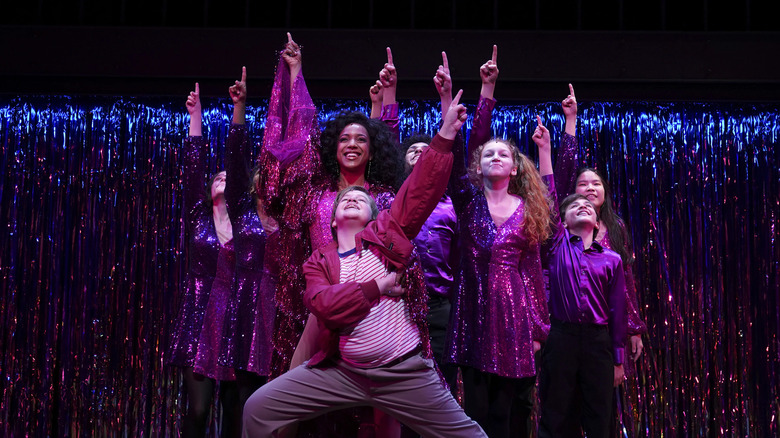 Disney/Joan Marcus
Living in 1981 with Ronald Reagan-loving parents (Sally Wilfert and Jarrod Zimmerman) in a middle-class household, 13-year-old Trevor (Holden William Hagelberger) isn't surrounded by the language that could help him comprehend his identity. What he does know is that he loves Diana Ross and musical theatre, interests that make him "weird" to others. When befriending the sole nice jock Pinky (a warm Sammy Dell), he gets involved in directing and choreographing a dancing act for the athletic team — in hopes of replacing a tradition where the jocks galavant in tutus as a gag. But Trevor doesn't understand why he's starting to think a lot about Pinky, or why he imagines Pinky dancing with him in a prom tux. The middle-schooler can only process such fantasies as "weird."
"Trevor: The Musical" glimmers because of 13-year-old Holden William Hagelberger, who sparks a connection with the audience with his longing, the inexhaustible rushes of self-confidence, his comedic timing, and his anguish. The most muscular parts of the book tune him out as a kid starting out in his own confident galaxy and then his struggles to speak his discomforts when situated — or self-forced into — in the heteronormative cooker.
The best of Dan Collins's book and lyrics seep into kids' struggles to process apprehensions and anxieties into language under the ever omnipresent reach of heteronormative expectations. The best numbers include the ensemble "Can't Wait," delicately scored with observant anticipation, where the kids assemble at the famous make-out spot and spill their anxieties (to the audience, not to their partners) over first kisses and romantic dreams. While not soaring into noteworthy musical consciousness, Julianne Wick Davis's music is serviceable and set to Collins's lyrics with entertaining amiability. Josh Prince's choreography plucks out its charms, especially in "One/Two" where dancing football athletes blend their unpracticed quirks, stumbles, and fumbles into smooth moves. Donyale Werle's scenic work dutifully presents the Diana Ross-postered walls of Trevor's room and a two-storied school setting.
Hagelberger is surrounded by a cast of talented children and a few adults. Yasmeen Sulieman is the smiling sequined Diana Ross who dances in Trevor's head, sauntering in with her greatest hits and feeding Trevor with daily doses of affirmations. Kid standouts include Aryan Simhadri, who is much better than his underwritten role as Trevor's annoying bestie Walter; Alyssa Emily Marvin as the goofy Cathy (who has her eye on romance); and Isabel Medina as the shy and sweet Frannie who wants no part of the mean crowd.
Sadly, the camera work blurs out clarity when it should accentuate and benefit the actors (see Spike Lee-directed recording of "Passing Strange"). It can't escape its stage-lightning setup (courtesy of lighting designer Peter Kaczorowski) or the angles are short of scoping the emotive necessities. The night scenes are flushed in dim blue and Hagelberger's close-ups of grins, grimaces, and near-epiphanic befuddlement get bleached out of their impact. Oftentimes, Diana Ross's entrance into Trevor's headspace manifests with an awkward editing cut (surprise, she's right there!), not a tactful camera glide or angle.
Where are the musicals for queer kids?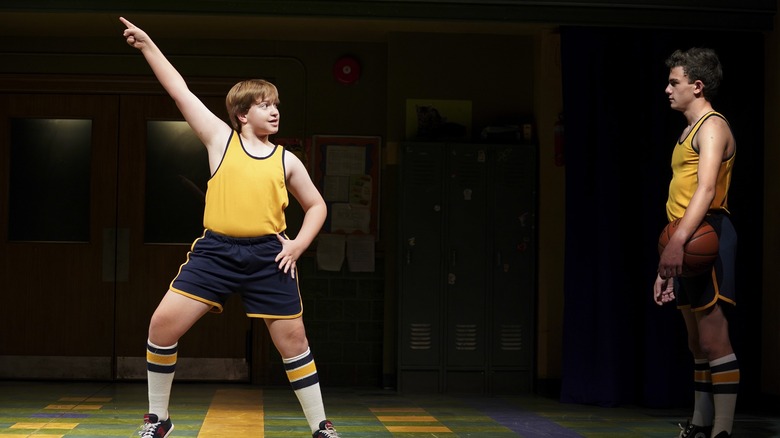 Disney/Joan Marcus
"Trevor: The Musical" does struggle to haul a great weight as Act II builds up to the outing, the bullying, and the subsequent suicide attempt. While not too obstructive, the book stacks in needless drama that it's too good for: love triangles and less-than-dimensional bullies, who are plot-mandated schemers rather than products of society, there to advance the angst. While the production and Hagelberger do their darndest to steer us into the dark area, the intensity of a child attempting suicide does ultimately weigh heavily on the musical that races to its hopeful—perhaps bittersweet—ending. The unwise insertion of Diana Ross's "Endless Love" (the tonal fusion worked better in the original short film) to sedate you from the somberness only glamped up a serious scene that initially proved effective in its silence.
It is the encouragement by a candy striper nurse (a spellbinding Aaron Alcaraz who irradiates unspoken history) that brings Trevor's journey to a poignant, even if convenient, open-ended optimism. The hardships and social ostracizing cannot just dissipate but he does promise us he'll survive to grow into his authentic self even if he has not formulated the language yet. And we believe in his survival because we believe Hagelberger.
Watching "Trevor: The Musical" live was a predominantly positive experience even if it was a snug time capsule. While its shortcomings have been documented, so have its heart and its cast. Now, if only there was an accessible myriad of queer musicals centering queer youths of color.
"Trevor: The Musical" is available to stream on Disney+. The original cast recording is also available.