Superhero Bits: Wasp Was Almost In Multiverse Of Madness, The Flash Season 8 Finale & More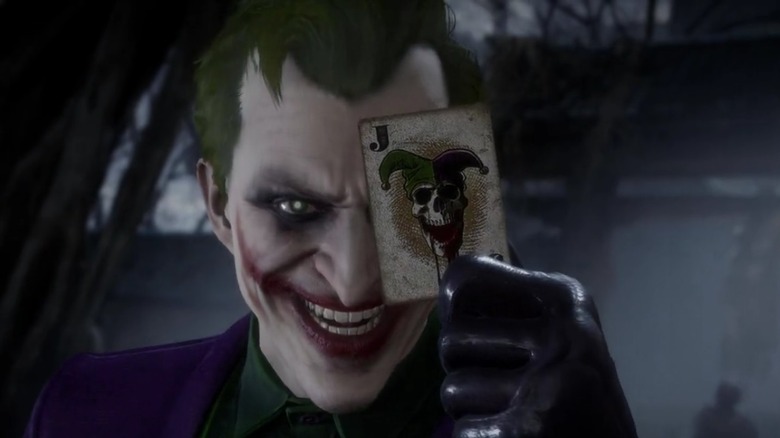 Warner Bros.
(Superhero Bits is a collection of stories, updates, and videos about anything and everything inspired by the comics of Marvel, DC, and more. For comic book movies, TV shows, merchandise, events, and whatever catches our eye, this is the place to find anything that falls through the cracks.)
In this edition of Superhero Bits:
Benedict Cumberbatch comments on "Doctor Strange 3."
Another MCU hero was almost in "Multiverse of Madness."
Get ready to meet Marvel's Spider-Rex this Summer.
A new poster for "DC League of Super-Pets."
Meet Spider-Rex, the latest Spider hero of the Marvel multiverse
You've met Miles Morales and Spider-Man Noir, but get ready for the latest incarnation of Spidey from across the multiverse this summer. As the above artwork indicates, Spider-Rex is making his Marvel Comics debut later this year in the pages of "Edge of Spider-Verse" #1 from a writing team led by Dan Slott. The five-issue limited series will see three tales in each issue that will all weave into an overarching narrative. And a T-rex version of Spider-Man is leading the way. If I may? F*** yes. Absolutely f*** yes. The issue is set to hit stands on August 3, so be on the lookout.
The Flash season 8 finale promo
Here is the official promo for the 20th and final episode of the eighth season of "The Flash" on The CW:
With The Flash (Grant Gustin) still reeling from everything that just happened, the rest of the team rallies to support him when he needs it the most.
Marcus Stokes directed the episode, which was written by Eric Wallace.
U.S. Agent actor Wyatt Russell has not received a call about the Thunderbolts movie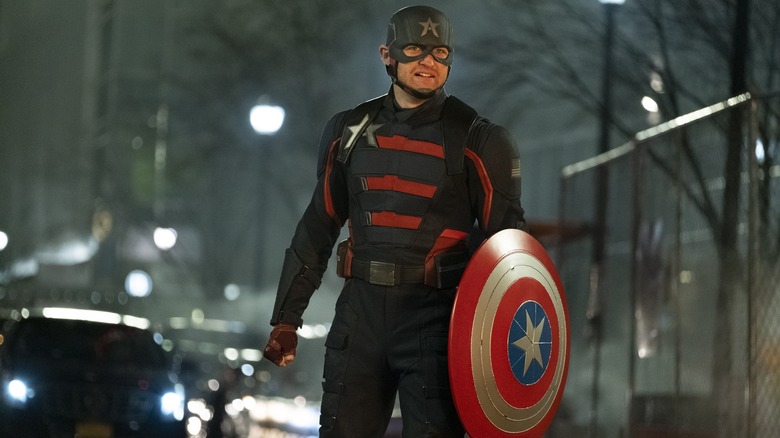 Disney+
We recently learned that Marvel Studios is putting together a "Thunderbolts" movie, and that means some bad guys are going to team up in the not-too-distant future to carry out some missions for the good guys. U.S. Agent, played by Wyatt Russell on "The Falcon and the Winter Soldier," seems like a logical inclusion. However, in speaking with The Playlist recently, the actor confirmed he has not yet received a call to appear in the film.
"No, I'm just waiting on it. You wait on it until, like, they announce it. They keep it really, really tight, and it's like, you respect that because they've got other bottom lines to look out for than what they think I need to know." 
Even if Russell had been called, it's not as though he could say much. Beyond that, there is still plenty of time for Marvel to give him a ring. As for who else could join him? The options are plentiful.
Marvel Senior Vice President Mike Pasciullo has passed away at 50
It's with deep sadness that we announce our dear friend and colleague Mike Pasciullo has passed away. Since joining over 25 years ago, Mike worked tirelessly to bring the spirit of Marvel to fans worldwide. His memory will live on forever within the Marvel family and beyond. pic.twitter.com/2qYGvUCBK6

— Marvel Entertainment (@Marvel) June 22, 2022
Marvel has confirmed that Mike Masciullo, who served as Senior Vice President of Marvel Television & Entertainment, Marketing and Publicity, has passed away at the age of 50. The executive had been with the company for 25 years and was, somewhat quietly, a major voice in bringing the studio's creations to audiences around the world over the last two decades and change. Marvel Entertainment President Dan Buckley had this to say:
"Mike was truly a lifelong Marvelite. His marketing savvy, commitment, creativity, humor and kindness were on display every day for friends and fans alike. He understood that for any fan, each convention might be their only one, and he personally laid the foundation to make sure they walked away not just happy, but elated. Mike was a close friend to us and so many others, and I will miss him every day. I count myself lucky to have called him a friend."
RIP, Mike Masciullo.
Benedict Cumberbatch very much wants to return for Doctor Strange 3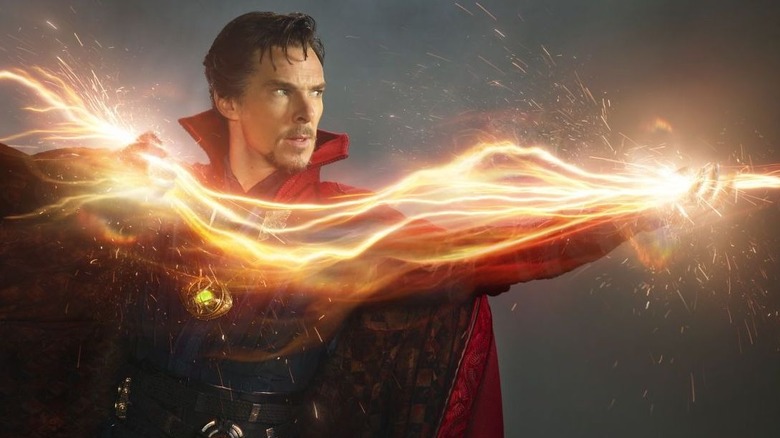 Marvel Studios
While the credits for "Doctor Strange in the Multiverse of Madness" confirmed that Doctor Strange will return, Marvel Studios has yet to officially confirm that "Doctor Strange 3" is going to happen. Sure, the post-credits scene all but guaranteed it's going to happen (as did the box office) but still, it's not a sure thing until it's announced. Either way, in chatting with The New Indian Express, Benedict Cumberbatch explained he very much wants to return for another sequel.
"I hope so. I would love to do another one. Doctor Strange is such a complex character and it feels like there is so much more to explore with him. He is such a brilliant character and I'm still having a wild time playing him."
So, if nothing else, it sounds like Marvel and Disney won't have a hard time getting Cumberbatch to sign on the dotted line.
Check out the new DC League of Super-Pets posters
"Black Adam" isn't the only DC superhero that The Rock is bringing to life on the big screen this year, as he's also voicing Krypto the Super-Dog in "DC League of Super-Pets." The movie is set to arrive next month and as Warner Bros. looks to get the marketing train in gear, they have dropped a new poster for the family-friendly animated flick. Alongside Krypto, we have Ace the Bat-Hound, voiced by Kevin Hart. To go along with the main poster, there are several character posters as well for the various super-powered pets we're going to meet along the way. Check them out in the Instagram post above. 
Wasp was originally part of the Illuminati in Multiverse of Madness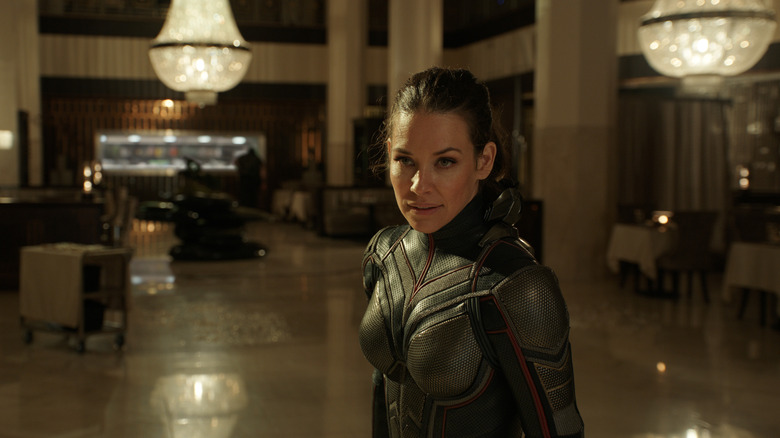 Marvel Studios
"Doctor Strange in the Multiverse of Madness" is now streaming on Disney+ and available through digital retailers. That means, the audio commentary is also available and some little nuggets have surfaced. One such nugget (per Heroic Hollywood) was revealed by Michael Waldron, who explains that Evangeline Lilly's Wasp was originally going to be part of the Illuminati in the film.
"Yeah, I think I watched Aliens and was just thinking about the way those Marines get massacred, and, yeah, I was glad it worked. I think originally, the Wasp was in a version of the Illuminati, and the Wasp shrunk down and flew at Wanda, and [Wanda] just clapped her hands and just smushed the Wasp in the first draft."
Naturally, that didn't pan out but we will see Wasp again next year in "Ant-Man and the Wasp: Quantumania."
Mortal Kombat Mobile is bringing Joker to the party
Lastly, it has been revealed that none other than Joker will be getting in on the action in "Mortal Kombat Mobile" later this month. The Clown Prince of Crime has previously joined several of the games on console but now, those who have fun with the mobile carnage will be able to have fun with the DC villain as well. The above trailer offers a comprehensive overview not only of the character's look in the game, but how he will actually function within it, showing off his violent moves and other key elements. No specific date was revealed but Joker will be added to the game later this month, so be on the lookout. You can download the game for Android or Apple mobile devices by clicking here.