Ethan Peck Explains The 'Burden' Of Becoming Star Trek's Spock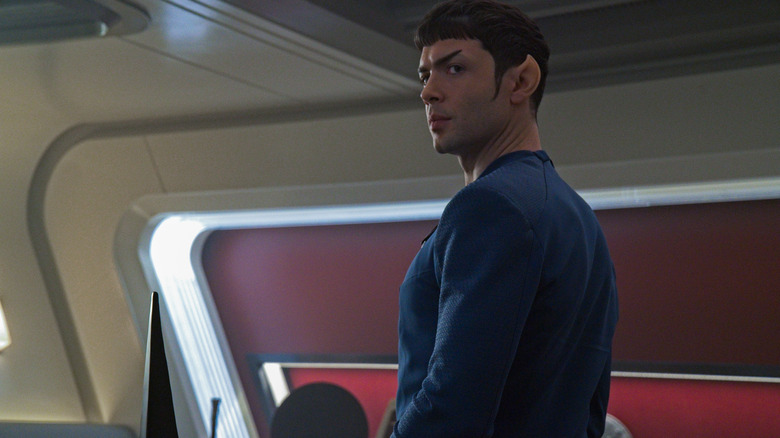 Paramount+
"Star Wars" tends to hog the spotlight during discussions of legacy characters and the weight that new actors feel when taking over the roles first embodied by such big-name actors. The recently-wrapped "Obi-Wan Kenobi" uses several recast (some fresh, some recast 20-odd years ago) characters to tell its story, for instance: Ewan McGregor's Obi-Wan, Hayden Christensen's Anakin, Vivien Lyra Blair as young Leia, and Grant Feely as young Luke. But that other major sci-fi franchise currently ongoing, "Star Trek," has faced (and overcome) similar challenges in terms of finding the perfect actors to channel the performances laid down by their predecessors.
If anyone's looking for the poster child for this trend, look no further than "Strange New Worlds." Led by Anson Mount as Christopher Pike and Ethan Peck as Spock, perhaps the greatest strength of the new series comes from expertly balancing storylines for both new and established characters alike. Understandably, however, Peck's Spock has benefitted from a particularly heavy focus in the early going. What writer's room could possibly resist the allure of crafting new and compelling situations to throw the Enterprise's science officer into, after all, especially when it's true that there's never been a bad Spock actor?
Much of "Strange New Worlds" (and season 2 of "Star Trek: Discovery" before it) succeeds on the strength of Peck's self-assured performance, which flawlessly evokes a younger version of Leonard Nimoy's representation of the character. But looks can be deceiving, as the half-Vulcan/half-human hybrid knows all too well. On the outside, viewers see nothing but a calm, measured, and entertaining new take on Spock. On the inside, however? That's a completely different story.
'The weight was nearly unbearable'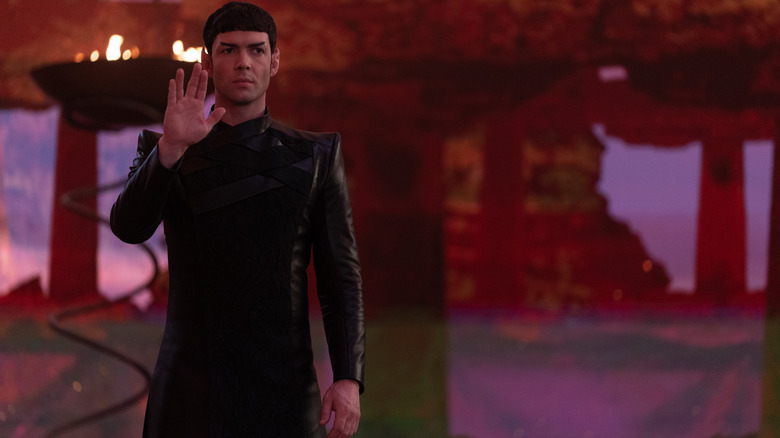 Paramount+
As intimidating as external fan expectations can be when an actor is cast to play a beloved role, few (if anyone) exert more pressure than the actors themselves. On the flip side, those who are able and willing to remain vulnerable and honest about their emotions — ironic, given the Spock of it all — typically prove a reliable source for insightful answers in interviews.
That certainly applies to Ethan Peck (as we here at /Film found out for ourselves in the past), a quality that he further displayed in a recent interview with THR. Inevitably, the actor was asked whether he still feels the immense pressure involved in bringing this version of Spock to life:
"That's a question that I can answer in so many different ways as time goes on because it changes. In the beginning, yes, the weight was nearly unbearable, and I wondered if I would be kind of broken by, 'I'm not sure that I quite feel worthy.' I'm still growing into Spock in many ways. And you know, now the pressure isn't quite as great as it was during 'Discovery.'"
Actors: they're just like us! Though none of us can likely relate to stepping into the shoes of someone as revered as Leonard Nimoy, it's easy to empathize with Peck's self-doubt here. But much like the thoughtful character he plays on TV, Peck sums it up best in his own succinct way.
"I think 'Star Trek' is such a beautiful burden for all of us and a heavy one, too. It represents something so special to so many people. It's hopeful and aspirational and inspiring and curious and accepting. And I think it's always anecdotal to all of the important things that are happening in the world."