Buzz Lightyear The Man Is Now A Toy Again, Thanks To Hot Toys' Lightyear Figure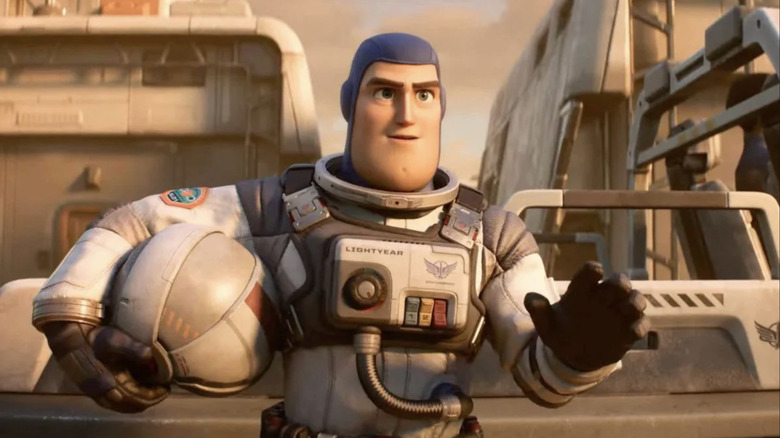 Disney / Pixar
When audiences were first introduced to Buzz Lightyear in "Toy Story," he was a toy spaceman based on the star of a hit sci-fi movie in-universe. "Lightyear" is that movie. If that's too much ridiculousness to process, just pretend that Buzz Lightyear is Han Solo and Andy got a Han Solo action figure for his birthday after seeing "Star Wars" and it became his favorite new movie. Does that make sense? Movie gods, I sure hope it does.
Of course, as "Lightyear" is a Disney movie ripe for merchandising, there's no way they weren't going to make toys based on "Lightyear" more than the traditional "Toy Story" version of Buzz Lightyear. He's got a different look! He has a different voice! He has fellow officers! He has an adorable robot cat we'd all give our lives to protect! There's so much more to the world of "Lightyear" than we knew, having only learned of the world through Andy's toy collection and the animated series "Buzz Lightyear of Star Command" that Disney has effectively buried from public consciousness so as to not screw with the new lore of the character. But just when you thought it was safe to wade back into the discourse waters of what "Lightyear" is or is not about, the toy makers at Hot Toys are ready to stir that pot right back up with a brand new Buzz Lightyear figure. 
To be clear, we mean the one voiced by Chris Evans from "Lightyear," not the Tim Allen one from "Toy Story." Still with me? Good.
A dream for toy collectors, not for children's playing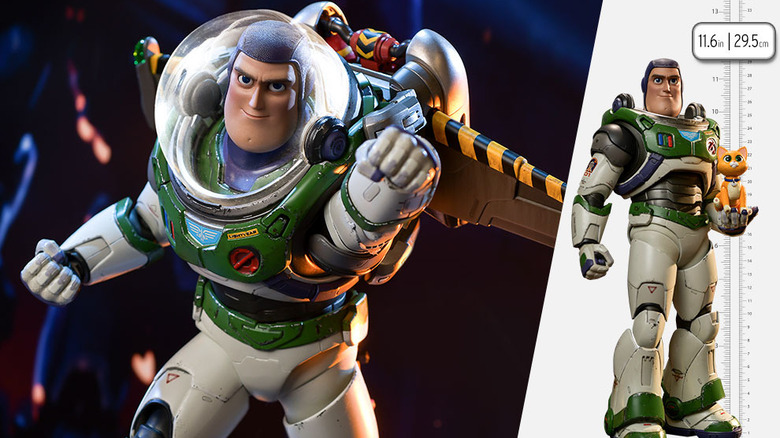 Hot Toys
Hot Toys didn't cut any corners on this elite figure, and they'd better not have considering the Space Ranger Alpha Buzz Lightyear figure goes for $315. Crafted to resemble the titular character as closely as possible, the figure boasts eyeballs that can roll independently, a screen-accurate recreation of the space ranger suit complete with weathering effects, a variety of Buzz's signature weapons including laser gun, blade, blaster cannon, and a pair of handcuffs, and a custom figure stand for ultimate posability.
For just $30 more, you can always opt for the deluxe edition of the figure which comes complete with Sox the robotic cat, Sox's computer, and the wing pack that made the original Buzz Lightyear toy so memorable and so impressive all those years ago. The figure is approximately 11.61 inches (29.5 cm) tall and painted by hand, making this an incredible display piece and not a toy. 
I mean, unless you wanna risk ruining the paint job on a really expensive figure, but hey, you do you.