Superhero Bits: TMNT Goes Back To The '80s, Chris Hemsworth's Pitch For Thor In Deadpool 3 & More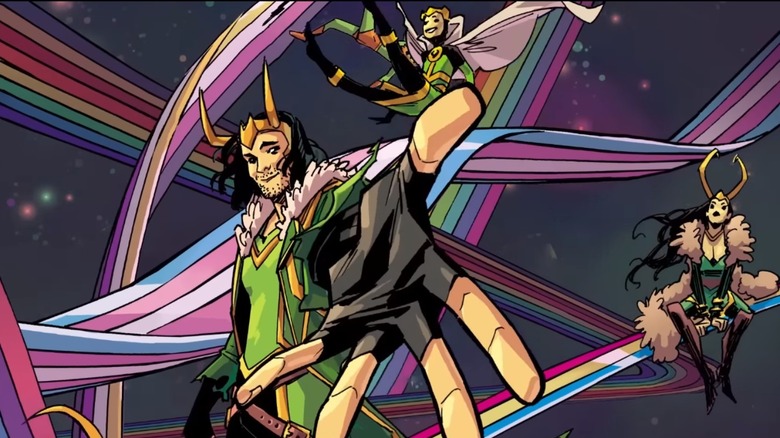 Marvel Comics
(Superhero Bits is a collection of stories, updates, and videos about anything and everything inspired by the comics of Marvel, DC, and more. For comic book movies, TV shows, merchandise, events, and whatever catches our eye, this is the place to find anything that falls through the cracks.)
In this edition of Superhero Bits:
Chris Hemsworth has a pitch to bring Thor into "Deadpool 3."
The "Harbinger" movie may have a new director.
"Gotham Knights" is going big on its version of Gotham City.
IDW is reviving the '80s "Teenage Mutant Ninja Turtles" cartoon as a comic.
Marvel Rising - Playing With Fire is streaming for free on YouTube
The folks at the Marvel HQ YouTube channel recently decided to offer up some free animated goods for fans in the form of "Playing With Fire," which was one of the "Marvel Rising" specials. So, what can one expect should they decide to press play? The logline reads:
When Inferno's powers are stolen by a young and powerful villain, it's up to the Secret Warriors to defeat their new foe and help their friend.
Gotham Knights features the biggest version of Gotham City in a video game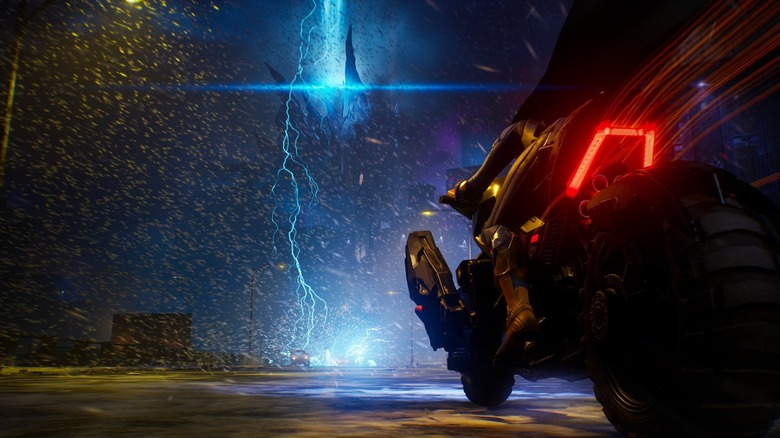 Warner Bros.
Despite suffering some delays, the "Gotham Knights" video game is on its way this fall. At least in one respect, it's going to be worth the wait. In a new interview with Game Informer, the game's executive producer, Fleur Marty, revealed that it will feature the largest version of Gotham City we've seen to date. Yes, larger than the "Batman: Arkham" games.
"For sure it's the biggest version of Gotham that has been represented in video games. The most important thing for us is its density and verticality. It has a lot of layers. The Batcycle is the long-range mode of transportation."
"Gotham Knights" is set to arrive on October 25, 2022.
The Boys is bringing the Herogasm to Vegas for real
This week will see the release of the much-discussed "Herogasm" episode of "The Boys" season 3. It's remarkable how much talk there has been about it online before it even airs, and for those who happen to be in Las Vegas, Amazon is rolling out the red carpet with a real Herogasm party that will, amongst other things, include a screening of the episode a day early. For those who are interested in attending, you can RSVP for the event by clicking here.
Ms. Marvel clip goes full-on Bollywood
Today brings with it the third episode of "Ms. Marvel" on Disney+ which has, in some ways, been overshadowed a bit by the finale of "Obi-Wan Kenobi." In any case, the critically-beloved show has released a new clip to offer a little taste of what some fans may be missing out on. Here, we get to see Iman Vellani's Kamala Khan going full-on Bollywood for a dance number within the latest episode. This show might not have the viewership of some of the other MCU shows on Disney+ just yet, but it clearly has a distinct look and feel to it. The first three episodes are streaming now, with new episodes dropping on Wednesdays.
Paramount's Harbinger movie may be coming back to life with a new director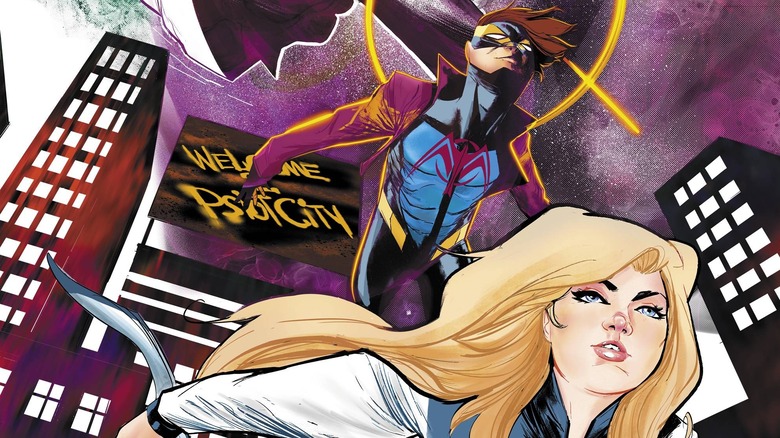 Valiant
Paramount Pictures has been trying to make a "Harbinger" movie for several years now. The potential film would be based on the Valiant comic book series of the same name that was originally published in the '90s. Generally speaking, it centers on a group of superpowered teens whose powers are exploited by an evil corporation, and they fight back against the powers that be. Now, according to Deadline, the movie is coming back to life as Paul Downs Colaizzo ("Brittany Runs a Marathon") is now in talks to direct the film. Previously, Wes Ball ("The Maze Runner") had been on deck to helm the adaptation, but he will be busy with Disney's new "Planet of the Apes" film. So, it falls to Colaizzo, assuming a deal gets done. No word yet on casting or when production may start, but this could be the spark the long-gestating project needs to finally get going.
Teenage Mutant Ninja Turtles: Saturday Morning Adventures revives the '80s cartoon
Teenage Mutant Ninja Turtles: Saturday Morning Adventures Comic Book Embraces the Radical Retro Vibe of the '80s Cartoon

Revisit the Totally Tubular TMNT Animated Series with @IDWPublishing Four-Issue Miniseries, Beginning in September pic.twitter.com/B6mHtg8OEC

— Michael Nimmo (@michaeljnimmo) June 21, 2022
The folks at IDW have answered the call for "Teenage Mutant Ninja Turtle" fans of a certain age as a brand new comic book miniseries is set to revive the classic 1980s animated series that helped to make the heroes in a half-shell a household name. "Teenage Mutant Ninja Turtles: Saturday Morning Adventures" is a four-issue monthly series from writer Erik Burnham and artist Tim Lattie that will tell a series of standalone adventures, picking up where the show left off. Burnham had this to say about it:
"I'm no stranger to writing the TMNT for IDW, but this is different. The version of the Turtles that exploded onto TV screens in 1987 was the version that I first met, and it brought me a lot of joy...and getting to play in this particular corner of the sandbox has built upon that joy! Humor, action, and plenty of high concepts were packed into each episode, and we're following that path. I'm not sure if anyone in comics is having as much fun as Tim Lattie and I are with these done-in-one stories!"
"Teenage Mutant Ninja Turtles: Saturday Morning Adventures" hits shelves in September. You can check out the first cover art above.
Chris Hemsworth wants to play Thor in Deadpool 3, and here's why
In the above interview with BBC Radio 1, "Thor: Love and Thunder" star Chris Hemsworth discussed a bit about his potential future as the God of Thunder in the MCU. He's been at it for 11 years now and it seems his time may be winding down. However, when the host mentioned the idea of him topping Hugh Jackaman's 17-year run as Wolverine, Hesmworth pondered the idea of keeping at it for another six years. Then, talk turned to Jackman making a cameo in "Deadpool 3," which would upend the whole thing. To which Hemsworth joked that he might "make some calls" and put himself in the film instead to keep Jackman from getting back in the saddle. It's all in good fun, but can you imagine Thor and Deadpool together? You can watch the full interview clip above.
Multiverse of Madness is now on Disney+ in the IMAX Enhanced format
Today brings "Doctor Strange in the Multiverse of Madness" to Disney+ after a very successful run in theaters. Not only is director Sam Raimi's sequel now available to stream at the click of a button, but viewers can do so while making use of the streaming service's IMAX Enhanced mode. This allows the film to be viewed with its IMAX aspect ratios restored, something that Disney+ has been doing with an increasing number of MCU movies, making for a unique home viewing experience. If you wish to have that experience, that is now available to any Disney+ subscriber at no additional cost.
Marvel Voices: Pride #1 trailer
Lastly, today brings a trailer for "Marvel Voices: Pride" #1, a brand new anthology tale that celebrates the LGBTQI+ characters of the universe, while also bringing a new character to the party. The trailer offers a brief overview of the stories collected within the book, which include author Charlie Jane Anders introducing a new hero to the Marvel Universe. We also have Christopher Cantwell taking on Moondragon's complex legacy, writer Andrew Wheeler making his Marvel debut with a Hercules tale, as well as Alyssa Wong reuniting the Young Avengers. The book is currently available both in stores and digitally.