Smile Trailer: Paramount's Upcoming Horror Flick Gives New Meaning To 'If Looks Could Kill'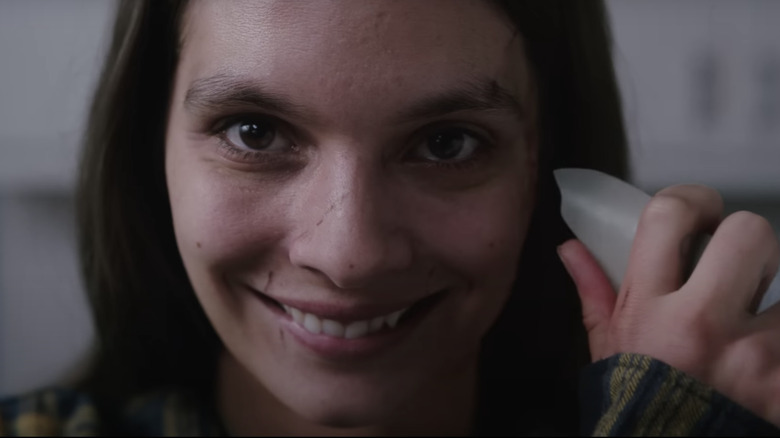 Paramount Pictures
Does that distorted smile look familiar? Based on the record-breaking numbers, odds are you've seen "Top Gun: Maverick" in theaters; if you managed to secure your popcorn and soda before the trailers began, then you would've caught a glimpse of "Smile," the mysterious new horror film from Paramount that features a bunch of regular-looking people with dangerously unnatural grins stretched across their faces. But on the off chance that you haven't been to theaters in the past few weeks, then perhaps what you're remembering is the Blumhouse travesty from 2018, "Truth or Dare." That would be a pretty safe bet — these movies seem to have a lot in common, first and foremost being the very familiar premise. But based on the spine-chilling new trailer, "Smile" has a few extra tricks up its sleeve.
Like a cross between "It Follows" and "The Ring," the curse of "Smile" is apparently contagious. Dr. Rose Cotter (Sosie Bacon) first encounters the situation through a psychiatric patient of hers then later notices the very same phenomena in her own life: people around her are wearing those silent, eerie smiles and no one notices but her. It soon becomes apparent that a few unsettling grins might be the least of her worries — something malevolent is actively trying to kill her. As we've seen so many times before, Rose goes down a particular path to survive: first trying to outrun the force, then tracing it back to its source. Whether or not she can unravel the mystery before it catches up with her is the big question.
Smile trailer
It's all very familiar and probably not too hard to imagine how the movie will progress, but the scares will make or break the experience, and based on the trailer, 'Smile" is more than promising. There's also no telling about what this movie has hidden under wraps: all that we've seen so far of the trailer is exactly what we'd expect from the premise while details on the mystery and characters remain scarce.
Sosie Bacon leads the cast as Rose, growing more paranoid by the minute as she tries to make sense of the potentially supernatural force that's haunting her. Also starring in the film is Jessie T. Usher, Kyle Gallner, Robin Weigert, Caitlin Stasey with Kal Penn, and Rob Morgan. "Smile" is written and directed by Parker Finn and adapted from his 2020 short film, "Laura Hasn't Slept." The horror short followed a woman haunted by a recurring nightmare and received not just critical praise, but went on to win the SXSW Film Festival's special jury Midnight Short award.
"Smile" will arrive in theaters on September 30, 2022. You can check out the synopsis and poster below. 
After witnessing a bizarre, traumatic incident involving a patient, Dr. Rose Cotter (Sosie Bacon) starts experiencing frightening occurrences that she can't explain. As an overwhelming terror begins taking over her life, Rose must confront her troubling past in order to survive and escape her horrifying new reality.