Thor: Love And Thunder Fans Will Want To Watch These 10 Movies Next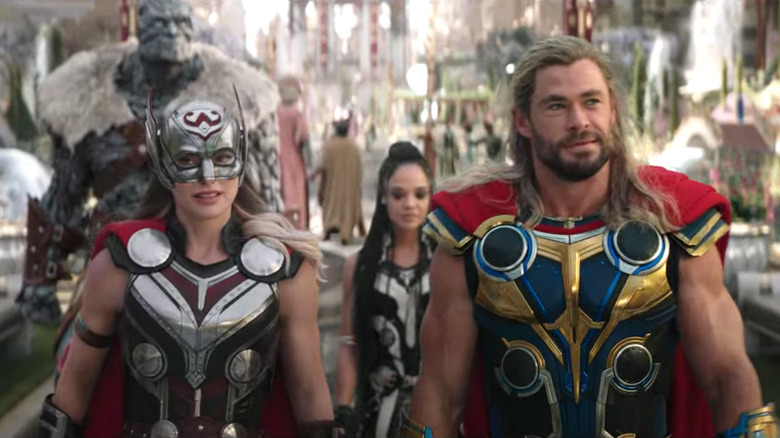 Marvel Studios
Marvel fans, "Thor" fans, and especially "Thor: Ragnarok" fans have much reason to rejoice as the next installment in the series, "Thor: Love and Thunder" is finally upon us. While the Taika Waititi-directed "Thor: Ragnarok" brought a fresh sense of silly, irreverent fun to the franchise, "Thor: Love and Thunder" pumps up the volume on the goofy good time of it all, making for a playfully over-the-top, retro-infused, space opera-style superhero fantasy adventure.
"Thor: Love and Thunder" finds the retired space Viking, Thor Odinson (Chris Hemsworth), on a spiritual journey to "find himself," but his inner peace is soon interrupted by Gorr the God Butcher (Christian Bale), whose name says it all, as it turns out he's hell-bent on the extinction of the gods, ominously promising that "all gods will die."
From here, as per the official synopsis:
Thor enlists the help of King Valkyrie (Tessa Thompson), Korg (Taika Waititi) and his ex-girlfriend Jane Foster (Natalie Portman), who — to Thor's surprise — inexplicably wields his magical hammer, Mjolnir, as the Mighty Thor. Where will this quest take them? On a trek to Olympus where Zeus (Russell Crowe) reigns supreme, for starters.
It all makes for a cosmically fun, '80s-inspired, rainbow-colored, thunder-and-lightning-filled affair. Once you've seen it, you'll next want to check out these other movies that will help keep the good-time spirit of "Thor: Love and Thunder" rolling.
Conan the Barbarian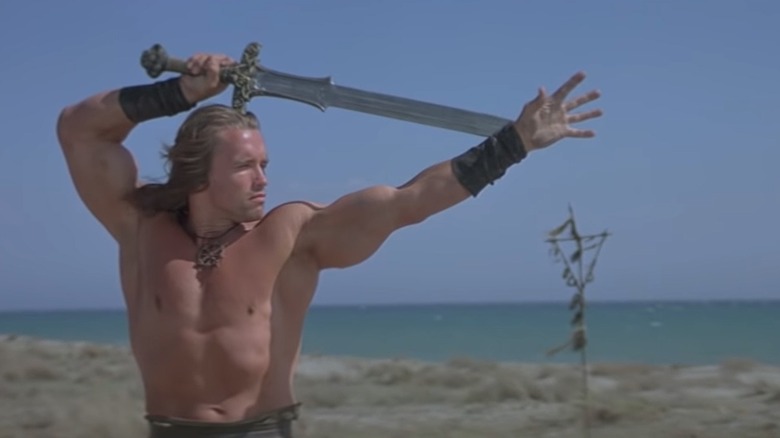 20th Century Fox
A gleamingly muscular lead with long flowing locks and a mighty big, uh, weapon... No, I'm not talking about "Thor Love and Thunder" I'm referring to the 1982 epic fantasy adventure film, "Conan The Barbarian."
Replace Chris Hemsworth with Arnold Schwarzenegger, Thor's hammer with a huge sword, Natali Portman's buffed-out Jane with a warrior named Valeria (Sandahl Bergman), and Gorr the God Butcher with a sorcerer named Thulsa Doom (James Earl Jones), and they're practically the same movie! Well, not quite, but close enough.
"Conan The Barbarian" revolves around a former slave (Schwarzenegger) who rises up to become a big meaty barbarian who seeks vengeance on the aforementioned sorcerer who killed his parents and stole his father's sword. It's a very '80s adventure that helped launch Swarzenegger's career as an action superstar.
Based on a 1930s pulp fantasy series by Robert E. Howard, "Conan The Barbarian" is a magical fantasy adventure deluxe that is a perfect post-"Thor Love and Thunder" watch.
The Beastmaster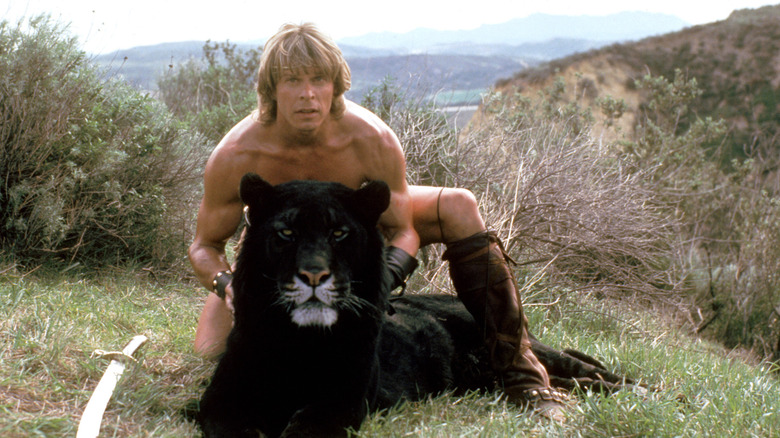 MGM/UA
"Thor Love and Thunder" director Taika Waititi clearly found inspiration in the epic fantasy adventure films of the '80s, and if you think "Conan The Barbarian" was the only film of that ilk released during that decade, you'd be mighty wrong.
There must have been some major magic in the air in 1982 because mere months after the release of "Conan," the world was gifted with another barechested hero with a sword — "The Beastmaster." The titular man at the center of this film not only carried a sword but also a pair of ferrets, a black tiger, and an eagle, too. It doesn't get any more '80s machismo than that (insert eagle cry).
"The Beastmaster" stars Rip Torn as a high priest named Maax who sends a witch to kill the newborn son of the king after it is prophesied that this child will eventually kill him. The boy instead grows up as a common villager named Dar (Marc Singer), who in addition to having a chiseled physique also has the special skill of being able to telepathically communicate with (and master) all manner of beasts. These talents serve Dar, aka. The Beastmaster, well when it comes to the ladies, too, as he meets and falls for a scantily-clad slave named Kiri (Tanya Roberts). God bless the '80s!
Willow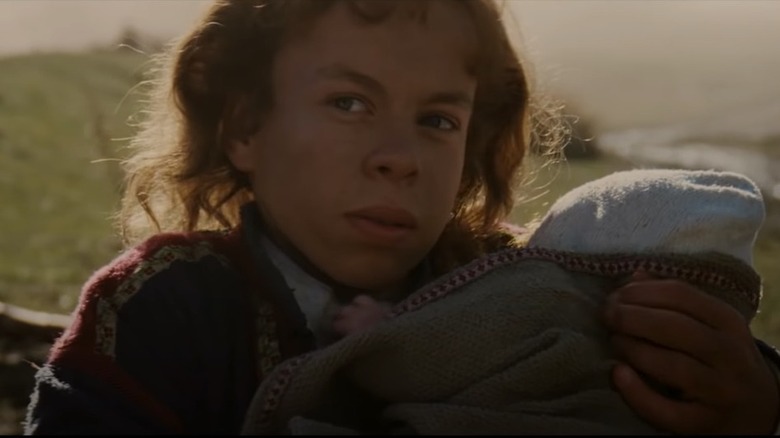 MGM/UA
The sword and sorcery cinema fad continued through the 1980s, culminating in a high point with 1988's "Willow," another fantastical movie you'll want to watch after seeing "Thor: Love and Thunder."
Directed by Ron Howard from a story by George Lucas and geared slightly more for kids than "Conan the Barbarian" or "The Beastmaster," "Willow" follows the adventures of farmer and would-be sorcerer Willow Ufgood (Warwick Davies), who finds himself the protector a baby named Elora, who is prophesied to bring about the downfall of an evil sorceress named Queen Bavmorda. This leads Willow on the adventure of a lifetime, accompanied by mercenary Madmartigan (Val Kilmer) (who provides the obligatory bare-chestedness and long flowing locks), while being pursued by Queen Bavmorda's warrior daughter, Sorsha (Joanne Whalley).
"Willow" is a magnificently fun bit of movie magic that '80s' kids remember fondly, despite mixed reviews from the critics. It's earned a cult following over the years, and there's a much-anticipated sequel series coming soon to Disney+.
Flash Gordon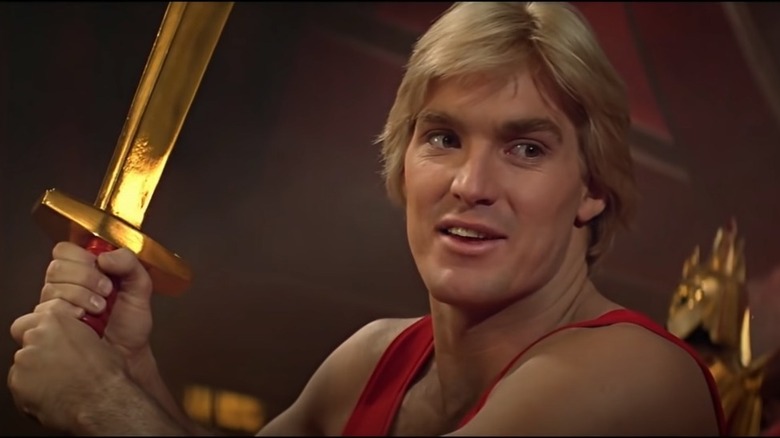 Universal
If there's any movie that influenced the rad-tastic '80s space opera aesthetic and irreverently fun vibes of "Thor: Love and Thunder," it's the campy comic book-based "Flash Gordon," which Taika Waititi has cited as an influence on "Thor: Ragnarok." For "Love and Thunder," the director seemingly turned every over-the-top element he'd previously been inspired by up to 11.
The cult classic adventure finds American football player Flash Gordon (Sam Jones) on an intergalactic journey to the planet Mongo, where he and his companions Dr. Hans Zarkov (Topol) and love interest Dale Arden (Melody Anderson) must attempt to stop Emperor Ming the Merciless (Max von Sydow) from destroying Earth out of sheer boredom.
"Flash Gordon" is a seriously silly bit of filmmaking that is too serious to be funny and too silly to be serious. As Empire Magazine put it, it's "Laughably bad and fantastically good all at once."
Big Trouble in Little China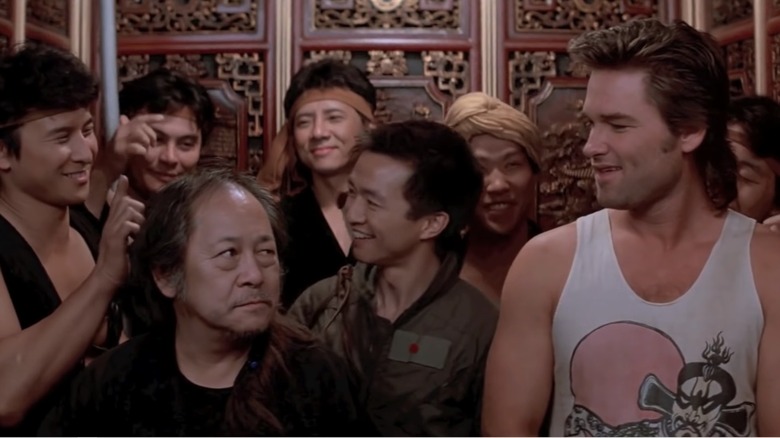 20th Century Fox
Another film that Taika Waititi has credited with influencing "Thor: Ragnarok" (and by extension, "Thor: Love & Thunder") is John Carpenter's irreverently humorous '80s fantasy-action-adventure, "Big Trouble in Little China."  
Waititi was especially inspired by the film's cocky but clueless protagonist, truck driver Jack Burton (Kurt Russell), who gets drawn into Chinatown's underworld (literally) and finds himself facing off against an ancient sorcerer named Lo Pan (James Wong) after his friend's (Dennis Dun) fiancee (Suzee Pai) gets kidnapped. It's a madcap, maximalist adventure, and Russell's Burton is a silly, lovable hero you can't help but root for, much like Chris Hemsworth's oafy Thor.
Unfortunately, "Big Trouble in Little China" initially received a lukewarm reception at the box office and from critics alike. However, like other John Carpenter movies, the film has garnered an enthusiastic reappraisal over the years and is now a beloved cult classic.
Clash of the Titans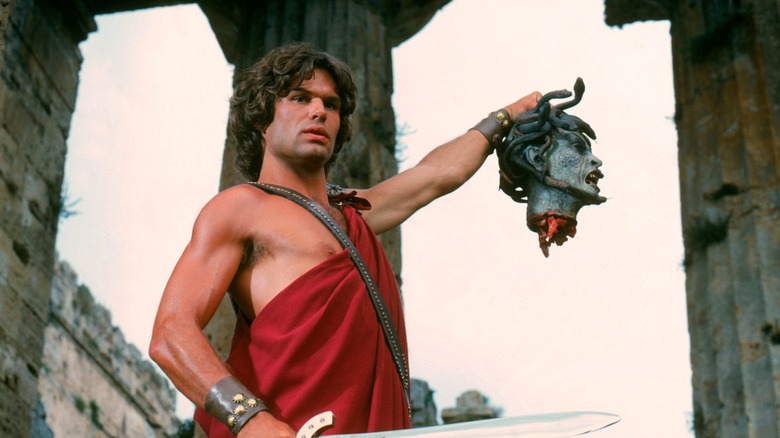 United Artists
Considering that "Thor: Love and Thunder" revolves around several mythical gods, including Mt. Olympus' head honcho, Zeus (Russell Crowe), fans of the film will afterward want to watch 1981's "Clash of the Titans," which brings ancient Greek mythology to cinematic life with a thrilling combination of live-action, stop motion, and an indefinable 1980s mystique.
"Clash of the Titans" stars Harry Hamlin as (the bare-chested) Perseus, son of Zeus (Lawrence Olivier). Perseus, who grew up on a desert island, must travel to the ancient city of Joppa to rescue and wed Princess Andromeda (Judi Bowker) but not before defeating all manner of foes, including a Kraken, the Gorgon Medusa, and a satyr named Calibos (Neil McCarthy).
Legendary stop-motion animator Ray Harryhausen co-produced the film and was responsible for creating the unforgettable creatures and special effects. Film critic Roger Ebert called it "a grand and glorious romantic adventure, filled with brave heroes, beautiful heroines, fearsome monsters, and awe-inspiring duels to the death."
The Lost City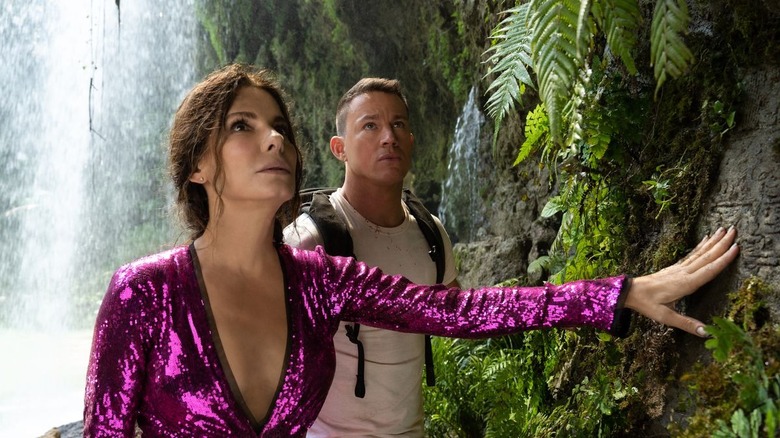 Paramount Pictures
"Thor: Love and Thunder" really leans into both the "Love" and the "Thunder" elements of its name. If you've seen "Thor: Love and Thunder" or even just the trailers, you'll know that Thor's astrophysicist ex, Jane (Natalie Portman, has re-entered his life but now wields a reconstructed version of Thor's hammer, Mjolnir, as the Mighty Thor. It's quite the godly glow-up for Natalie Portman's character that provides some of the "Thunder" (and lightning) and of course, an element of romance.
For the "Love" part of the film, specifically, Waititi has alluded to some late 1990s romantic comedies that he's particularly fond of that may or may not have influenced the plot, including "10 Things I Hate About You," "Clueless," and "How to Lose a Guy in 10 Days," any of which would make for great viewing next.
Yet, Waititi has also cited the influence of romance novels and their cheesy cover images, which leads us to "The Lost City" in which Sandra Bullock plays Loretta Sage, a romance novelist who is swept up in a real-life adventure with her book cover model, Alan (Channing Tatum). When Loretta is kidnapped by a billionaire, Alan sets off to rescue her to prove he can be as much of a hero as the lead in her novels. It's a fun enough throwback affair that we can find shades of in Thor and Jane's relationship.
What We Do in the Shadows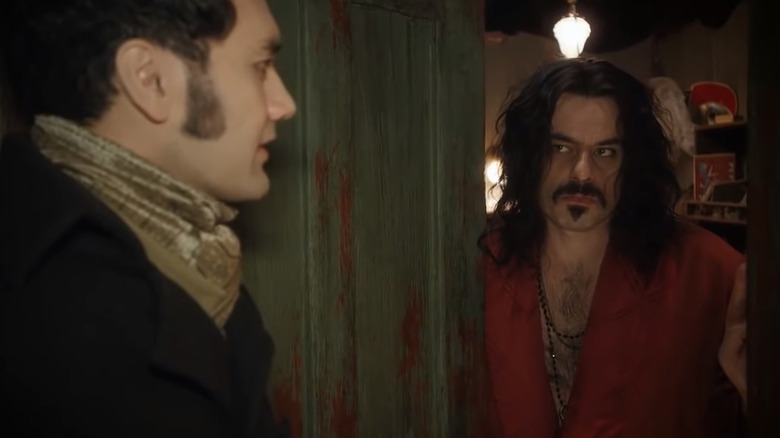 Unison/Paladin
Fans of the irreverent brand of humor that New Zealand director Taika Waititi has brought to the "Thor" films will appreciate the 2014 vampire mockumentary he wrote and directed with Jemaine Clement, "What We Do in the Shadows," which has since been adapted into a hit television series of the same name for FX.
"What We Do in the Shadows" stars Waititi and Clement along with Jonathan Brugh and Ben Fransham as four vampire housemates who live in modern-day Wellington. The film follows the amiable bloodsuckers as they navigate the complexities and mundanities of our era while possessing supernatural powers, the curse of immortality, and the need to feed on blood — all while being followed by a documentary crew, and contending with their arch nemeses, a band of werewolves ("werewolves, not swearwolves").
In addition to the "What We Do in the Shadows" series, the movie also spawned the spin-off, "Wellington Paranormal," which was picked up by HBO.
Everything Everywhere All at Once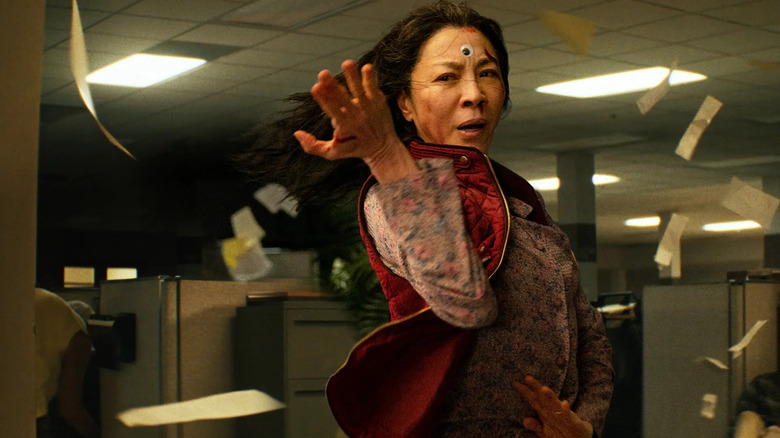 A24
It's absurdist. It's insane. It's a movie that lives up to its title. It's "Everything Everywhere All at Once," and it's a movie you'll want to watch after seeing "Thor: Love & Thunder."
"Thor: Love and Thunder" is an audacious over-the-top movie that swings for the fences to deliver maximum entertainment, and the same can be said for directing duo Dan Kwan and Daniel Scheinert's madcap multiverse adventure. Michelle Yeoh stars as Evelyn Wang, a struggling laundromat owner who gets drawn into a wild journey across multiple parallel universes in which anything and everything is possible, and she alone can save the world.
With her husband, Waymond (Ke Huy Quan), and the alternate versions of herself, Evelyn works to stop Jobu Tupaki (Stephanie Hsu), who is, in another universe, her daughter, while avoiding an IRS examiner (Jamie Lee Curtis). It's hard to explain the rest of the plot but just know that hot dog fingers are involved.
RRR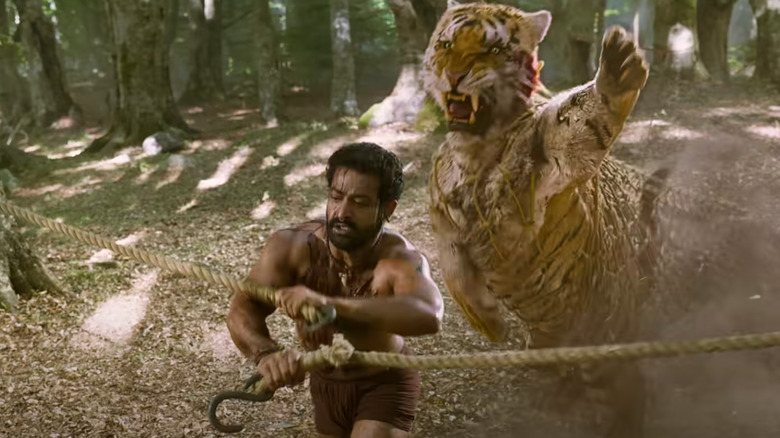 Netflix
Speaking of maximalist entertainment, this year's biggest, brashest movie might just be the Indian sensation "RRR." After an incredibly successful theatrical run that saw it raking in huge worldwide box office returns, the smash-hit blockbuster is available to watch on Netflix in Hindi.
"RRR" is a fictional tale based on real-life 1920s Indian revolutionaries Komaram Bheem (N.T. Rama Rao Jr.) and Alluri Sitarama Raju (Ram Charan), charting an undocumented period in their lives during which they left home before fighting for their country.
The most expensive Indian film ever made, "RRR" is spectacularly over the top in every way, making it an entertaining watch and a spiritual cousin to "Thor: Love and Thunder." Considering that "RRR" stands for Raudraṁ Raṇaṁ Rudhiraṁ, which translates to "Rage, War, Blood" or "Rise, Roar, Revolt," it's no surprise this movie has it all, including crazy action sequences, explosions, dance sequences, and lots of big tiger action as well. "RRR" is an absolute must-see.