Working With Robin Williams Earned Robert De Niro A Broken Nose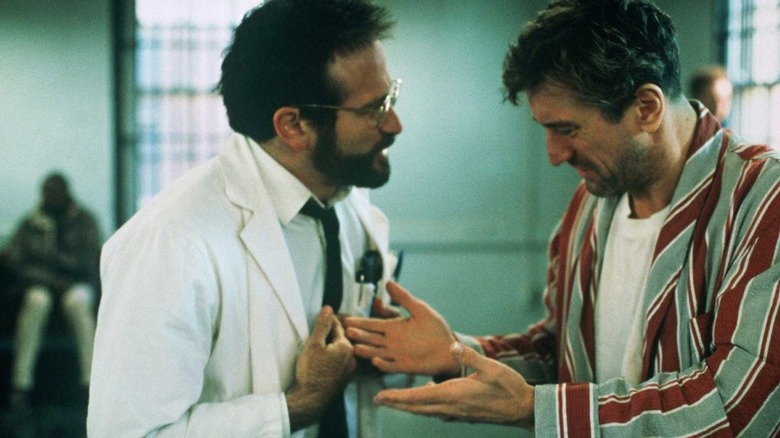 Columbia Pictures
We've seen Robert De Niro mix it up quite a bit when it comes to physicality on screen. We've seen the decorated actor involved in fights, stabbings, and shootouts in movies such as "Midnight Run," "The Godfather Part II," and "Heat." De Niro managed to walk off those film sets unscathed, but it was an emotional drama with no intense action scenes that led to him suffering a broken nose on set. And the blow that broke his nose came from none other than the late, great Robin Williams.
Williams and De Niro paired up for 1990's "Awakenings," a film inspired by a true story and based on the memoir by Dr. Oliver Sacks. Robins portrays a neurologist who administers a life-changing drug that awakens a group of patients who've spent decades in a catatonic state; De Niro is one of those patients. The movie earned Oscar nominations for best picture and best adapted screenplay, and De Niro also picked up a nomination for Best Actor. "Awakenings" is one of Robin Williams's best movies, and definitely one of his best non-comedic performances.
So, how did this tear-jerker of a movie cause Robin Williams to break Robert De Niro's nose on set?
Robin Williams' elbow went BAM!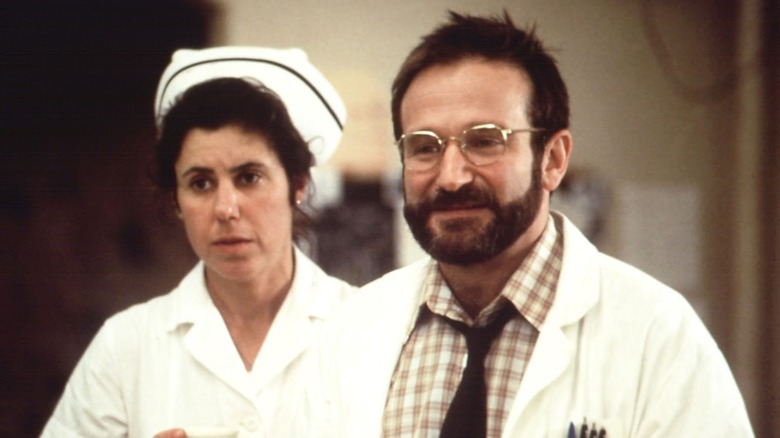 Columbia Pictures
Robin Williams explained how he broke Robert De Niro's nose on the set of "Awakenings" during an interview with Australian TV presenter Ray Martin. As Williams recalled, De Niro's character was having a seizure and Robins, playing the doctor, stepped in to restrain him. "And my elbow went 'BAM!' and it made a noise like a chicken bone breaking," Williams said.
I grew up watching professional wrestling (WWE to be specific), and the one thing that ground my gears was hearing teachers, grown-ups and other detractors constantly point out that pro wrestling was fake. Even today, I despise the f-word; I prefer the terms scripted and choreographed — much like action movies and TV shows. Actors, just like pro wrestlers, put their bodies on the line to entertain us. And unfortunately, mistakes on set happen, which sometimes lead to injuries, or even worse. We received a grim reminder of that in 2021 with the fatal "Rust" shooting incident involving Alec Baldwin.
Thankfully, most of the mishaps that occur on set don't result in tragedy, but they do sometimes lead to serious injuries that require hospitalization. Around the time of the "Rust" tragedy, production on the "Black Panther 2" went on hiatus after Letitia Wright suffered injuries while filming an action scene for the movie. Williams inadvertently clocking De Niro in the muzzle shows how actors risk injuries in even the most innocuous, minimum contact scenes.
'It looks better than it did before'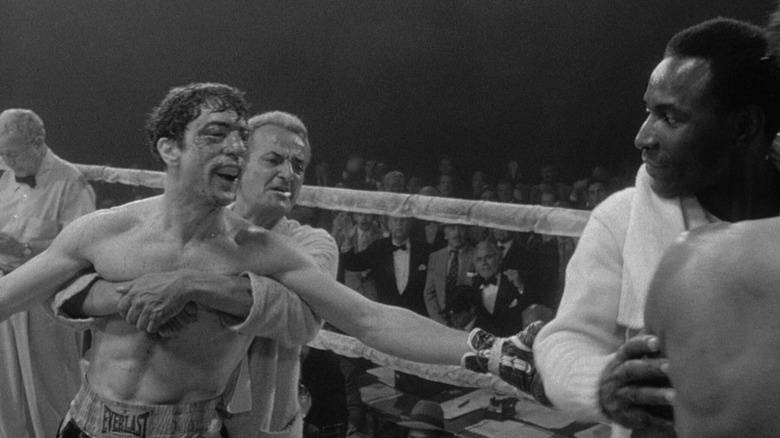 United Artists
In the interview, Robin Williams capped off his account of breaking Robert De Niro's nose by quipping that De Niro's surgeon said Williams had knocked De Niro's nose back into place from an injury he suffered while filming "Raging Bull," the 1980 film based on the life of boxer Jake LaMotta. Williams was so comedic in his delivery, however, that you may mistake it as a joke; the audience members sure laughed as if they did. But he was telling the truth. The incident was recounted in a 2018 Robin Williams biography written by New York Times culture reporter Dave Itzkoff, in which De Niro himself confirms Williams' account, per People:
"The thing is, my nose was broken once before, and he knocked it back in the other direction — straightened it out," De Niro says in the biography. "It looks better than it did before."
Since De Niro originally broke his nose while filming "Raging Bull," that means he was walking around with a messed-up nose for a decade before Robin Williams knocked it back into place. Did De Niro have a crooked nose in "True Confessions," "The Untouchables" and "Midnight Run"? I'm now tempted to go watch Robert De Niro movies and do a content analysis of his nose structure decade-by-decade.