Turning Red Is Getting A Companion Manga Series About Canada's Greatest Fictional Boy Band 4*Town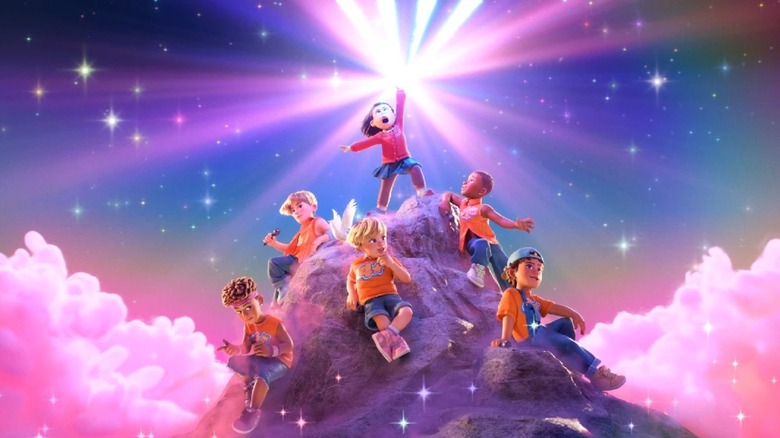 Disney+
Do you ever read a headline and think to yourself, "Wow, I think the NSA agent that lives in my phone might also be working for Hollywood?" Because that's exactly how I feel upon learning that 4*Town, the mesmerizing fake boy band featured throughout the coming-of-age Pixar masterpiece, "Turning Red" is getting their own companion manga series.
Viz Media, the company that helped bring properties like "Sailor Moon," "Dragon Ball Z," "Pokemon," "One Piece," "Naruto," and countless others to the West will be launching the manga in the second quarter of 2023. As a lifelong lover of manga and anime, it's safe to assume that "Turning Red" director (and newly appointed vice president of creative at Pixar) Domee Shi is losing her absolute marbles, and I love that for her.
"Turning Red" is dripping with manga and anime influences, so a companion manga feels like the film's production is coming full circle. "Turning Red" focused on a 13-year-old Chinese Canadian girl named Meilin Lee who discovers she possesses a familial "curse" where she transforms into a giant red panda whenever her emotions get a little too big to handle. One of the easiest ways to spark an emotional burst? Fangirling out over 4*Town.
The manga is titled "Disney and Pixar's Turning Red: 4*Town 4*Real: The Manga," and being authored by DIRCHANSKY and drawn by KAlfee. As Viz media tells it, the manga will "take you behind the music of Canada's greatest nineties boy band, 4*Town." Consider this writer's tummy, turned.
'You're never not on my mind, oh my, oh my'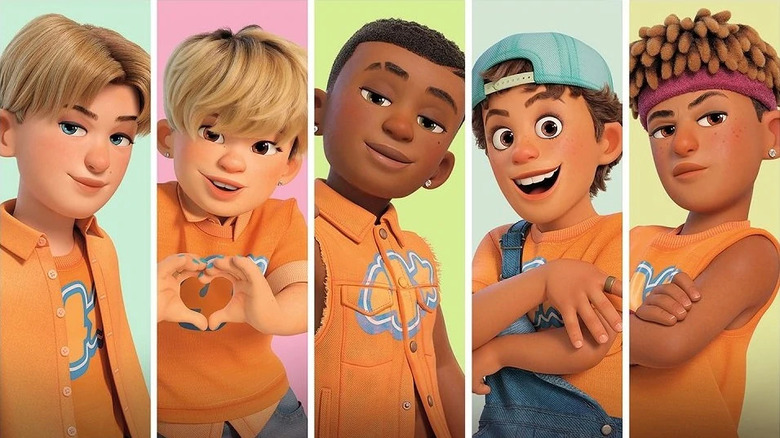 Disney+
4*Town is composed of Robaire (Jordan Fisher), Jesse (Finneas O'Connell), Aaron T. (Topher Ngo), Aaron Z. (Josh Levi), and Tae Young (Grayson Villanueva), who had three songs featured in "Turning Red," written in real life by Billie Eilish and her brother FINNEAS. The featured track, "Nobody Like U" is a perfect boy band bop guaranteed to get stuck in your head for months .. .not that I'm speaking from experience. Check out the manga's official synopsis below.
"4*Townies are hyped to see 4*Town performing their favorite hits live, but how will Canada's greatest boy band spend the day leading up to their epic Toronto concert? Hang with Robaire, Jesse, Tae Young, Aaron T, and Aaron Z as they enjoy a rare break in their busy schedules! Jesse and Tae Young embrace their artistic side and visit a ceramics museum, Aaron T gets his fashion on at the mall, and Aaron Z and Robaire stay in the dance studio to master their moves before the sold-out show. Only the realest fans deserve to get this up close and personal with Tween Beat Magazine's Hottest Band of the Year!"
To quote our favorite animated boys, "Let's call it what it is — it's a masterpiece."