This Was Rachel Brosnahan's Most Difficult Scene In The Marvelous Mrs. Maisel Season 4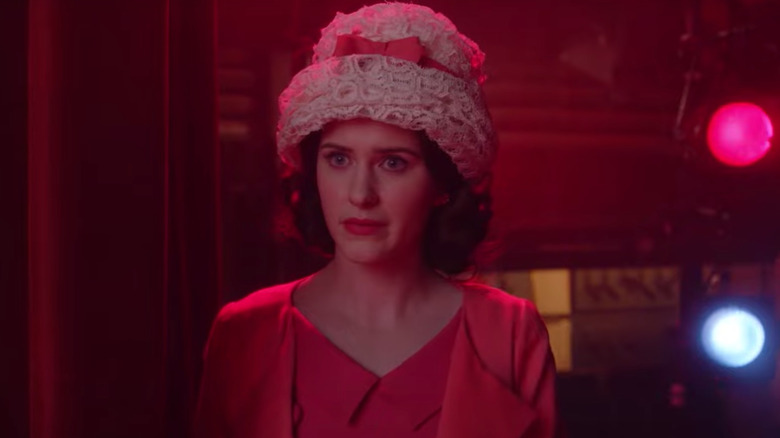 Prime Video
The mad divorcée of the Upper West Side, aka "The Marvelous Mrs. Maisel," is due to return for one more season before the motor-mouthed comedian takes her final bow. It's hard to imagine parting ways with Midge Maisel's (Rachel Brosnahan) unhinged energy, but comforting to know that the show is set to go out on its own terms, with Amy Sherman-Palladino and Dan Palladino bringing Midge's story to its natural ending. And if you think that the approaching end is emotional for us viewers, then imagine how the cast and crew feel — Prime Video has already pulled the trigger and the final season is midway through filming. 
To mark the occasion, Brosnahan drafted her co-star and onscreen ex-husband Michael Zegen (aka Joel Maisel) to interview her for The Wrap. During their chat,  Zegen revealed that the final episode is shooting in October, with Brosnahan noting, "Every time I think about it too much, I get all weepy." This likely means the final season is due in 2023, so at the very least, we have some time to prepare for the bittersweet end. 
And in the meantime, the conversation between Zegen and Brosnahan gives us a lot to unpack about the show's penultimate season.
A conversation between Maisels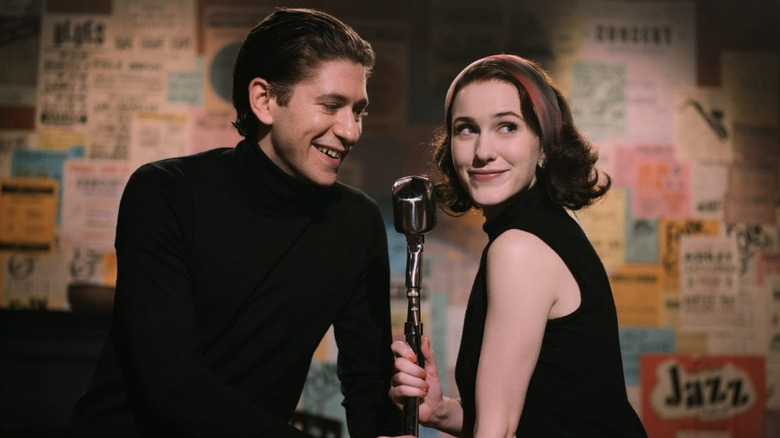 Prime Video
Much like Variety's Actors on Actors series, Zegen and Brosnahan's interview proves how much fun can come from two actors in conversation. At one point, Zegen took a special interest in Brosnahan's process when it comes to receiving their notoriously lengthy scripts. Brosnahan laughed and said, "I panic." She added, "And I don't sleep for days at a time. I wish I was kidding." Zegen went on to talk about the color-coded tabs he's noticed on her pages and Brosnahan revealed that she might share in Midge Maisel's Type A personality:
Zegen: I've always noticed that you've got these little color-coded tabs in your script. What are those, and should I be ashamed that I don't do the same?

Brosnahan: No! 'She's Type A!' They're marking scenes that I'm in, and the colors correlate to how difficult they're gonna be for me to learn.

Zegen: No way, really?

Brosnahan: Yeah. So red is like, "Oh f–k, you need to spend some time with this." And blue is like, "You could probably, if you had to, get away with learning this dialogue the night before."
It's not surprising to hear how intense Brosnahan's process is, given the rapid-fire nature of Midge's dialogue. Any single scene is likely to have a quippy, fast-moving rhythm, layered with jokes and lots of tonal shifts. "Most of my scripts are just filled with red," she told Zegen. Brosnhaan went on to explain that one of the fourth season's most challenging scenes came at the very beginning:
"The opening monologue from this season was intimidating, because it opens on a very dramatic moment: Midge and Susie have just been left on the tarmac (after being fired from the Shy Baldwin tour), and we're living in the immediate aftermath."
Midge gets physical with a skirt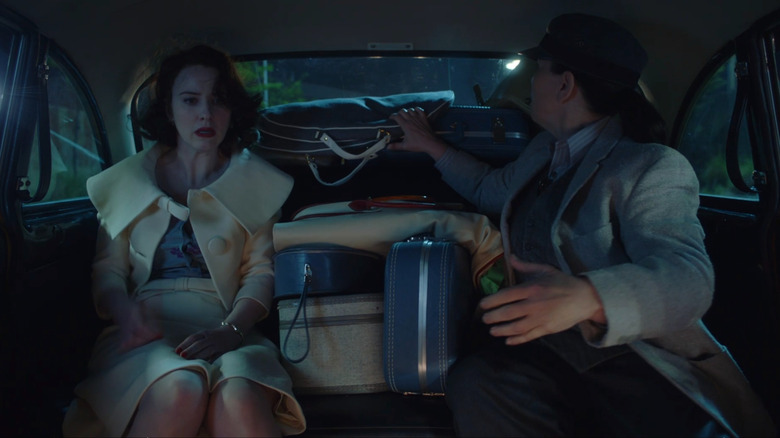 Prime Video
Allow me to set the scene: this moment comes right at the top of the season premiere. "The Marvelous Mrs. Maisel" begins its fourth season a lot like its first — Midge has suffered a major setback thanks to a decision made by a man in her life, and before she can fully process the damage done, she's forced to completely rethink her future. It sends her spiraling and she has an explosively dramatic response (that's pretty hilarious if you're on the outside looking in). The first time around, the catalyst was Joel leaving her and the result was a life-changing standup performance that set her on a brand new life track. This time around, it's Shy Baldwin's decision to drop her from his tour. The result? An emotional breakdown and a hefty cab bill. 
Brosnahan explained that Midge's erratic emotional state was the main challenge:
"Midge is shocked and devastated and angry, and then she somehow loses her clothes and is alternating between laughing, crying, getting pissed, yelling and punching Susie. So it just felt really important to know those lines upside down and backward before we could even hope to play with them."
That red tab must be enormously effective, because in the end, Brosnahan had plenty of room to play: in-between hysterical laughter, the occasional profanity, and some anguished yells is a feat of physical comedy where Midge tears off her perfectly-coordinated outfit, kicks a skirt, and attacks the taxi with a tree branch. And all of this in the first five minutes of the episode! With a whole season of overreaction to go, there's no telling whose car Midge Maisel might attack next.
"The Marvelous Mrs. Maisel" is set to end with its fifth season, though no release date has been announced.