How Baz Luhrmann Recruited Jay-Z For His Take On The Great Gatsby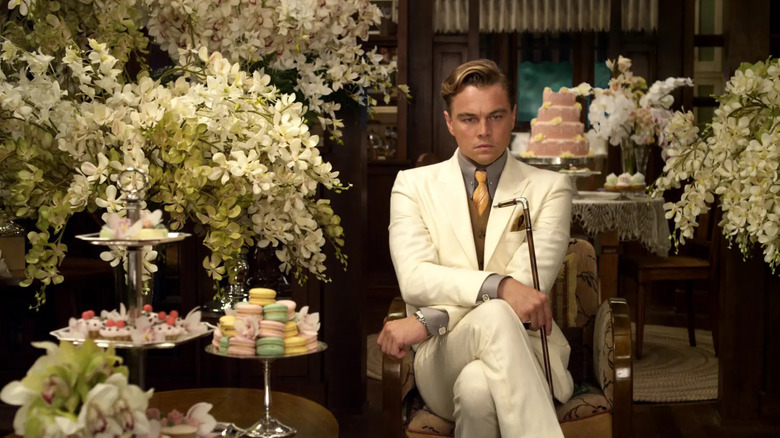 Warner Bros. Pictures
When Baz Luhrmann mounted a new 21st-century film adaptation of "The Great Gatsby," he brought a hip-hop sensibility to it, courtesy of Jay-Z and The Bullitts, who co-executive produced the banging soundtrack. The Bullitts is the stage name of Jeymes Samuel, who has since gone on to become an accomplished director in his own right, helming one of the best films of 2022, Netflix's "The Harder They Fall." Jay-Z co-produced that film under his own real name, Shawn Carter, but he's had less of a stake in filmmaking than Samuel. And if you think about the white American face of Robert Redford in the 1974 adaptation of F. Scott Fitzgerald's novel — or even that of Leonardo DiCaprio in Luhrmann's film — Jay-Z wouldn't necessarily be the first name that comes to mind as the musical ringleader for "The Great Gatsby."
Then again, maybe there was no better choice to carry on the soul of the Jazz Age than one of the greatest hip-hop artists of all time. Speaking to Interview Magazine, Luhrmann explained the thought process that led to him enlisting Jay-Z for the soundtrack to "The Great Gatsby." He said:
"I already had this notion, because in the novel, Fitzgerald was writing about this fad, this African-American music called 'jazz' that everyone said would never last. People thought it would date the book. And I thought if I wanted the film to feel like the book did then, when jazz was part of pop culture, then I wanted to weave in jazz and hip-hop now, because hip-hop, to me, symbolizes that same feeling. So I thought, What I really need is a maestro of hip-hop."
'We're gonna do this'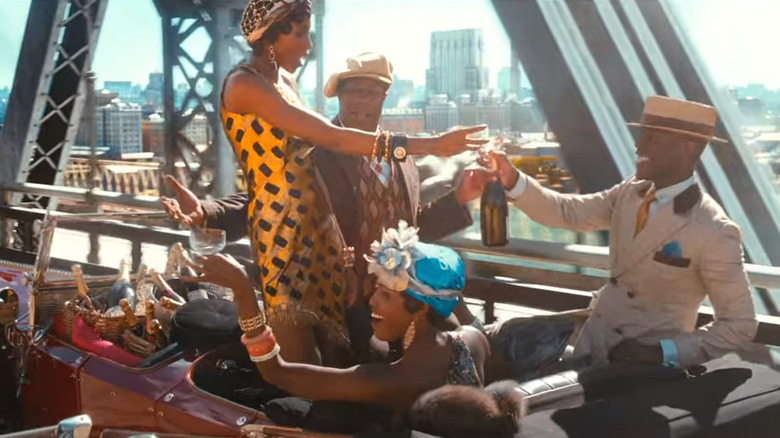 Warner Bros. Pictures
Luhrmann also related the story of how DiCaprio phoned him up and had him come to a suite in the Mercer Hotel in Soho, where Jay-Z was laying down the vocals for his hit collaboration with Kanye West, "No Church in the Wild." Luhrmann had worked with Beyoncé already on a musical number for the Oscars, and Jay-Z's "affable" demeanor, coupled with the electric air of the recording session, further convinced him that Jay-Z was right for "The Great Gatsby."
For his part, Jay-Z was on board right away. Luhrmann continued:
"I asked to show him a bit of my little video of how I was going to do the film and he said, 'Let's not talk about this. We're gonna do this. We have to do this.' And so began this idea that he was kind of the Quincy Jones of the project. I worked very closely with Anton [Monsted, the executive music supervisor] on the music, in the orchestrations with Craig Armstrong [composer], and the variety of musicians, like Bryan Ferry and the Bryan Ferry Orchestra, who do most of the traditional jazz. I think of music as I do about text, because Fitzgerald used music as text—it's literally part of the written word."
With songs like Jay-Z's "$100 Bill," Beyoncé and André 3000's rendition of Amy Winehouse's "Back to Black," and Jack White's rendition of U2's "Love Is Blindness," "The Great Gatsby" soundtrack remains a good listen.
There's a scene in the film where Gatsby and Tobey Maguire's narrator, Nick Carraway, cross the Queensboro Bridge in New York and hear the unmistakable sounds of Jay-Z's "Izzo (H.O.V.A.)" emanating from an open-top car of Black champagne revelers. There's no better spiritual encapsulation of Luhrmann's "Great Gatsby" and the Roaring Twenties than that.