Christina Chong Was All Too Familiar With La'an's Struggles In Star Trek: Strange New Worlds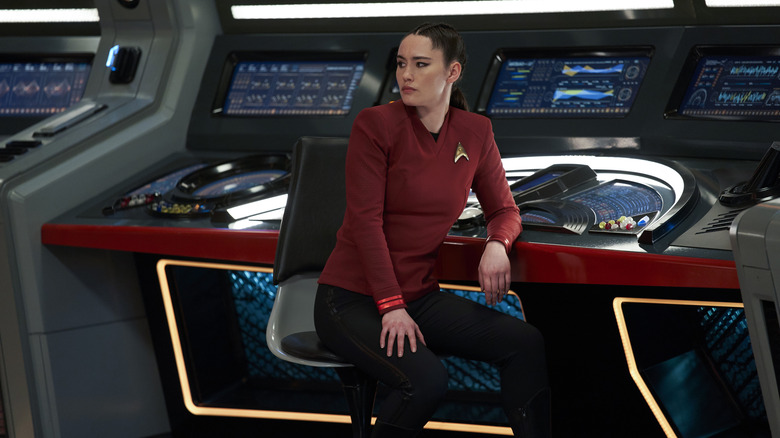 Paramount+
One could easily imagine a version of "Strange New Worlds" where the main trio of stars are given the meatiest storylines and the vast majority of screen time. Anson Mount's Captain Pike, Ethan Peck's Spock, and Rebecca Romijn's Number One are all established characters that Trekkies are familiar with, after all. Thankfully, that couldn't be more different from how the series currently airing on Paramount+ is playing out.
"Strange New Worlds" has quickly gained a loyal following since its premiere, due in no small part to the focus on the series' supporting characters and the strength of the cast. The refreshingly episodic nature of the series means that a different character gets to step into the main spotlight each week, which allows the actors in the ensemble to showcase their particular talents. On any given week, an episode of "Strange New Worlds" could focus on the tragic backstory of Doctor M'Benga (Babs Olusanmokun), or a young Uhura (Cecila Rose Gooding) finding her way among the intimidating crew of the USS Enterprise.
Christina Chong's La'an Noonien-Singh occupies the unique role of a brand-new character who also has overt connections to "Trek" history, as the granddaughter of the most famous franchise villain of them all, Khan. As if that added pressure (both in-universe, given her ancestor's notoriety, and for any actor tasked with embodying such an iconic role) wasn't enough, Chong recently revealed to The Hollywood Reporter that her own upbringing brought an uncomfortably relevant layer to her portrayal of the Enterprise's chief of security. Her personal connection to the role serves as a fitting reminder of why the diverse and inclusive values that "Star Trek" stands for continue to appeal to fans (and actors) all over the world.
Deep personal connections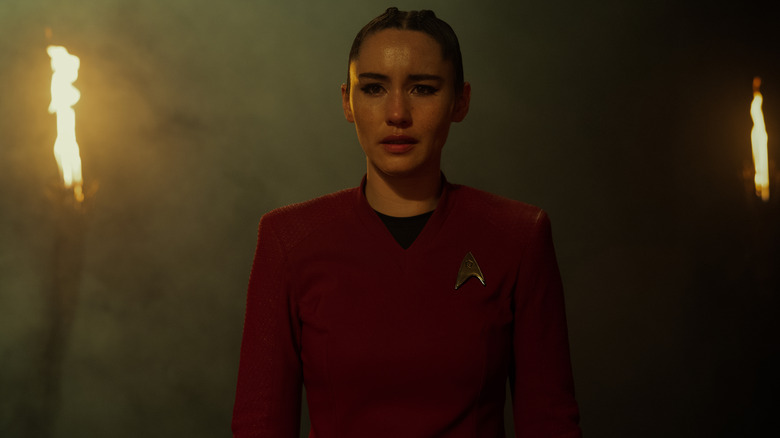 Paramount+
When La'an Noonien-Singh first steps on board the Enterprise as an officer on the bridge in the early episodes of "Strange New Worlds," it's immediately clear that she doesn't feel she quite belongs. Luckily, her entire ship of crewmates accept her, and help to make her feel at home. Christina Chong herself, however, didn't have that luxury growing up. By her own account, her experiences of being raised between two very different cultures and never fitting in with either helped her connect more deeply to the character of La'an. When asked about La'an feeling like an "outcast" due to her ancestry, the actor responded:
"What I connected to was being judged for who you are and your name. Although my mom is English, my dad is Chinese. And I don't necessarily look English, and I don't necessarily look Chinese, but my name is Chong. And throughout my childhood, that brought on bullying and racism. The whole journey of both being judged, having that stigma attached to a name and who you are, was easily translatable and easy to personalize."
Needless to say, many people of color who grew up in other countries can easily (and painfully) relate to this particularly insidious form of bullying, which Chong went on to say made her "ashamed" to even be seen around her father, for fear of her classmates seeing him, being reminded of her background again, and subjecting her to even more abuse. But it wouldn't be "Star Trek" if this story didn't end on a more optimistic note.
'For the first time I felt accepted for who I was'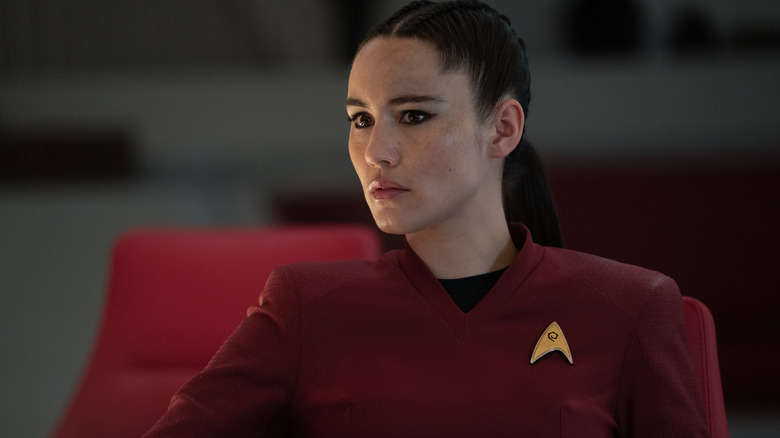 Paramount+
As awful as it is to hear these kinds of stories, "Strange New Worlds" allowed Christina Chong to turn a profoundly negative experience into something good. Because of this personal connection, Chong was able to infuse the character of La'an with even deeper and richer layers. She went on to explain:
"It was only really when I was about 14, and I went to a performing arts school where everyone was from a different background, that for the first time I felt accepted for who I was. They all were talented, and they all wanted the same thing. And that's parallel to the crew on the Enterprise. La'an comes onto the Enterprise, and they accept her for who she is. It's been an incredible journey, how 'Star Trek' has enabled me to use my experience and put that into her. Timing-wise, it all sort of clicked."
Chong has already shined in multiple episodes with storylines centered on La'an that have put her full range on display. One, concerning her backstory with the sinister Gorn, is deeply tragic. The other, where she bonds with Commander Una Chin-Riley (Rebecca Romijn) during an impromptu scavenger hunt in one of the franchise's beloved "shore leave" episodes, is much more lighthearted. Taken together, these have helped make La'an (and Chong) a welcome member of the show.
Even if an actor is able to tap into their trauma to turn around a fantastic performance, nothing can justify being treated so poorly in the first place. But perhaps Chong's openness and vulnerability in sharing her pain can serve as inspiration for others who've similarly felt like outcasts.
New episodes of "Strange New Worlds" air on Paramount+ every Thursday.