Kung Fu Panda: The Dragon Knight Trailer: Po Is All Grown Up And Saving China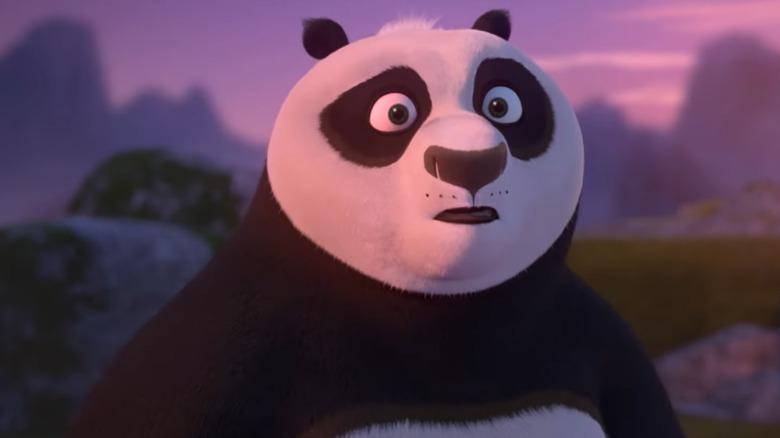 Netflix
Jack Black is back as Po in the trailer for "Kung Fu Panda: The Dragon Knight," which looks like a lot of fun. The upcoming animated series features Po as "The Dragon Master," although it seems to be more of a pending title as opposed to him actually embodying it. Black voiced Po in the original 2008 film, "Kung Fu Panda" and its subsequent sequels that were released in 2011 and 2016.
After being accused of destroying a village, Po crosses paths with English knight Wandering Blade (Rita Ora), who joins him in his quest for "redemption and justice." Poor Po is wrongly accused of using weapons to destroy a village, and he obviously has to team up with a brave knight to clear his name. The duo set forth on a search for four powerful weapons, which might spell disaster for the world if it were to fall into the wrong hands.
Check out the trailer for "Kung Fu Panda: The Dragon Knight" below.
It's time for an epic quest
Dreamworks Animation, the studio helming the animated project, recently tweeted that fans of the franchise should get ready for "pure PANDAmonium," as the narrative involves a globe-spanning adventure filled with confrontations and laughs. Per Comic Book, John Derderian, VP of Animated Series talked about how animated shows, including "Kung Fu Panda: The Dragon Knight," can help create a safe space for kids to know more about their favorite characters:
"We want to create a safe and trusted space where your children can relax, play, learn, and explore alongside their favorite characters...So I can't wait to see which of our new series and characters capture their hearts, and the hearts of our young viewers around the world, next."
Apart from Black and Ora, the cast of the series includes Chris Geere as Klaus Dumont, Della Saba as Veruca Dumont, Rahnuma Panthaky as Rukhmini, Ed Weeks as Colin, and Amy Hill as Pei Pei. The show is being executive produced by Black, Peter Hastings, and Shaunt Nigoghossian. Co-Executive producers include Chris Amick and Ben Mekler.
Here's the official synopsis for the upcoming series:
"When a mysterious pair of weasels set their sights on a collection of four powerful weapons, Po must leave his home to embark on a globe-trotting quest for redemption and justice that finds him partnered up with a no-nonsense English knight named Wandering Blade voiced by Rita Ora. Together, these two mismatched warriors set out on an epic adventure to find the magical weapons first and save the world from destruction."
"Kung Fu Panda: The Dragon Knight" premieres on July 14, 2022, on Netflix.