Tuca & Bertie Season 3: Release Date, Cast, And More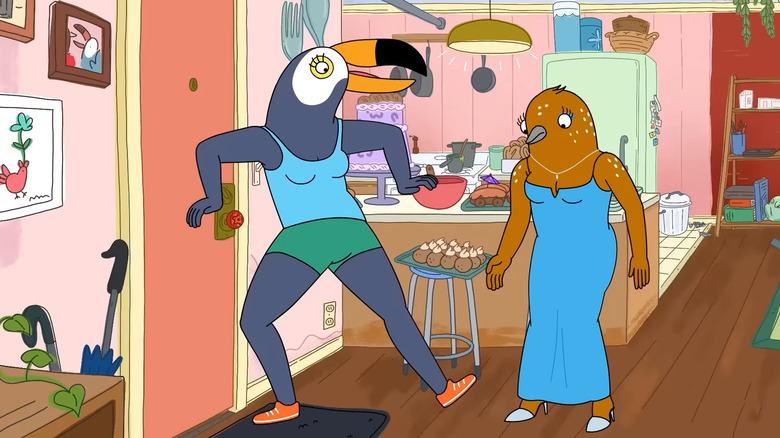 Adult Swim
(Welcome to ...And More, our no-frills, zero B.S. guide to when and where you can watch upcoming movies and shows, and everything else you could possibly stand to know.)
"Tuca & Bertie," the cartoon series for adults about two bird-women learning to thrive in the big city, is coming to Adult Swim and HBO Max for its third season, so fans of these feathered friends can rejoice. The series has been lauded for its humor and frank dialogue around tough issues that face adults as they head into their 30s. If it seems a bit like that other show with big feelings and animal people, "Bojack Horseman," that's probably because it was created by Lisa Hanawalt, who worked on that series as a production designer and producer. It's also produced by "Bojack" creator Raphael Bob-Waksberg, giving it quite the adult animation pedigree. 
Here's everything you need to know about "Tuca & Bertie" season 3, including where to watch it, what it's about, and more!
Tuca & Bertie release date and where you can watch it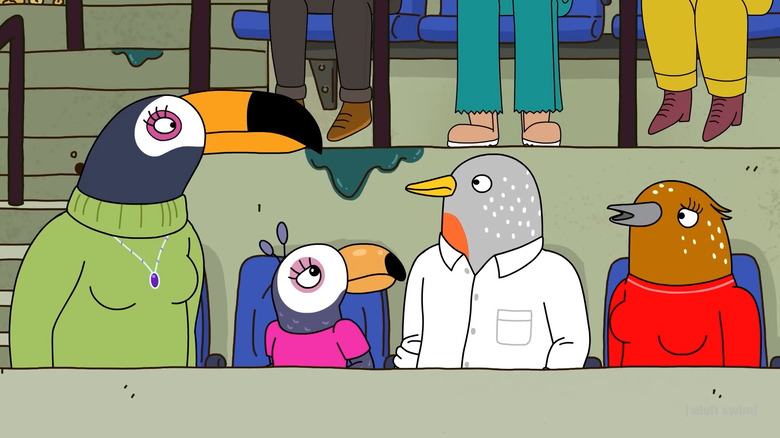 Adult Swim
Season 3 of "Tuca & Bertie" will premiere on July 10, 2022, at midnight ET/PT on Adult Swim, and will be available to stream the next day on HBO Max, as they both fall under the Warner Bros. umbrella. It's only been about a year since the second season aired on Adult Swim, so that's some pretty fantastic turnaround. The series was originally on Netflix, but they kicked it out of the nest and were rescued by Adult Swim, who picked them up for season 2. Thankfully, the fans who demanded the show's season 2 return have shown their support, and season 3 is now on the way. 
What is Tuca & Bertie?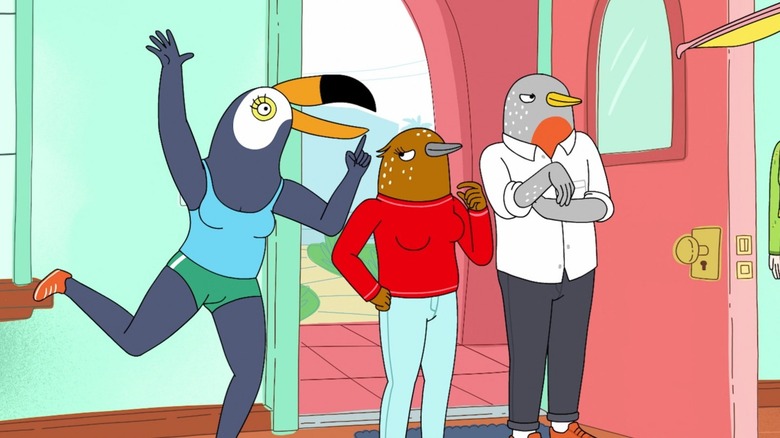 Adult Swim
The series follows Tuca Toucan (voiced by Tiffany Haddish) and Roberta "Bertie" Songthrush (voiced by Ali Wong), who are best friends, next-door neighbors, and absolute disasters. Tuca is learning to be sober and works odd jobs to survive, sometimes biting off way more than she can chew. Bertie is her opposite, with a five-year-plan or six and multiple jobs. The series focuses on how these two handle life in their early 30s in a big city. It's often incredibly funny, but the series can also delve into difficult topics like addiction, sexual abuse, trauma, and more. The show's handling of these topics makes it feel ultimately relatable, despite the fact that most of the characters are anthropomorphized animals of some kind. (There are also plant people, because why not?)  
Between stellar voice acting by talented comedians and actors and the show's wild, whimsical animation style that can become positively surreal, "Tuca & Bertie" is the series to peep. 
Tuca & Bertie cast and crew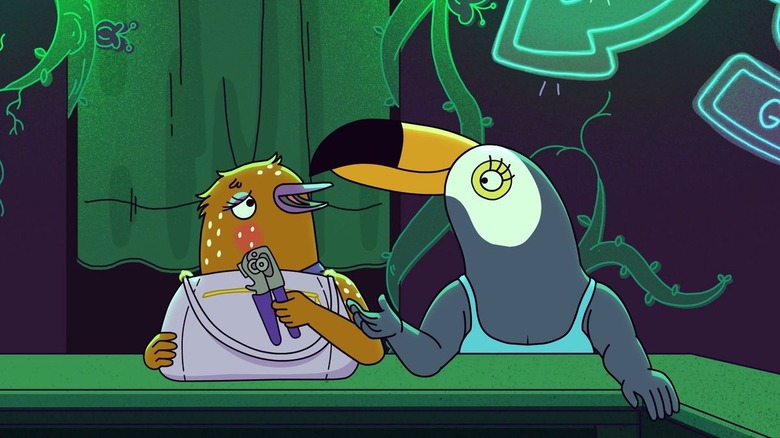 Adult Swim
In addition to Haddish and Wong, the series has a seriously stacked cast. Steven Yeun provides the voice of Bertie's boyfriend, Speckle, an American robin, who generally helps Bertie keep things in perspective when she and Tuca have bumps in their friendship. (And in this series, there are some serious bumps.) Additional cast includes Reggie Watts as Bertie's former boss Pastry Pete, Richard E. Grant as her boss Holland, John Early as neighbor Dapper T. Dog, Shamir as Draca the plant, Tessa Thompson as Sophie Black, Laverne Cox as Ebony Black, and more.
Tuca & Bertie trailer
There's no official synopsis for "Tuca & Bertie" season 3, and the details are slim, but the trailer above shows a hot new romance for Tuca with a tree-person, a bit of existential crisis for Bertie, and lots of Tuca shaking her tail feathers. 
Season 3 of "Tuca & Bertie" will premiere on Adult Swim at midnight on July 10, 2022.