It Took Baz Luhrmann And A Bottle Of Gin For Elvis' Filming To Properly Begin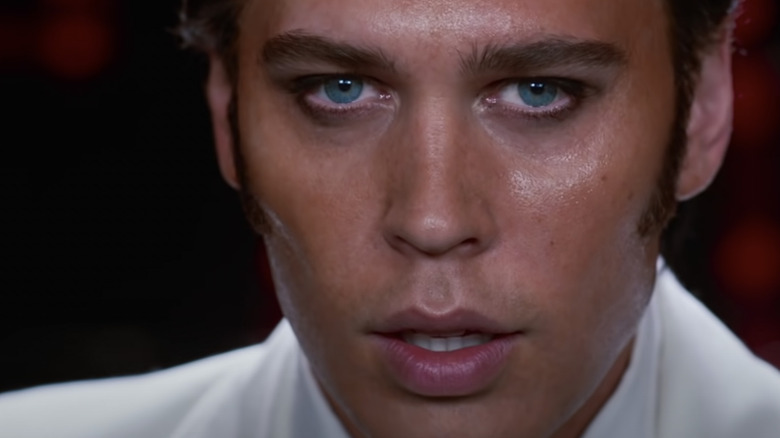 Warner Brothers
Baz Luhrmann's style of cinema is unapologetically flamboyant and produces dramatic scenes that emulate a fever dream or LSD trip. Mercutio's fabulous drag performance in "Romeo + Juliet" and every grand costume and musical number in "Moulin Rouge" are perfect examples of Luhrmann's tendency toward the epic. Throughout his career, the director hasn't shied away from putting his own spin on iconic characters like Romeo, Juliet, and Jay Gatsby, so why not add The King to that list?
Elvis Presley, who loved a good leather and rhinestone ensemble, is a perfect match for Luhrmann and his tendency toward spectacle. In his upcoming biopic, simply named "Elvis," due for release on June 24, 2022, Luhrmann will explore the rise and fall of the musical legend's career through the eyes of his manager Colonel Tom Parker (Tom Hanks). Elvis' meteoric rise to fame and tragic death could supply Luhrmann with plenty of operatic moments, but the director has decided to focus on larger issues in the film.
In an interview with Marie Claire, Luhrmann revealed:
"[The movie] is definitely not about Elvis. It's about America in the '50s, '60s and '70s – when he was the center of culture. It's about the good, the bad and the ugly."
Luhrmann is quick to slap the good label on Elvis, as was most American youth back during The King's reign, but the facts surrounding the rock star's life might complicate that assumption. The controversy that Elvis' gyrating hips caused among parents in the '50s is legendary at this point, but all those judging eyes somehow missed the real scandal.
In 1959, a 24-year-old Elvis Presley began dating 14-year-old Priscilla Beaulieu, a relationship that Austin Butler (Elvis) and Olivia DeJonge (Priscilla) struggled to capture when filming began.
The good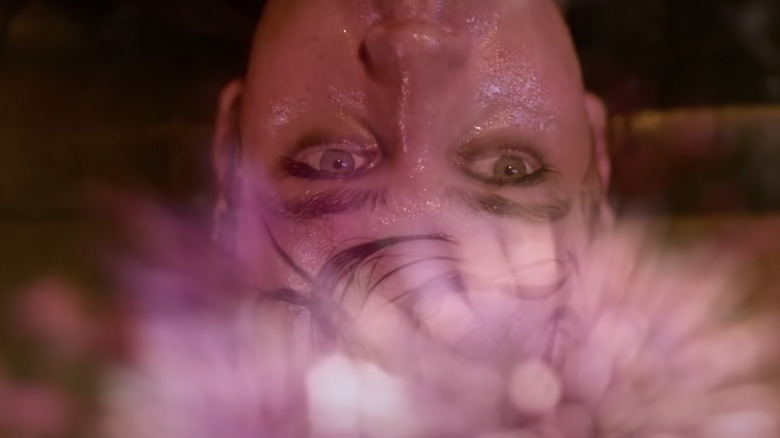 Warner Brothers
Elvis' influence on teenagers in the '50s can't be understated. His velvet voice, smooth smile, and whirling hips led to the sexual awakening of many suburban teens, who cried and squealed in the aisles as he sang and danced. He was one of the first rock and roll superstars, who will forever hold a deserved place in the history of music, so the man cast in the role had large shoes to fill.
There's been buzz around this film for a while and plenty of rumors swirled around who would be cast as the iconic rock legend. Harry Styles, Ansel Elgort, and Miles Teller were all rumored to be possibilities, but Denzel Washington called the director to throw another hat in the ring. Luhrmann told Marie Claire about that phone call and Butler's subsequent audition:
"I got a phone call from Denzel Washington. I don't really know him but he said, 'You've got to see Austin Butler. I've just done a play with him and I've never seen work ethic like his.' When Austin came in, he was already totally in character. I didn't realize he doesn't have a Southern accent until well into filming."
Butler won the role and Luhrmann had his rock star, but he still needed someone to play his manager, Colonel Tom Parker.
The bad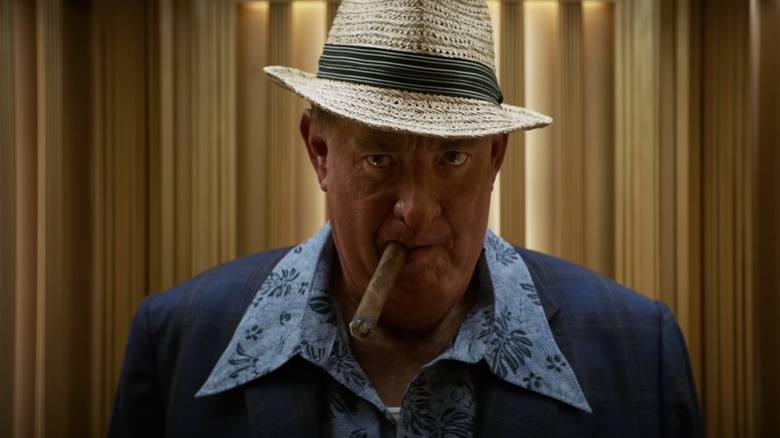 Colonel Tom Parker is a difficult role to play because he's a nefarious character, one who wants to take Elvis for all he's worth, but the audience sees the story of the film through his eyes, so we have to trust him. This balancing act between trusted narrator and backstabber takes talent.
Luhrmann told Marie Claire that he only ever had one person in mind for the role:
"Tom [Hanks] is one of the greatest actors of all time. Normally it takes a long time to convince an actor like him to sign on. But I spoke to Tom for about 40 minutes and he said, 'Look, I'll do it.' I honestly couldn't think of anyone [else] in the role because he managed to make the colonel monstrous, but very human as well."
Hanks long ago won audiences' trust, but his ability to make us distrust him is still shaky. It will be interesting to see if he has finally found his inner villain after last trying in "The Circle," a film largely derided by audiences and critics.
With Hanks accepting the role, Luhrmann has one more key character to cast, and this is where the story of Elvis gets ugly.
The ugly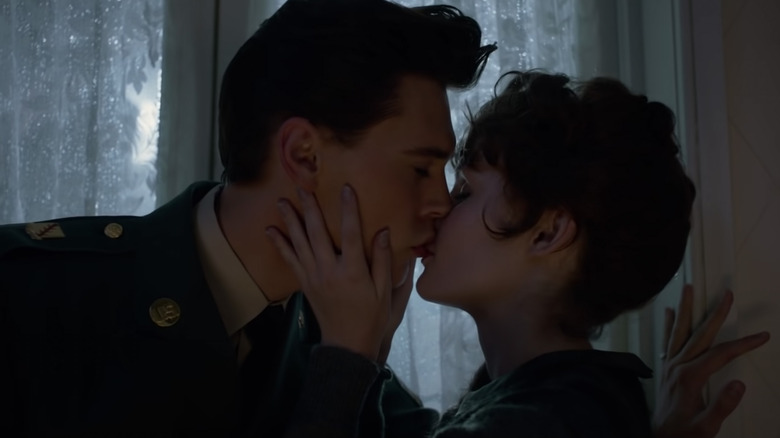 Warner Brothers
The world was shocked when Elvis was drafted by the U.S. Army in 1957. Thousands of fans sent letters asking the army to reconsider, but Elvis didn't want special treatment. The rock star marched off to war for two years, which made his devoted fans swoon, but this is where the story of Elvis get shady.
In November of 1959, army brat Priscilla Beaulieu was living in Germany, where she met Elvis. The first night they laid eyes on each other, he wooed her with a few of his famous songs. Their next meeting, he invited her to his room and kissed her. The two began dating, and after his service ended, Priscilla moved to Los Angeles to live with the star. All this sounds very romantic until you realize Elvis was 24 and Priscilla was only 14.
Luhrmann fails to touch on the problematic nature of the connection in his interview with Marie Claire. He instead focused on the struggle Butler and DeJonge faced as they tried to find their on-screen chemistry:
"At first, we weren't finding it, so on a Friday afternoon we all had gin and tonics and I got out the camera. I started shooting them as if it were a home movie, just Austin and Olivia talking, laughing and having fun. Out of that, they found a real connection through character."
I wonder if knowledge of the age difference between their characters made things awkward for the two stars and if that added to the chemistry struggle. I think that would be a fair explanation.
It'll be interesting to see how Luhrmann handles the "connection" between a grown man and a 9th grader, and if the gin and tonic chemistry between Butler and DeJonge is enough to surpass the creepiness of it all.
The man, the myth, the legend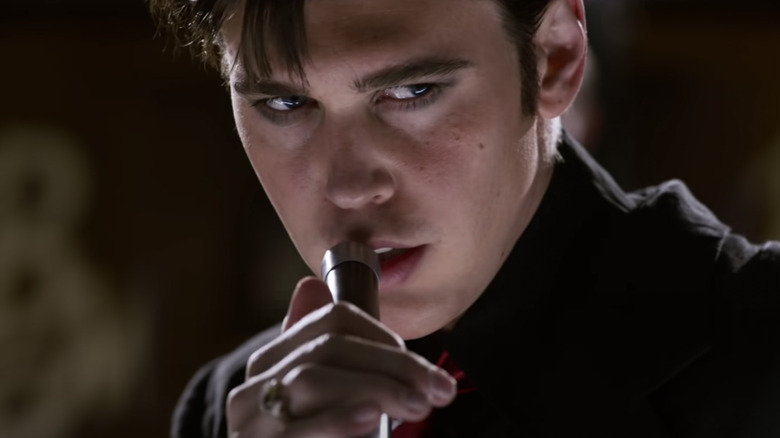 Warner Brothers
Despite his godlike status during his career, Elvis was only a man, which means he wasn't as perfect as his fans like to believe. He struggled with drug addiction, fidelity, control, and it can be argued he preyed on a young, impressionable girl. Unlike his famous rhinestone jumpsuit, it's not a good look for the rock legend.
In the past, Luhrmann has rearranged famous characters from plays, novels, and old movies to better fit his own vision. He wants to use his biopic to highlight the humanity of Elvis instead of using his image "like a Halloween costume or wallpaper." It's an admirable goal, but a risky one.
"Elvis" will be Luhrmann's first adaptation of a real-life star, and some might not want a clear picture of the rock god. The truth behind the myth might be a little too much for some, and I'm not sure gin and tonic will be strong enough to combat it.