The Important Advice Elvis Star Austin Butler Received From An Oscar Winner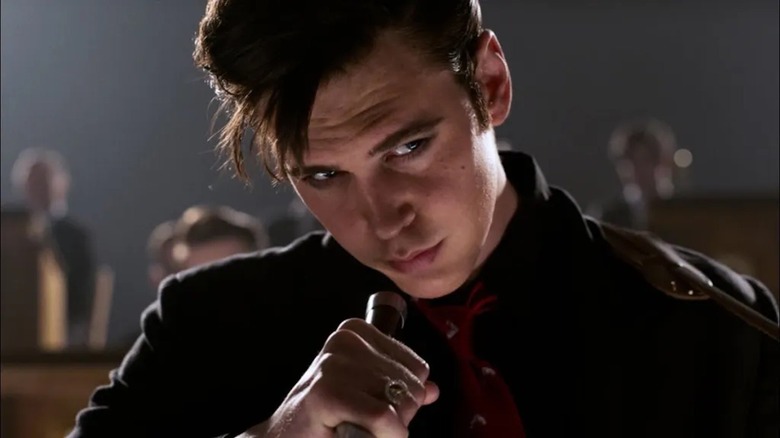 Warner Bros
While some people are quick to dismiss acting as just "playing pretend," a number of performers will feel an incredible amount of pressure as they prepare for roles they've taken. Sometimes it can take a toll on those that step into prolific roles like Willy Loman, Lady Macbeth, or even the Joker. But this can particularly be the case when actors portray characters who were also real people. After all, when you're in line to depict legendary pop culture icons such as Selena, Elton John, or Jim Morrison, you have a lot to live up to.
"Elvis" star Austin Butler certainly faced those worries when he joined Baz Luhrmann's highly-anticipated biopic about the King of Rock and Roll. And who can blame him? Elvis Presley was a once-in-a-lifetime talent that continues to be a larger-than-life entertainer years after his death. Any attempt at trying to replicate him is a herculean task. Luckily, while Butler was severely "Under Pressure," he had a "Good Old-Fashioned Lover Boy" to remind him that he possessed "A Kind of Magic" that would make things go smoothly during production.
During an interview with PopSugar, Butler revealed that "Bohemian Rhapsody" star Rami Malek helped him to ease the tension that came with his upcoming role in "Elvis." The acclaimed actor won an Academy Award (and many other awards) for his performance as Queen frontman Freddie Mercury, so he knows a thing or two about the pressure that comes with such a massive part.
All shook up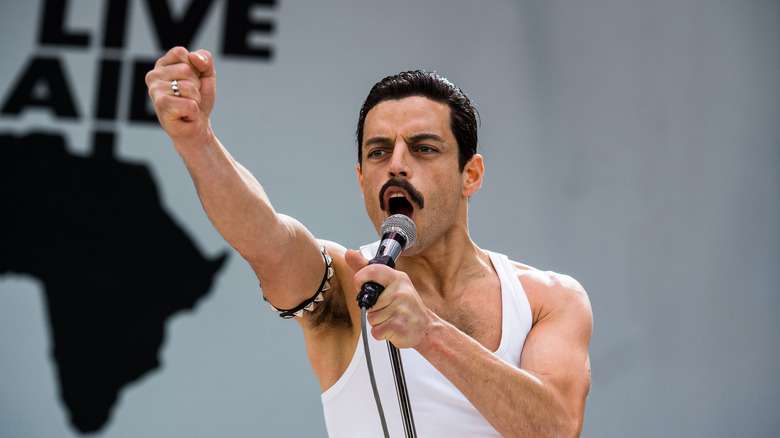 20th Century Studios
Just as Luhrmann and company were preparing to start production, Malek spoke to a psyched-out Butler, who was being especially hard on himself for not looking like The King.
"There was this thing where I had an unrealistic expectation that I could somehow contort my face to look exactly like Elvis. Or I looked at other people, and I go, 'They look more like him,' that sort of thing — you start judging yourself. So for me, Rami was like, 'At the end of the day, it's not about that. You don't want to go to the Wax Museum and just see that. You want to see your soul and his soul colliding and creating something we've never seen before.'

That was so liberating to me because then I still focused on the specifics every day. I painstakingly obsessed about his voice and how it changed, his movements and how they changed, learning karate and all of these things. But, at the end of the day, it was [Elvis's] humanity that was important to me, so that became the throughline to the rest of it."
Malek's advice clearly had a profound effect on Butler's performance. During the time when the production was delayed six months due to the pandemic, he carried his peer's words of wisdom as he shifted his focus to other elements of the character. And apparently it all paid off in a big way. In his review from this year's Cannes, /Film's own Rafael Motamayor called the actor "outstanding and career-defining performance as the king himself." Beyond that and perhaps more importantly, this Elvis even got the stamp of approval from the musical pioneer's ex-wife, Priscilla, and their daughter Lisa Marie.
As for the rest of the world, they will finally get to see Austin Butler star in "Elvis" when the films hits theaters worldwide on June 24, 2022.