The Most Difficult Part Of Filming Tom And Greg's Succession Scenes, According To Matthew Macfadyen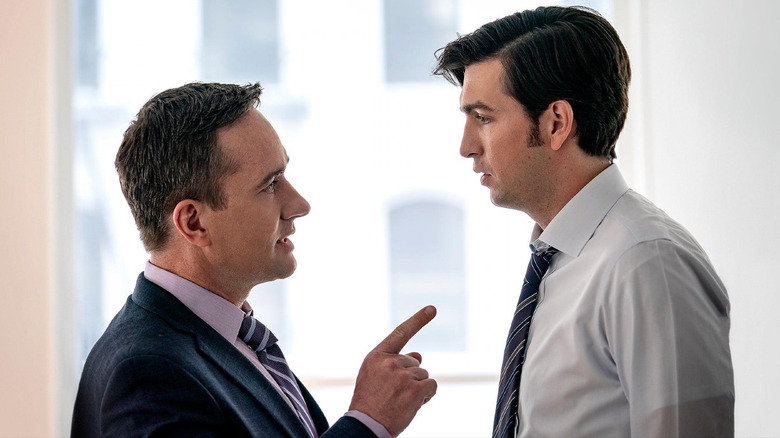 HBO
Is there any TV show currently on the air (or, rather, streaming) as quotable as HBO's "Succession"? The only thing more stinging than creator Jesse Armstrong's satirical portrait of America's "one-percent" are the barbed comments the series' characters fling at one another without blinking an eye. Still, more than anyone else in the Roy family's orbit, it's hapless son-in-law Tom Wambsgans (Matthew Macfadyen) and his one-on-ones with blundering cousin Greg Hirsch (Nicholas Braun) that I find myself thinking about on a weekly, if not daily, basis.
Over the course of the series, Tom and Greg have gradually gone from being the Rosencrantz and Guildenstern of "Succession" to becoming unforeseen players in the Roys' unfolding power struggle. At the same time, their dynamic has remained more or less the same. Greg is both the punching bag and friend that Tom desperately needs, while Tom is the unwitting superior that Greg dearly depends on to survive among the sharks. It's why their exchanges tend to be equal parts funny and cringe-y.
Speaking to NPR, Macfadyen explained how he and Braun approach their hilarious, toxic bromance:
"It's certainly a case of kicking the cat with old Gregory. But again, there's just so much there that Nick and I have brought to it. ... There is a circularity with the acting and the writing and I think that longform TV like this is wonderful in that, if it's working well, it becomes symbiotic with the actors and the writers because ... we'll do something which is given to us from this magic writing and then they'll see something else and then it'll feed back into the script and on it goes. ... I think Tom really likes Greg and really needs him and he's quite open with him and quite honest. It's fascinating ..."
You can't make a Tomelette without breaking some Greggs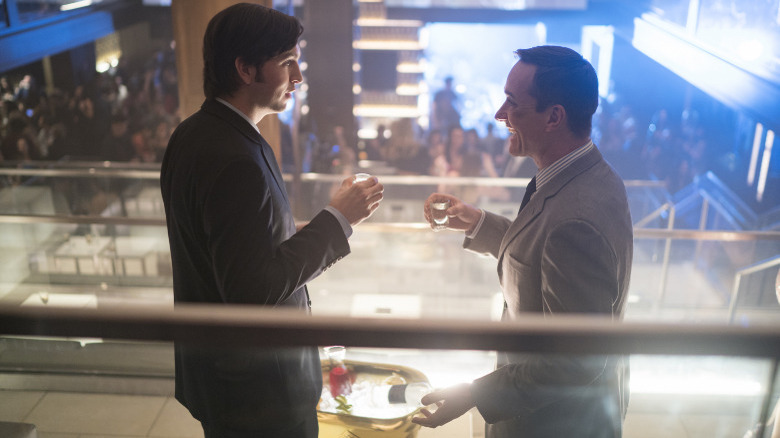 HBO
In a series full of terrible people constantly back-stabbing or betraying one another emotionally, it's almost a relief when "Succession" cuts to one of Tom and Greg's painfully awkward conversations. Whether they're talking about their political views ("Your principles? Greg, don't be an a******. You don't have principles.") or confessing their feelings ("I'd castrate you and marry you in a heartbeat."), it's near-impossible not to laugh out loud at the absurd things they say to one another.
Not so surprisingly, Matthew Macfadyen admitted to NPR that it's just as hard for him and Nicholas Braun to keep a straight face in their scenes together:
"The difficulty is not breaking up [laughing]! It's not a secret that [Nick and I] struggle with corpsing, as we say in the UK, which is just breaking up irretrievably and everyone getting annoyed with us and them having to reset – but it's hard when the dialogue is so funny."
With Tom's marriage to Siobhan "Shiv" Roy (Sarah Snook) rapidly crumbling heading into "Succession" season 4, the path is all-clear for Greg to emerge as his true confidante from here on out. Of course, on a show where nobody can really trust anybody else, who knows what will happen ... especially if Greg sees an opening to leave Tom behind and continue his ascent to the top of the Roy empire alone. Whichever way things play out, I'm just looking forward to having more Tom and Greg quotes to add to my collection.
/Film will be sure to let you know when HBO sets a premiere date for "Succession" season 4.