Shooting The Wild Bunch Was A Huge Pain For Sam Peckinpah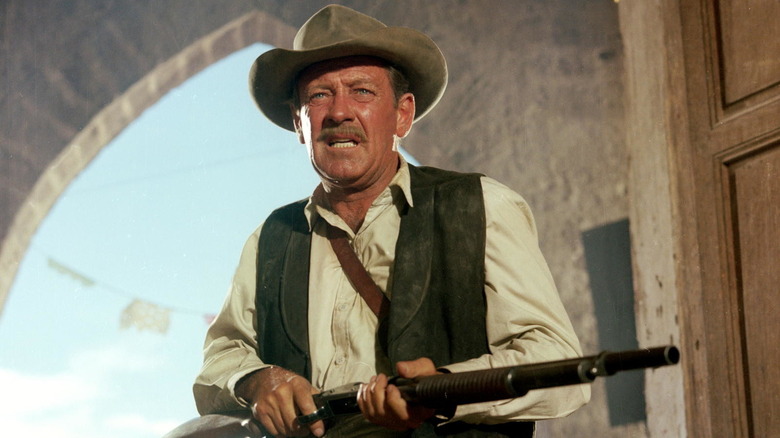 Warner Bros. - Seven Arts
Sam Peckinpah has left his mark on cinematic history with gritty Westerns, but not without his share of controversy. The filmmaker is known for his hyper-violent films, and his attitude has a crudeness to match. Peckinpah took his disregard for social graces to a new level while shooting his most popular film, "The Wild Bunch."
The 1969 Western tells the tale of an old bandit who sets out for the final heist of his career, only to walk straight into a setup orchestrated by his former partner. This triggers a war between the two posses as the old bandit and his men are chased through the West. The film was heavily criticized for featuring extraordinary amounts of gun violence, including bloody injuries and excessive deaths. Critics were appalled by the film at its premiere, said Ernest Borgnine, who plays a major supporting role in the film, to the American Film Institute. The press asked the director and main cast to their face, "Why was this picture ever made?" This totally stunned the team. "We thought it was an excellent picture," Borgnine retorted.
The film was excellent because it was unapologetically rugged, just like the man that made it. Peckinpah had a reputation for being rough around more than just the edges. The director had "an outlaw sensibility," screenwriter Paul Schrader explained in the 1990 documentary "Hollywood Mavericks." Peckinpah "did not feel comfortable in civilized company," and instead chose to live as he pleased among people who would not judge him for it.
Peckinpah was no saint, but he suffered for his art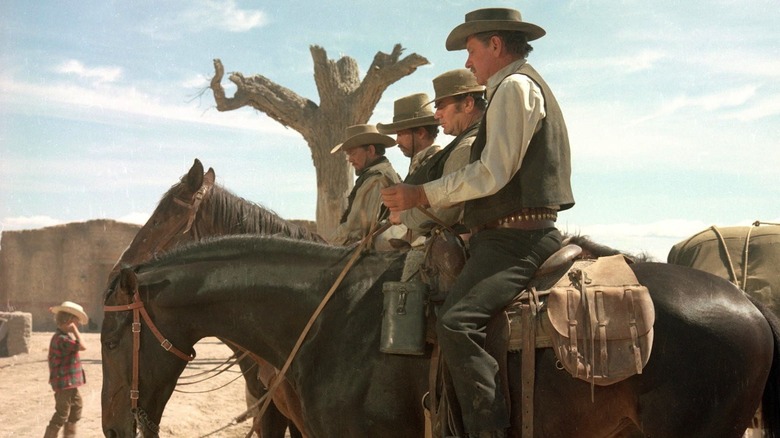 Warner Bros. - Seven Arts
On the set of "The Wild Bunch," Sam Peckinpah was less dignified than ever. The director reportedly suffered from terrible hemorrhoids during the film's production, according to an account from the first assistant director given to W.K. Stratton for his novel about the film, also titled "The Wild Bunch." The assistant director "could smell Peckinpah before he saw him, the stench of Preparation H, s***, and blood assailing all noses in his vicinity," Stratton wrote. To make matters worse, the director was wont to wear white jeans to set.
Peckinpah may have made others uncomfortable, but he "didn't allow [the hemorrhoids] to slow him down," Stratton claims. Some people feel that Peckinpah's belligerent personality bears a contrast to his films, but I see a clear indication of self-awareness in his work. His films feature a brutality that personal accounts suggest are present in the "Wild Bunch" director. 
He was a crude and stubborn man, but he liked to fill his films with like-minded individuals. Being alike didn't mean they saw eye to eye, though — it often meant the opposite. He was known to butt heads with L.Q. Jones, who played a supporting role in "The Wild Bunch." Jones said he "wouldn't piss in Peckinpah's mouth if his brain was on fire," but the actor was no saint himself. Jones was reportedly arrested for disorderly conduct while on the set of "The Wild Bunch" no fewer than 12 times (via Book Forum). Peckinpah may have been difficult to work with, but that was part of his genius. His films are anything but agreeable, and neither is his personality. Ultimately, he suffered through intense pain to create a masterpiece of American cinema. Can he truly be faulted for that?