How Tom Hanks Found His Signature Accent For Forrest Gump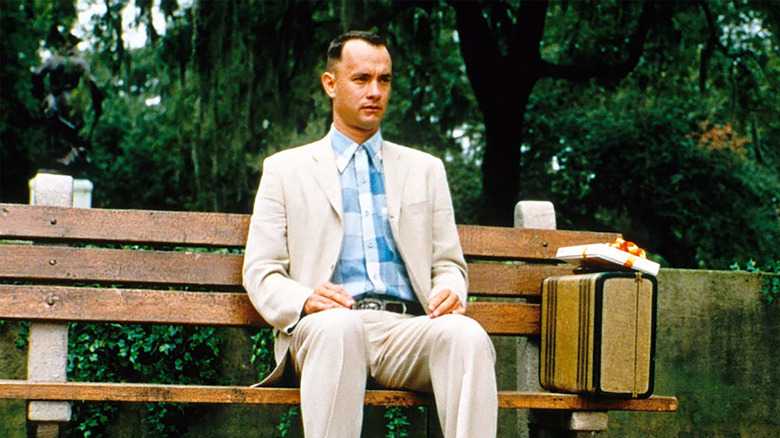 Paramount Pictures
Robert Zemeckis' saccharine drama "Forrest Gump" won the Academy Award for Best Picture in 1995 and became a pop culture touchstone. The title character is an Alabama man with a low IQ who searches for his childhood sweetheart across key historical events: the Vietnam War, the Watergate scandal, and meeting presidents John F. Kennedy, Lyndon B. Johnson, and Richard Nixon. There are many iconic lines and images, from an unhappy Lieutenant Dan at a New Year's Eve party, to "Life is like a box of chocolates, you never know what you're going to get," Bubba Gump Shrimp Co., and "Run, Forrest, run!" 
Tom Hanks stars as the titular character in one of his most beloved roles for which he won an Academy Award. New York Times critic Janet Maslin gave "Forrest Gump" a middling review, but she praises Hanks' "sweet" and "guileless" performance as "touching, imaginatively childlike ... Mr. Hanks' Forrest has an unerring sincerity and charm." Hanks does a remarkable job of capturing Forrest's naïveté, but also his acute awareness of his own limitations, such as the heartbreaking scene where he asks Jenny if his son is smart. 
Part of what makes Hanks' performance so indelible is his voice. Forrest not only has a deep Southern accent, but he speaks slowly and methodically, as if taking the time to figure out the right words. The signature accent was not Hanks' own creation, but inspired by another important player in "Forrest Gump."
Tom Hanks copied the voice of his young costar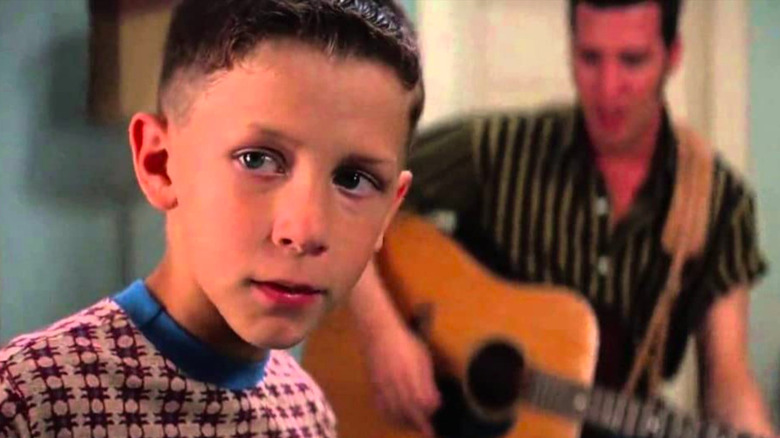 Paramount Pictures
On "The Graham Norton Show," Tom Hanks reveals the origins of Forrest's endearing speech patterns. Director Robert Zemeckis wanted him to teach Michael Connor Humphreys, the actor who would play young Forrest, how to speak like him. (If you watch the original audition tape, Tom Hanks does not use any type of accent). But Hanks soon realized there was no way the little boy with a deep Mississippi drawl would be able to mimic his voice; instead, it was easier for him to emulate Humphreys'. Hanks explains how he found Forrest's voice by training with his costar:   
"Somewhere I have cassettes, hours and hours of me just making chit chat with a very young Michael Conner Humphreys. ... He was 7, 8 years old. He was a young man and that was the vernacular that we spoke in and that was priceless." 
The cadence of Humphreys' voice was very distinct: He had a hard "g" at the end of his words that caused extra syllables and pauses in his sentences. "It wasn't thinking, it was thin-kinga. It wasn't making, it was may-kinga," Hanks recalled. He continued to imitate Humphreys' way of speaking in one of the conversations they shared: 
 "My daddy makes ger-ease ... Well, grease goes into all different sorts of pro-ducts ... Oh, grease goes into lip-sticks."
Hanks' decision to copy Humphreys was the perfect choice for his role as Forrest Gump, a character who would continue to sound like a child even as an adult. It's quite serendipitous that such an exceptional boy was cast and would go on to play an integral part in Hanks' endearing performance.