The Wild Way The Northman Built A Volcano For Its Brutal Climax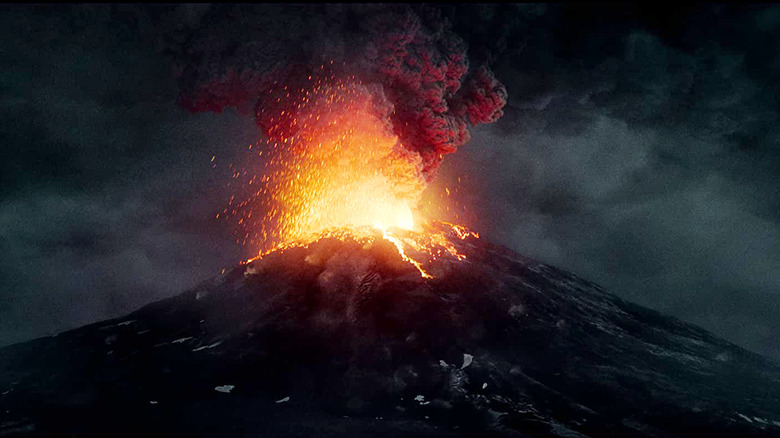 Focus Features
There's something to be said for indie filmmakers getting huge budgets to go off and paint their gonzo visions on the biggest canvas available. We're talking Darren Aronofsky having $130 million at his disposal to make 2014's "Noah," an extravagant re-telling of the Noah's Ark story that's as bleak and dour as anything else the "Requiem for a Dream" and "Black Swan" director has made, but also features an army of six-armed fallen angels that look like a cross between a Transformer and the Rock Biter from "The Never-Ending Story." Everyone loves those guys from the Bible, right?
This brings us to "The Northman," which is very much to Robert Eggers what "Noah" is to Aronofsky. A costly reimagining of the ancient Norse legend of Amleth (itself the basis for "Hamlet"), Eggers' Viking epic is, on some level, a familiar story about an exiled royal son (Alexander Skarsgård as the prince Amleth) who sets out to avenge the death of his father (Ethan Hawke as King Aurvandill War-Raven) at the hands of his uncle (Claes Bang as Fjölnir). At the same time, however, it's as filthy, twisted, and attentive to historical details as Eggers' previous work, with scenes of actors howling like dogs, graphic sword battles, re-animated corpses, mystical prophets played by Björk, and a climactic fight that takes place atop an erupting volcano.
While "The Northman" might be Eggers' worst film so far (to be fair, it's competing with "The Witch" and "The Lighthouse," so "worst" in this case means "still pretty impressive"), it's certainly his most technically-challenging movie yet. So, naturally, when /Film's Jacob Hall interviewed the director, he didn't hesitate to pick Eggers' brain about what, exactly, went into the making of the film's visually-astonishing climax.
Spoilers to follow, natch.
Safety first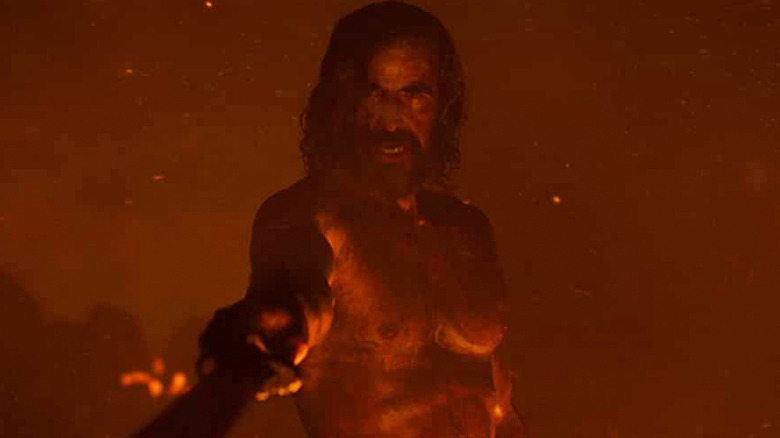 Focus Features
Thankfully, it seems safety was a top concern on "The Northman" set (as well it ought to be). For starters, Amleth and Fjölnir are meant to be totally naked and exposed during their fiery, climactic sword fight (it's a Viking thing), which would be dangerous enough to choreograph on its own. As such, Alexander Skarsgård and Claes Bang both wore thongs to ensure there weren't, to quote Robert Eggers, any "bits [getting] chopped off," with CGI genitals later added to their bodies in post-production. Art!
Further ensuring their safety, Eggers told us the action scenes in "The Northman" were largely mapped out in the writing stage:
"The very final moment was something that was in the script.The raid and the Knattleikr sequence and the fight with the undead Viking, those were all written beat for beat, pretty close to what's in the script."
Taking a moment to reconsider, Eggers added, "The undead Viking sequence, that did develop actually quite a bit during the fight choreography." That's not too surprising to hear, either. If anything, it's much more common for action scenes in modern tentpoles (like those of the superhero variety) to evolve dramatically from script to screen. That said, Eggers noted:
"But this volcano scene was the closest to kind of like, 'they fight,' closest to that. And so it did take a lot of figuring out. And mainly, just how do we have Amleth losing while still keeping it cool? And it was also an opportunity to, because this is the first time we're seeing two really elite Vikings fight each other, where we get to use a little bit of more of what some historians think viking fighting styles were like, and got to use the shields in some interesting ways, which was enjoyable."
Mixing the digital with the practical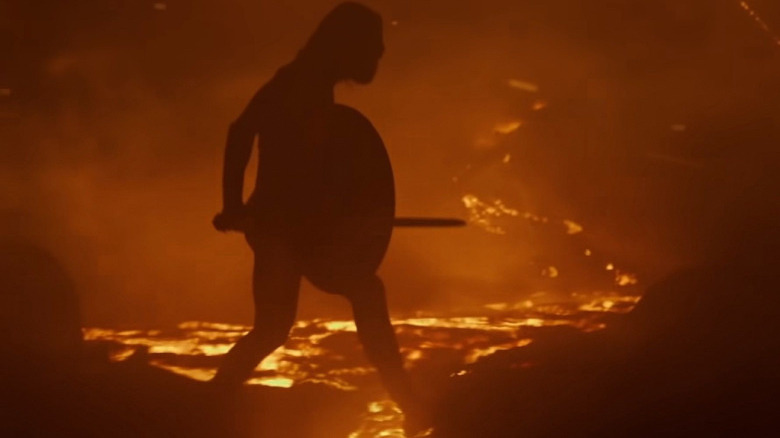 Focus Features
After "a lot of rehearsals and kind of figuring it out" when it came to the choreography, Robert Eggers said the final challenge was figuring out how to stage the climax to "The Northman" without fully abandoning the film's practical-heavy aesthetic. He explained:
"Production designer Craig Lathrop brought a ton of black earth to make it look more like Mount Hekla, which we scouted in person and also photographed for elsewhere in the film, brought in some more rocks and stuff. And then the majority of the flames, maybe almost all the flames are real. And the majority of the smoke and ash is real. We had some real cinders, but I think that the cinders lean more CG."
As for the lava? That was created using LED lights designed by Eggers' cinematographer Jarin Blaschke and gaffer Seamus Lynch. They then embedded these lights into the movie's faux-landscape "in the shape of the way lava flows" while also programming the lights to move and interact with the film's actors in a way that the light created by real lava would. And you thought LED screens that make you seasick were as wild as the technology involved in making movies and TV shows get nowadays!
Last but certainly not least, "The Northman" VFX supervisor Angela Barson captured footage from a recent eruption in Iceland, which was then (as Eggers put it) "tied together [with the] CG genitals and everything else." The end result is not only pretty dang convincing, it's a climax befitting an expensive spectacle as visually-untamed and bizarre as Eggers' movie.
"The Northman" is now streaming on Peacock.