Star Trek: Discovery Put Some Demands On Strange New Worlds' Costume Design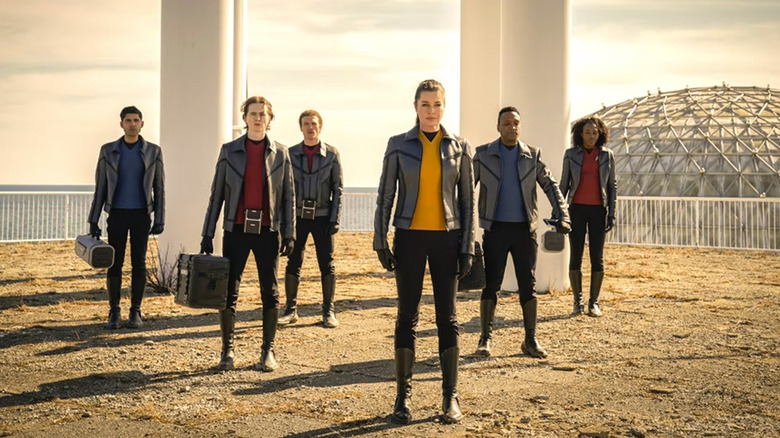 Paramount
When it comes to "Star Trek," few things are more important than continuity. The vast universe of "Trek" films and shows — most of which jump forward and back across the prime timeline — often connect and even intersect, which means that narrative isn't the only thing that has to align across multiple pieces of media. "Star Trek: Discovery," one of the more recent "Trek" shows, takes place earlier than other series. This gave costume designer Gersha Phillips a bit of freedom to establish a distinct style for the show — but she still had to bridge the gap between the functional flight suits of "Star Trek: Enterprise" with the colorful shirts of "The Original Series."
"Discovery" solved this by introducing flair and color to the Starfleet uniform as seasons passed, which made for an interesting and exciting evolution for fans who look out for those small, world-building details. Now its direct successor, "Strange New Worlds," is the final piece of the puzzle between "Discovery" and "The Original Series." The design team of the new series are apparently inspired by anything and everything, including real-life fashion houses like Alexander McQueen. That influence certainly manifests in "Strange New Worlds," which allows characters to sport multiple styles of uniform. It also alleviated the pressure of continuing the evolution in "Discovery," by giving "Strange New Worlds" an eclectic, "retro-futuristic" feel.
Boldly looking back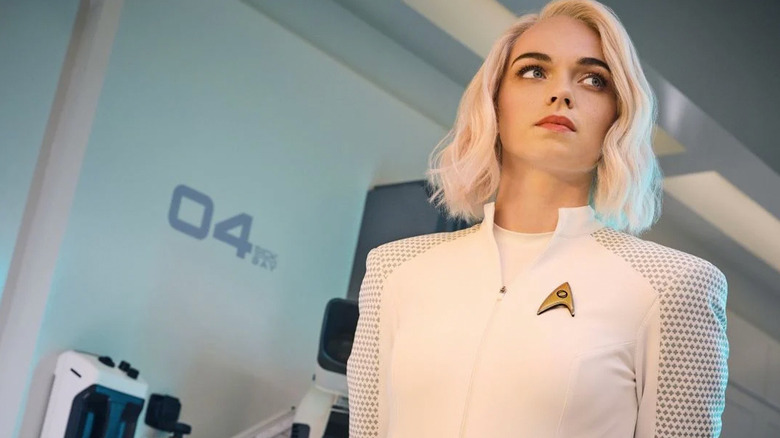 Paramount
Costume designer Bernadette Croft worked under Gersha Phillips for two seasons of "Star Trek: Discovery" before heading up the costume department for "Strange New Worlds." Having someone who'd worked on "Discovery" was certainly a plus for its follow-up, but connecting the dots between the shows still wasn't be easy. Linking the grounded elements of "Discovery" with the casual, colorful world of the original series was "a bit of a design challenge," Croft explained to Inverse. "We brought some of the key features from 'Discovery,' I think, to make sure the continuity is on our side."
One important element lifted from "Discovery" was the strong-shouldered silhouette on every uniform. Though "Strange New Worlds" is beginning to incorporate the form-fitting v-neck from the original series, most of the uniforms sport a pretty angular design. Of course, there are variations (like the dress uniform seen in the series' second episode), but it all comes down to the personal style of the character. "Certain characters really lean into the 1960s aesthetic," Croft explained. "And then some are a little bit edgier."
Shoulder pads aren't the only design element that Croft brought to "Strange New Worlds." The medical jumpsuit — most recognizable on Dr. Hugh Culber (Wilson Cruz) in "Discovery" — makes another appearance in the new series. Nurse Chapel (Jess Bush) notably wears a streamlined version of the all-white ensemble instead of her "medical blue" miniskirt dress from the original series. And speaking of miniskirts: they've gotten something of an upgrade as well.
The new look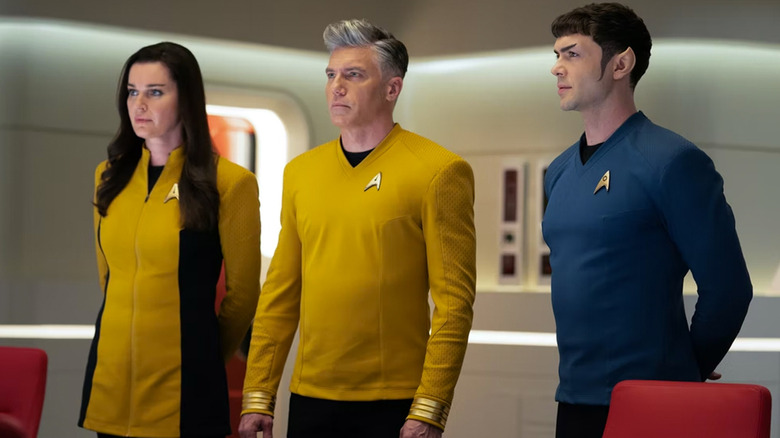 Paramount
When designing for "Strange New Worlds" first began, Croft was adamant about "unisex" uniforms only. "Let's not do those tiny, tiny dresses," she remembered thinking. "We wanted to avoid that over-sexualization." It was Rebecca Romijn, who plays First Officer Una Chin-Riley in both "Discovery" and "Strange New Worlds," who suggested that the infamous piece could still work ... and that it, too, could be gender-neutral:
"Rebecca was like: 'You can make it look badass, and you can fight, you can do whatever you need to do in a dress.' And we were like, yes, you absolutely can! And that's why you can wear leggings or pants underneath. It still looks dignified, and you know, it's still uniform."
Croft assured that the new design can be worn by anyone in "Strange New Worlds" — not just Romijn's Number One, but "male dayplayers" too. Even Ethan Peck (aka "Hot Spock") is interested in sporting the new tunic. "It's totally up to our actors to decide."
Tricky as it may have been, Croft and her team have created a perfect mix of the functionality and pomp of the past with the progressive (if not slightly objectifying) fashion of the future. More than that, it's great to see how each uniform differs from another. The changes may be subtle, but they all work in service of the story, and watching them evolve to the well-known fashion of the original series will be a major treat for old "Trek" fans and new.