Captain Pike's Green Uniform Comes Straight From Classic Star Trek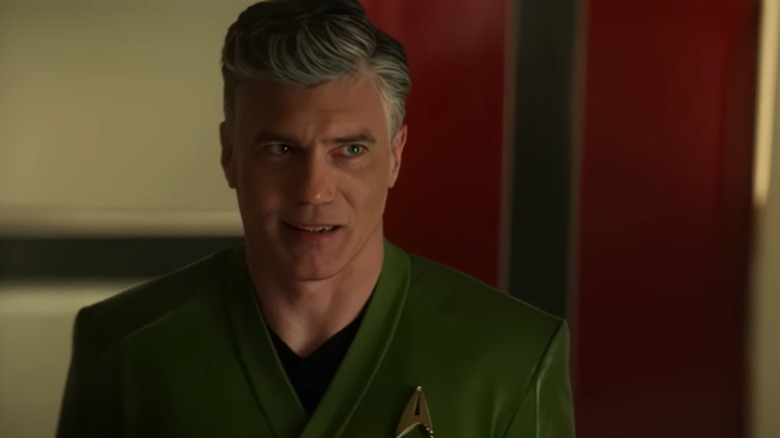 Paramount+
This post contains minor spoilers for "Star Trek: Strange New Worlds" episode 5.
"Who doesn't love hijinks?" Nurse Chapel (Jess Bush) asks in the new episode of "Star Trek: Strange New World," just before a body-swapped Spock (Ethan Peck) attempts to take over for T'Pring (Gia Sandhu) in an important meeting. Clearly, "Star Trek: Strange New Worlds" loves hijinks, as the show's latest episode features not only a cheeky Vulcan body swap, but also a rousing game of Enterprise Bingo, plus a possible hint at a future "Trek" romance. Captain Pike (Anson Mount) mostly stays out of the kooky action this time around, but "Star Trek: Strange New Worlds" still manages to give audiences a subtle Pike-related bit of humor anyway.
Yes, we're talking about the green shirt. In the first four episodes of the latest "Trek" series, we see Pike wearing a flattering gold-yellow Starfleet uniform that's a close match to the one William Shatner's Captain Kirk wears in "Star Trek: The Original Series." But in the latest chapter, we see Pike in a snazzy green number with a slightly different cut than his yellow uniform. For newbies to the "Trek" world, it might just seem like a random change of clothes, but for longtime fans of the series, it's a nod to one of most memorably garish design elements of Gene Roddenberry's classic series.
Kirk is a fashion inspiration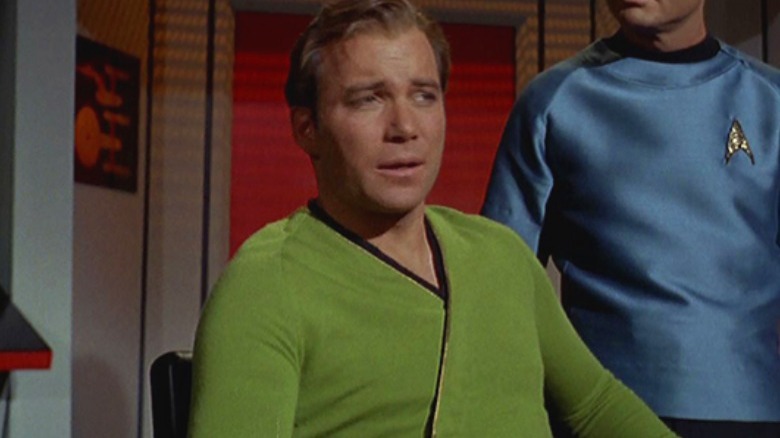 CBS Paramount Television
When "Star Trek: The Original Series" debuted in 1966, Captain Kirk appeared sporting what would become his classic look: a golden-yellow fitted long-sleeve shirt with a starfleet insignia over the left breast. It quickly became obvious that the team on board the Enterprise wore color-coded uniforms based on the department in which they served, with other crew members wearing red and blue. But something else soon became obvious, too. Sometimes, Kirk didn't wear gold. Sometimes, he wore the ugliest neon lime green imaginable.
These shirts, somehow, were even tighter than the gold one. Shatner commented as much at a Comic Con panel in 2015, saying (via CinemaBlend), "It was a little embarrassing after lunch to have that tight green thing on you." In addition to its ultra-fitted form, these outfits also had a totally different cut, typically with a wrap-like v-neck and gold accents along the seams. The green shirts seem almost like a dress version of Kirk's regular outfit, and have long-since baffled (and delighted) fans who point out their sporadic appearances throughout "Star Trek: The Original Series."
So what's the deal with the green shirts? While Kirk does seem to wear a dressier version of his uniform on some occasions, it turns out Kirk's alternate outfits are mostly meant to be just that: back-up costumes for when his other one was presumably at the space cleaners. Fans weren't meant to pick up on the differences between the outfits, as, according to an "Inside Star Trek" interview with costume designer William Theiss (as preserved on the blog Star Trek Prop Authority), the shirt we all thought was golden or mustard yellow was actually more of a green, too.
The yellow shirts were never yellow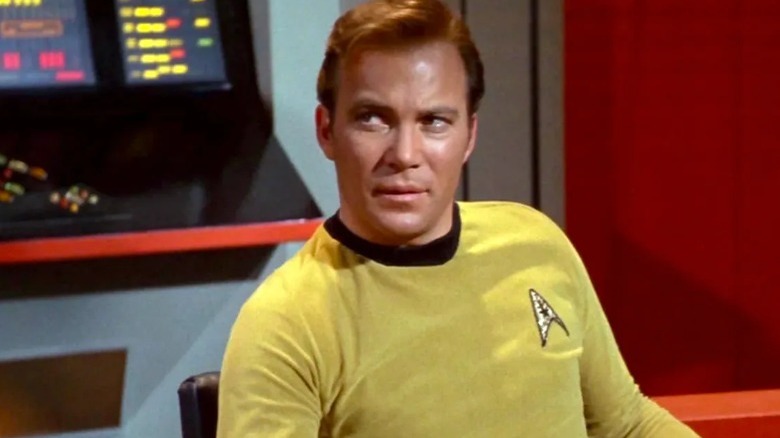 CBS Paramount Television
Most "Trek" aficionados agree that the color contrast between Kirk's uniforms is due largely to the less-than-photo-accurate film and lighting setup the show used. "Star Trek: The Original Series" was on the forefront of color television, and was shot on Eastman Kodak film according to StarTrek.com. The combination of the particular film stock, soundstage lighting, and the use of a different material apparently creates what's called a color bias, making Kirk's apparently light green suit lean more towards a golden yellow when seen at home. The back-up costumes and dress garb, however, appeared as a more true-to-life green. The result was a whole bunch of "Trek" viewers who to this day have fun playing "spot the green uniform."
In the latest episode of "Star Trek: Strange New Worlds," Pike sports a much less retina-scarring version of the green uniform, in a nice dark olive green shade. Like Kirk's oddly glam alternate outfits, Pike's green uniform has a wrap-around cut and a slightly deeper v-neck than its counterpart. While we didn't spot any gold threading, it does seem to have a shiny, almost leather-like material on its sleeves, continuing the trend of a subtly snazzier set of digs that Enterprise captains break out now and again. It also continues the "Star Trek: Strange New Worlds" trend of incorporating loving and well-executed "Star Trek: The Original Series" throwbacks whenever possible. Well played, "Strange New Worlds." Well played.