Director Steve McQueen's Movies Ranked Worst To Best
ABC
Steve McQueen isn't just a great filmmaker. He's an activist for greater representation within the industry. McQueen recently criticized the discriminatory practices in the British film system during the BAFTA awards. It is no secret that the history of Hollywood is intertwined with systemic discrimination. Artists of color have struggled to see themselves represented on screen since the earliest days of cinema. It is important to support diverse storytellers that offer insights on recent events.
Before he became a narrative filmmaker, McQueen experimented with various forms of visual art, including documentaries, short films, and portraits. He made his directorial debut in 2008 with the film, "Hunger." "Hunger" is based on the true story of the 1981 Irish prison hunger strike. It was the first of many projects that explored important moments in history and critical socio-political movements. McQueen has tackled such weighty topics as police brutality, slavery, sex addiction, political corruption, and sexism.
In addition to the four theatrical feature films that he has directed, McQueen also created the Amazon anthology miniseries "Small Axe." The series includes five different films set within London's West Indian communities during periods of social change. In the streaming era, the line between "film" and "television" is less distinct. Each entry in "Small Axe" is worth considering as a standalone feature film. The second installment, "Lovers Rock," was even the opening night presentation at the 2020 New York Film Festival.
Here are all of the films directed by Steve McQueen, ranked from worst to best.
9. Alex Wheatle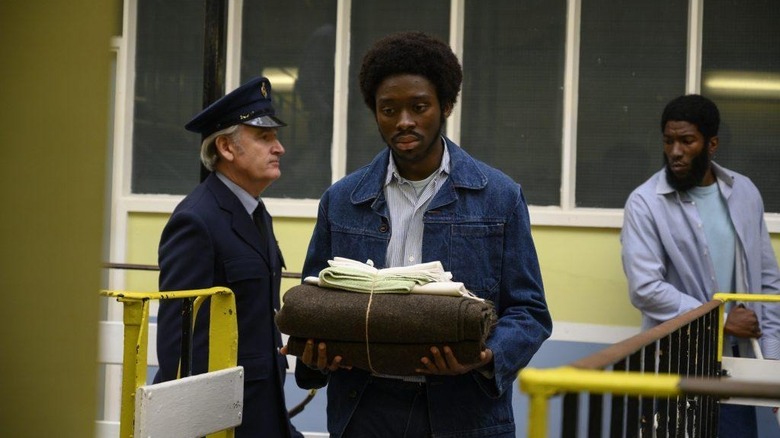 Prime Video
The fourth installment of "Small Axe" is easily the weakest of the series. While "Alex Wheatle" may tell an important story, it lacks the emotional depth and visual complexity of McQueen's best work. McQueen has a unique way of making history come to life. His films are so vivid that the historical figures are compelling as characters and are not overshadowed by their importance. "Alex Wheatle" is the only project in McQueen's filmography that feels like a stale retelling of history. While it speaks to critical issues, "Alex Wheatle" isn't as compelling on an emotional level.
The film follows the titular British novelist, Alex Wheatle (Sheyi Cole). Wheatle was raised in the slums of Brixton and took an early interest in poetry and writing. He was inspired by his diverse community to use his art to chronicle the changing political state. During the 1980s, Brixton's inhabitants openly resisted the brutality of the police. Wheatle was imprisoned in 1981 for his participation in the riots.
It's understandable why McQueen would relate to the story of someone who combines artistry and activism. Unfortunately, "Alex Wheatle" is so focused on the author's historical significance that it doesn't take the time to explore why his storytelling was such a sensation. At 66 minutes, it only includes a portion of Wheatle's life. Outside of his narrative films, McQueen has also created many docu-series projects. Perhaps "Alex Wheatle" would have worked better as a documentary and not a narrative feature.
8. Lovers Rock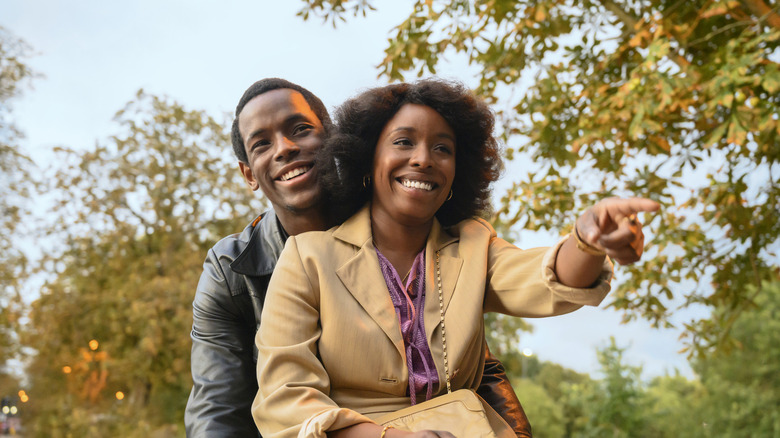 Prime Video
"Lovers Rock" explores new terrain for Steve McQueen. McQueen's projects generally focus on tragedy and suffering, but "Lovers Rock" is a purely delightful sensory experience. That doesn't mean that it is any less important than the rest of his work. The film celebrates Black love and romance. It is easily the most stylistically ambitious of McQueen's projects. The narrative is fluid and feels closer to a French New Wave film than a historical drama. It's almost shocking that a director known for his emotional intensity could create the perfect "hangout movie," but you can never doubt McQueen's dexterity with genre.
"Lovers Rock" takes place at a house party over the course of one night in West London during the 1980s. Essentially, the film just moves to the rhythm of the music. The incredible soundtrack includes songs from artists such as Blondie, Dennis Brown, Pat Kelly, King Tubby, The Revolutionaries, and Michael Gordon. "Lovers Rock" tells the simple story of how Franklyn Cooper (Micheal Ward) and Martha Trenton (Amarah-Jae St. Aubyn) fall in love. It doesn't take them long to form a deep spiritual connection.
McQueen doesn't cast judgment on the ways that the characters express themselves. He simply observes their culture. It's particularly enjoyable to watch, considering how emotionally grueling the rest of the films in the "Small Axe" series are. It's no discredit to "Lovers Rock" that it ranks this low on the list. It simply shows how impressive the films above it are.
7. Education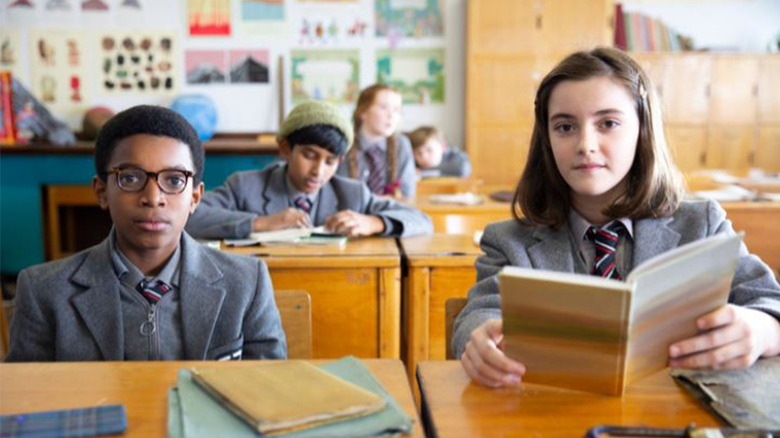 Prime Video
Steve McQueen hasn't just looked to history for inspiration. The final film in the "Small Axe" collection, "Education," was loosely based on his real life. "Education" is set in a small London community during the 1970s. Although the story is fictional, the events in "Education" are based on an actual civil rights issue that continues to affect students of color today. London courts came under fire by activists for an unofficial policy of moving Black students to different schools for the "educationally subnormal." As a result, there was a huge disparity in the quality of education, based on race.
The film primarily focuses on a West Indian activist group that calls attention to the practice. The heart of the film is the story of a young student named Kingsley (Kenyah Sandy). Kingsley is clearly gifted and talented. He dreams of becoming an astronaut, explorer, and scientist. However, Kingsley is deemed "disruptive" in class and sent to the headmaster's office for punishment. He is assigned to a "special needs" school, which doesn't take advantage of his potential. This is infuriating on both a historical and emotional level. McQueen doesn't just show how systematic oppression works. He shows the despair of a young boy who just wants to learn.
McQueen is able to explore a larger issue through an individualistic story. Sandy delivers a startlingly emotional performance for such a young actor. He is more restrained than most child performers are capable of being.
6. Widows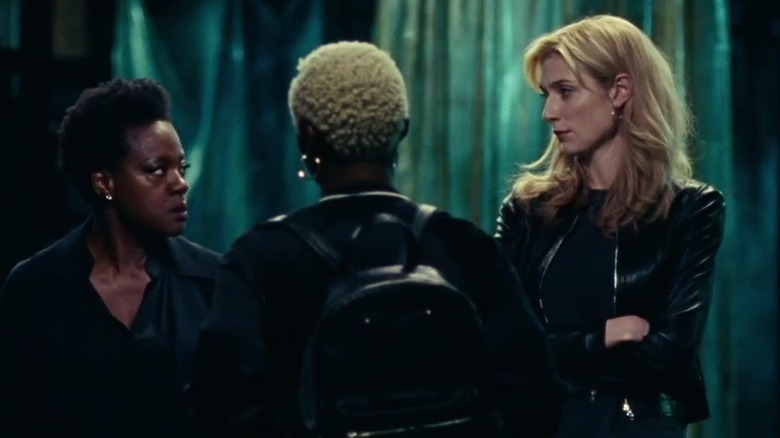 20th Century Fox
"Widows" is a much different type of project for Steve McQueen. McQueen had been strictly known as an "arthouse filmmaker," and he seemed like an odd choice to helm a star-studded genre film. However, "Widows" is much more complex than most heist movies. The film explores a variety of ongoing issues in modern-day Chicago, including gender disparity, police brutality, electioneering, political dynasties, economic disenfranchisement, and the treatment of sex workers. Written by "Gone Girl" author and screenwriter Gillian Flynn, the film was inspired by Lynda La Plante's crime series of the same name.
"Widows" is set in the aftermath of a heist gone wrong. The criminal leader Harry Rawlings (Liam Neeson) and his accomplices Florek (Jon Bernthal) and Carlos (Manuel Garcia-Rulfo) are killed after an attempted robbery. Harry's wife, Veronica (Viola Davis), is left devastated. She discovers that Harry left behind the plans for one last job. Veronica recruits Florek's widow Alice (Elizabeth Debicki), Carlos' widow Linda (Michelle Rodriguez), and the babysitter, Belle (Cynthia Erivo), to break into the home of power broker Tom Mulligan (Robert Duvall). Mulligan's son, Jack (Colin Farrell), is running for mayor against crime boss Jamal Manning (Brian Tyree Henry). Jamal's brother, Jatemme (Daniel Kaluuya), stalks Veronica's team.
"Widows" is so packed with characters that it almost seems like it's biting off more than it can chew. While not all of the storylines have the same depth, it's amazing to see what McQueen is capable of on a studio film.
5. Red, White, and Blue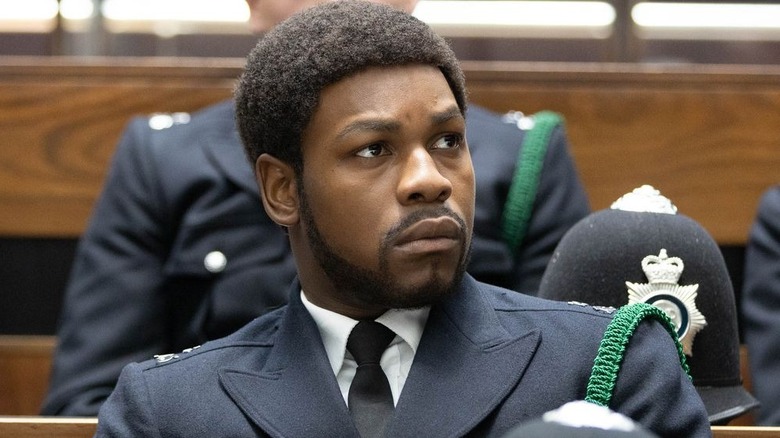 Prime Video
"Small Axe" was released on BBC and Prime Video at the end of 2020. Given everything that had transpired in that year, the series' themes felt more relevant than ever. None of the films in "Small Axe" captured the public outrage quite like the third installment, "Red, White, and Blue." The film explores the history of police brutality through the eyes of a Black officer. "Red, White, and Blue" is both an insightful and disturbing film to watch. It's important to understand how this system of oppression began, but it can be discouraging to see how little has changed.
"Red, White, and Blue" is set in the mid-1980s and follows the true story of Leroy Logan (John Boyega). Logan witnessed his father being brutalized by two police officers when he was young. While most boys his age learned to fear the police, Logan wants to change things from within. Logan goes through the training to join the London Metropolitan Police Force. Although he passes all of his necessary exams, Logan is still treated as a subordinate. Frustrated by the lack of progress, Logan creates the Black Police Association to push for reform.
"Red, White, and Blue" explores both the obvious and subtle ways in which racism rears its ugly head. Logan is offered unappealing assignments and is forced to watch his fellow officers commit acts of abuse. Boyega delivers the best performance of his career.
4. Shame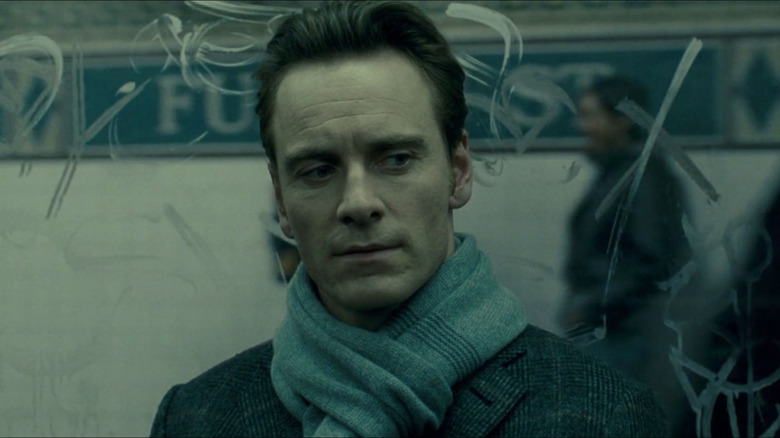 Momentum Pictures
There is a stigma around sexual addiction, and it is understandable why filmmakers would be hesitant to tackle such a weighty topic. It would be easy for a film to feel disrespectful to actual victims if it dramatized their issues. Steve McQueen is incredibly brave to explore the topic head-on. His 2011 film, "Shame," is an unflinching look at loneliness, addiction, and trauma. It is one of the rare mainstream films to receive an NC-17 rating from the MPAA. NC-17 films are generally not as successful financially and aren't able to reach broad audiences. However, it would have seemed insincere for McQueen to tell this story without including all of the realistic details.
"Shame" follows financial executive Brandon Sullivan (Michael Fassbender), a sex addict living in New York City. Brandon hides his behavior from his friends and family. He secretly downloads pornographic content on his computer while he is at work and frequently hires prostitutes. Brandon follows a strict routine every day. However, his schedule is thrust into chaos when his sister, Sissy (Carey Mulligan), arrives in town. Sissy reminds Brandon of his tormented childhood. He has ignored his trauma for almost his entire life and is afraid to talk about it. Brandon struggles to connect with Sissy.
Fassbender's performance is emotionally meticulous. Brandon's behavior is often disturbing, but Fassbender shows how he is suffering. McQueen does not shy away from the shocking details and focuses on intense moments of silence.
3. Hunger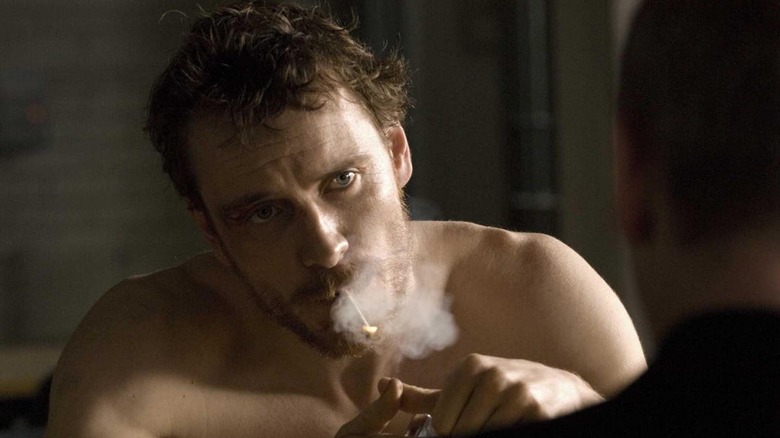 Pathe Distribution
Steve McQueen's feature directorial debut announced how unafraid he was to deal with disturbing material. "Hunger" is not for the faint of heart, but for those that can stomach the violent content, it tells an important story about the history of abuse within the British prison system. "Hunger" also launched McQueen's partnership with Michael Fassbender. Fassbender became one of the best actors of his generation thanks to his breakout role in "Hunger."
"Hunger" takes place during the 1981 hunger strike in Northern Ireland. Convicted prisoners were not granted their ensured rights and subsequently started various protest movements. An attempted violent outburst is unsuccessful. Former Irish Republican Army officer Bobby Sands (Fassbender) unites the prisoners in their resistance efforts. Facing no other alternative, Bobby directs the prisoners to punish themselves, in order to make their demands heard. Bobby and the rest of his followers starve themselves for over two months. The guards refuse to do anything as the prisoners' bodies deteriorate. After 66 days of protest, Bobby dies of starvation.
Fassbender shows Bobby's desperation and determination. He only chooses to harm himself after his attempts to be heard are met with silence. It is absolutely devastating to watch Fassbender's body slowly fall apart. McQueen's methodical direction features many extended shots that last just long enough to be uncomfortable. The brief scenes featuring Bobby's parents (Des McAleer and Helen Madden) add an emotional context to his struggles. They are heartbroken to see their son in such a state.
2. Mangrove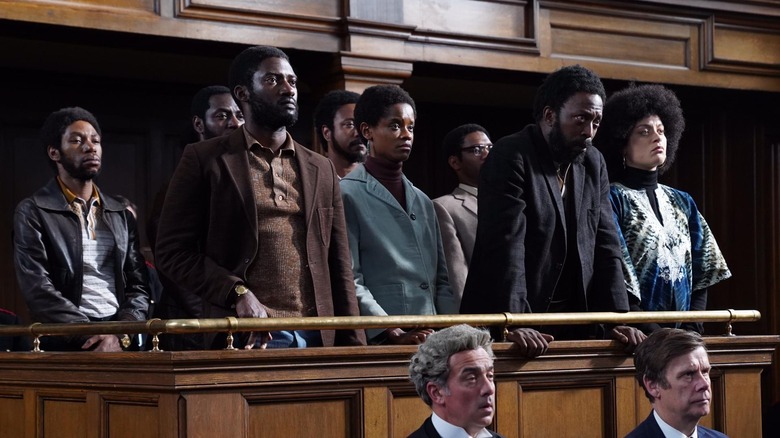 Amazon Prime Video
The first installment in the "Small Axe" anthology, "Mangrove," is one of the greatest courtroom dramas ever made. It spotlights one of the most important cases in London's history, which sadly has been forgotten by most historical accounts. "Mangrove" follows a group of Black activists, who are falsely accused of inciting violence at a Caribbean restaurant in Notting Hill. "The Mangrove Nine" are denied their guaranteed rights and subjected to skepticism from the British judicial system. Although the trial resulted in the nine men's acquittals, it came after Judge Edward Clarke (Alex Jennings) concluded that there was "evidence of racial hatred on both sides."
The ruling clearly didn't go far enough, but it marked the first time that the London police's crimes were highlighted in public. "Mangrove" sets the perfect tone for the "Small Axe" series and foreshadows the themes of the other films. "Mangrove" celebrates black culture like "Lovers Rock," explores police brutality like "Red, White, and Blue," and deconstructs tools of systematic discrimination like "Education." It's the longest film in the series. McQueen does not skimp on any of the legal terminology that mischaracterized the events.
If you want to see further proof of how unique and important McQueen's perspective is, just check out Aaron Sorkin's courtroom drama "The Trial of the Chicago 7," which debuted the same month as "Mangrove." Both films depict activists on trial for resisting police brutality, but "The Trial of the Chicago 7" barely acknowledges the Black Panther Party.
1. 12 Years A Slave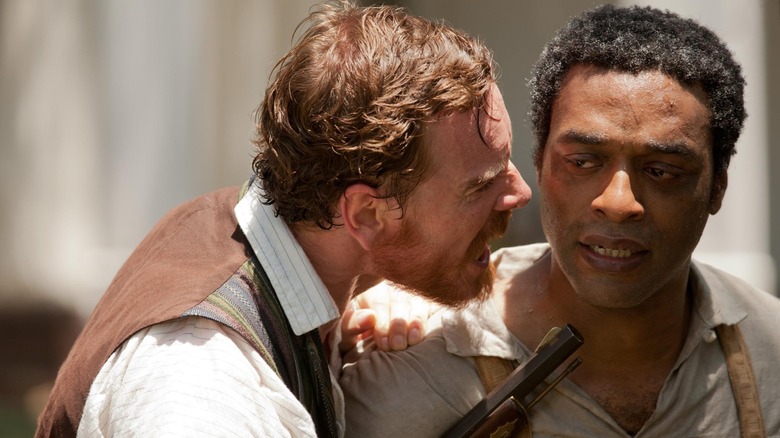 Fox Searchlight
It's no discredit to the rest of Steve McQueen's work that the No. 1 selection is an obvious choice. "12 Years s Slave" isn't just McQueen's best film, but one of the greatest achievements in cinematic history. The Academy Award for best picture is rarely handed to an actual masterpiece. Although he was denied a best director win, McQueen can consider himself an Oscar winner thanks to his producing credit on the film. He is one of only six Black filmmakers ever nominated for best director.
It would be impossible for any single film to capture the entirety of Black Americans' experience as enslaved people. McQueen keeps the film focused on just one story. He adapted Solomon Northup's (Chiwetel Ejiofor) 1853 memoir of the same name. Northup was a free man who was offered a fake job as a musician by two slavers in Washington D.C. He was sold into slavery and remained in captivity for over a decade. McQueen shows Solomon's life as he is passed as property between different slave owners in the south.
McQueen focuses on the minutiae of Solomon's daily experience. He is forced to assimilate to survive. The cruelest of Solomon's tormentors, Edwin Epps, is played by McQueen's frequent collaborator Michael Fassbender. Fassbender delivers one of the most terrifying performances in film history. Epps prides himself on his ability to break the spirits of his slaves. "12 Years A Slave" is essential viewing for every American.