The Morning Watch: On The Set Of Stranger Things 4, The Secrets Of Dumbledore Honest Trailer & More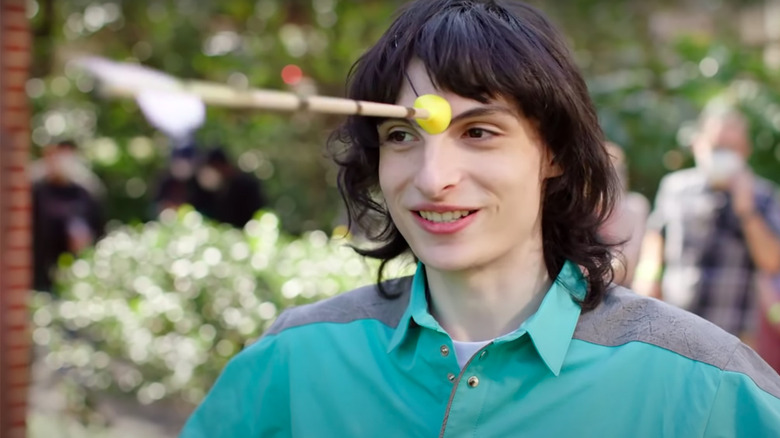 Netflix
(The Morning Watch is a recurring feature that highlights a handful of noteworthy videos from around the web. They could be video essays, fan-made productions, featurettes, short films, hilarious sketches, or just anything that has to do with our favorite movies and TV shows.)
In this edition, check out a day in the life of the massive, multi-set production of "Stranger Things" season four, from costuming to stunt coordination and beyond. Plus, watch the latest "Fantastic Beasts" movie, aka the first certified flop in "Harry Potter" history, get the Honest Trailer treatment. Finally, "Thor: Love and Thunder" filmmaker Taika Waititi answer the internet's burning questions about him in the goofiest way possible.
Tales from the set of Stranger Things
First up, "Stranger Things" has released a behind-the-scenes video about the making of season four. The new featurette stitches together several different set diaries to give viewers a sense of what it was like to film this ambitious season. There are lots of gems here, from Gaten Matarazzo revealing what Dustin's hair looks like under his hat, to Sadie Sink practicing a wire stunt for episode four's climax, to Millie Bobby Brown choosing an outfit for Eleven to get arrested in. Plus, there maye even be a clue about the season finale, as footage Caleb McLaughlin shares of himself in special contact lenses is not-so-surreptitiously covered up with a "Stranger Things" logo.
The magic is gone
Next, the long-running Screen Junkies video series "Honest Trailers" takes on "Fantastic Beasts: The Secrets of Dumbledore." After joking about how Warner Bros. won't stop replacing all its actors, the parody trailer digs into the apparently very bleak plot of the third "Fantastic Beasts" film, which its narrator says works to "bleed the childlike wonder from this franchise like a dead deer in a necromancer's jacuzzi." Yeah, this one doesn't hold back. "Honest Trailers" is often most enjoyable when it's tackling a movie you haven't actually seen, and judging by its box office numbers, this one fits the bill for a whole lot of people. Check it out to learn about the many weird choices made in this movie, from the colony of crab people to Mads Mikkelsen's face-cupping performance.
Taika Waititi tries to remember his roles
Finally, Taika Waititi stops running around making things long enough to sit down for Wired's popular Autocomplete Interview. The "Thor: Ragnarok" filmmaker and "Our Flag Means Death" actor is as playfully flippant as ever as he insists he got a Grammy and Oscar for slacking ("They are just giving those things away!") and reveals the abysmal lack of research that goes into his performances. He also briefly forgets his "Lightyear" character's name. And his character's name in "The Mandalorian." Still, it's a great video for fans of the artist, and it includes rarely-shared tidbits like the stories behind his tattoos and his reaction to that Cate Blanchett meme.