Clips Round-Up: The Siege Of Robin Hood Makes Sherwood Forest Sexy Again & More! [Exclusive]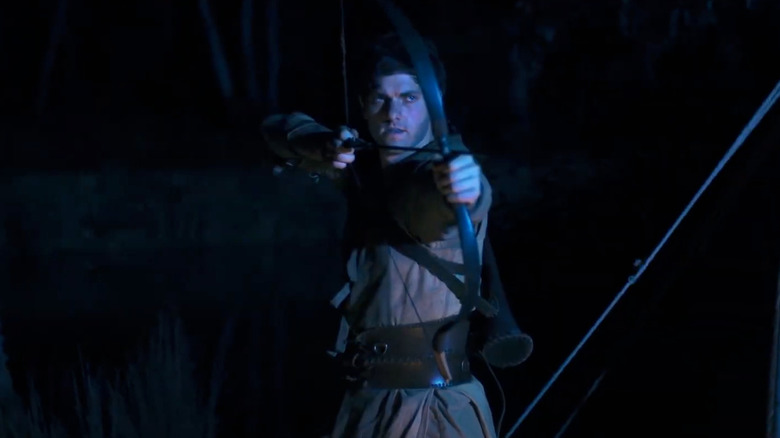 Saban Films
(Welcome to SlashClips, a series where we bring you exclusive clips from hot new Digital, Blu-ray and theatrical releases you won't see anywhere else!)
In this edition:
The Siege of Robin Hood
Rondo and Bob
The Walk
Gatlopp 
Offseason
Keeping Company
The Siege of Robin Hood
First up we have Saban Films' action-adventure "The Siege of Robin Hood," now playing in select theaters and arriving on demand and digital today. The film stars Paul Allica as Robin Hood, Kahli Williams as Freyda, Dave Beamish as Sir Lancelot, Keanu Gonzalez as Tuck, Peter Roordink as Little John, and John Fallon as The Sergeant.
Here is the official synopsis: 
When the Sheriff of Nottingham's soldiers brutally attack his family, a young man named Robin vows bloody revenge on the men responsible. He recruits a team of outcasts, mavericks, and fugitive warriors, each has a grudge to settle with the Sheriff and an extreme fighting skill to match. Together they devise a plan to exact revenge and lay to rest the ghosts of his past.
Rondo and Bob
Next is Electric Entertainment's Award-winning documentary "Rondo and Bob," which focuses on "Texas Chain Saw Massacre" art director Robert Burns and his obsession with cult actor Rondo Hatton, available today on streaming platforms. Written and directed by Joe O'Connell, the film features veteran stuntman Gary Kent ("Bubba Ho-Tep," "The Green Hornet"), actress Dee Wallace ("Cujo," "The Howling"), "Re-Animator" director Stuart Gordon, Joseph Middleton, Joe Bob Briggs, "Hills Have Eyes" producer Peter Locke, Edwin Neal of "Texas Chainsaw Massacre," filmmaker Fred Olen Ray, and many more.
Here is the official synopsis:
Robert A. "Bob" Burns is a significant name in horror film art direction for his work in the original Texas Chain Saw Massacre, The Hills Have Eyes, Re-Animator, The Howling. While attending the University of Texas he edited the Texas Ranger humor magazine and discovered Rondo Hatton, a former Tampa, Florida, sports reporter, who contracted acromegaly, a condition that caused his face, hands and feet to grow out of proportion to the rest of his body. It caused the former athlete and All-American kid to close himself off from the outside world until he met his second wife Mae. Together they went to Hollywood where Hatton became the Creeper in a series of films starting with the Sherlock Holmes story "The Pearl of Death." He died of a heart attack brought on by his medical condition. The documentary weaves together the stories of Burns and Hatton and delves into their horror filmographies and personal life stories. The Creeper becomes a metaphor for Burns' lifelong belief in his inner ugliness, a lack that left him unable to feel true love. 
The Walk
The period racial drama "The Walk" hits theaters on June 10 and stars Justin Chatwin ("Shameless"), Terrence Howard ("Empire"), Malcolm McDowell ("A Clockwork Orange"), Jeremy Piven ("Entourage"), Kate Douglas ("Ginny & Georgia"), Lovie Simone ("The Craft: Legacy"), and Anastasiya Mitrunen ("An L.A. Minute"). 
Here is the official synopsis:
Director Daniel Adam's "The Walk" follows Boston Irish cop Bill Coughlin (Justin Chatwin) who contends with fierce social pressure in his neighborhood and rampant bigotry within the police force after being assigned to protect black high school students bused into all-white South Boston High during the court-ordered forced integration of the Boston School System in 1974.
Gatlopp
The supernatural comedy "Gatlopp" was written by and stars Jim Mahoney of "The Orville" fame, and co-stars Emmy Raver-Lampman, Jon Bass, Sarunas J. Jackson, Shelley Hennig, John Ales, and Amy Davidson. It arrives on digital and on demand June 16.
Here is the official synopsis:
A group of old friends reunites for a nostalgic evening of fun and games after a decade apart. After one too many, they decide to play a drinking game, but it's quickly revealed that this game comes with supernatural stakes. Mischief leads to mayhem, and the group realizes that if they can't come together to win the game by sunrise, they will be forced to play for eternity – in hell.
Offseason
Written and directed by Mickey Keating, the horror film "Offseason" arrives on Shudder on June 10 and stars Jocelin Donahue, Joe Swanberg, Richard Brake, Melora Walters, and Jeremy Gardner.
Here is the official synopsis:
Upon receiving a mysterious letter that her mother's grave site has been vandalized, in "Offseason," Marie (Donahue) quickly returns to the isolated offshore island where her late mother is buried. When she arrives, she discovers that the island is closing for the offseason with the bridges raised until Spring, leaving her stranded. One strange interaction with the local townspeople after another, Marie soon realizes that something is not quite right in this small town. She must unveil the mystery behind her mother's troubled past in order to make it out alive.
Keeping Company
Finally 1091 Pictures has provided us with an exclusive clip from the comedic horror thriller "Keeping Company" that even your grandmother would love. The film arrives on VOD today. 
Here is the official synopsis:
A fateful chain of events begins to unravel after two brash insurance salesmen go knocking on the wrong door and find themselves trapped inside of a serial killer's basement, putting their lives and their jobs on the line.