Watch A New Lightyear Clip And Get Tickets Right Now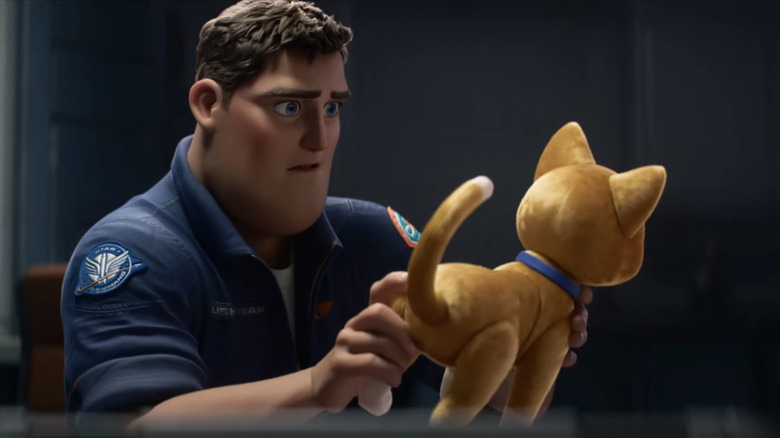 Pixar Animation
"To infinity and beyond" is more than just a memorable catchphrase that made a cotton-stuffed cowboy lose his mind — it's also a very literal description of Buzz Lightyear's journey into space. Buzz is set to really go the distance in "Lightyear," a movie within a movie that tells the in-universe origins of the famous space captain who inspired Andy's love. As Chris Evans so dutifully informed us all those months ago, this isn't the story of our old friend plastic Buzz — it's basically the movie that a young Andy could've watched just before grabbing the Buzz action figure at Al's Toy Barn. 
Semantics aside, this still means Buzz Lightyear is heading back to the big screen! Plus, "Lightyear" also marks Pixar's big return to theaters, after three of their best movies in years were sent straight to Disney+ ("Soul," "Luca," and "Turning Red"). If the excitement is already overwhelming you, then here's some good news — you can finally do something about it! Tickets for "Lightyear" are already on sale, including limited spots for special "Lightyear" early access screenings. Dubbed "The Andy Experience," the screenings will take place un over 500 IMAX® and Premium Large Format theaters nationwide on Wednesday, June 15. Fans in attendance will be the first to see "Lightyear" in theaters, and will also receive an exclusive piece of concept art created by the film's production designer, Tim Evatt. In the spirit of amping up the excitement, Pixar has also released a new sneak peek at the film!
Meet Sox, Buzz Lightyear's BFF
Before there was Woody, Buzz was backed-up by his best friend and personal companion robot, Sox! This name can likely be attributed to Sox's adorable paws looking like little white socks, a feature that doesn't seem to make Buzz want to cuddle him, but surely it'll win him over by the end of the movie. No true hero could resist. Poor Sox doesn't exactly get a warm welcome when Buzz first unboxes him, but in the Space Ranger's defense, he's just woken up to a horrible realization: his mission failed.
"Lightyear" catches up with Buzz after he's been marooned on a hostile planet millions of light-years away from Earth. While he hoped to find a way home, things didn't exactly go as planned. His mission will surely continue, but with a new group of recruits that also happens to include Sox — a robot cat who can provide comfort, info, and whale noises. Will said whale noises play an important role in taking down the army of robots invading the planet? Probably not. But it's certainly not impossible.
Joining Chris Evans's Buzz Lightyear on this space crusade, Peter Sohn is voicing Sox, along with Uzo Aduba as Alisha Hawthorne and Keke Palmer, Taika Waititi and Dale Soules as the Junior Zap Patrol: Izzy Hawthorne, Mo Morrison, and Darby Steel. James Brolin will voice the enigmatic Zurg. "Lightyear" is directed by Angus MacLane (co-director "Finding Dory"), produced by Galyn Susman ("Toy Story That Time Forgot"), and features a score by award-winning composer Michael Giacchino ("The Batman," "Up").
"Lightyear" arrives in theaters on June 17, 2022. Advance tickets for "Lightyear" and for the early access screening, "The Andy Experience" are currently available.