Does Jurassic World Dominion Have A Credits Scene? A Spoiler-Free Guide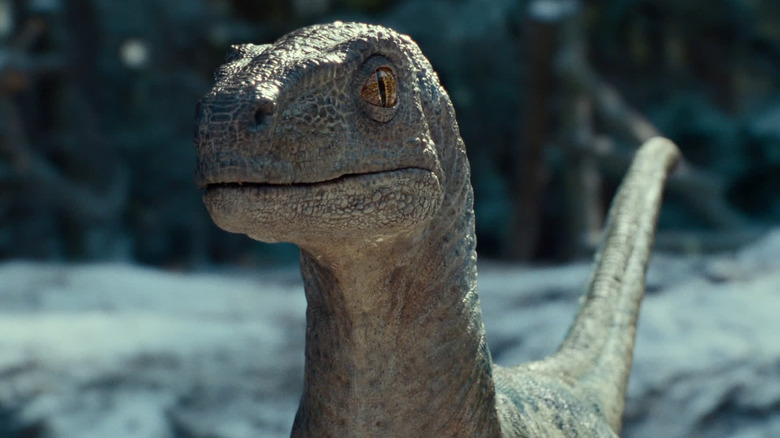 Universal Pictures
It may have been delayed by a full year but, at long last, "Jurassic World Dominion" is making its way to theaters. This isn't just a sequel to 2018's "Fallen Kingdom," which had gigantic implications for the future of the franchise by releasing dinosaurs in the real world alongside humans, but it's also the conclusion of the journey that was started all those years ago back in 1993 with Steven Spielberg film adaptation of Michael Crichton's original novel. Now, the big question facing moviegoers heading out to see the movie is, does that journey end when the credits start rolling? Or do we have more to look forward to once the screen fades to black?
In no small part thanks to the Marvel Cinematic Universe, post-credits scenes have become commonplace for gigantic franchise films, and thus, people need to wonder if they can safely head to the bathroom once the credits start rolling. Given that "Jurassic World: Fallen Kingdom" did indeed include a credits scene, it is a question worth asking. But fear not! We're here to deliver the answer in a spoiler-free way. So read on with no fear as no spoilers shall pass through these gates.
Does Jurassic World Dominion have a credits scene?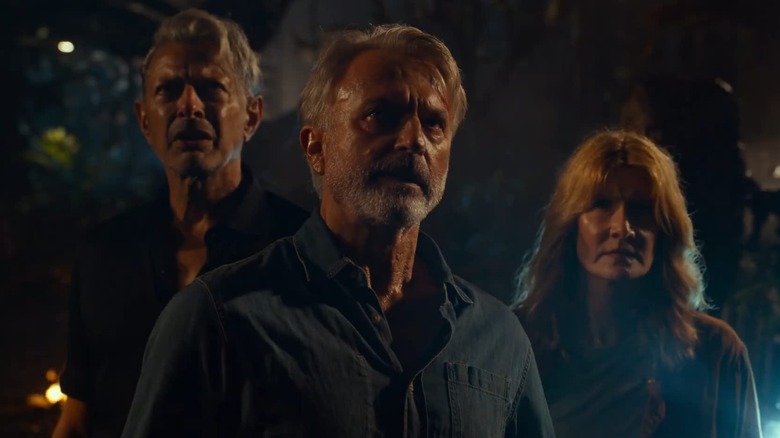 Universal Pictures
We shall waste no more of your time either in this article or when you're in the theater watching "Dominion." No, there is no post-credits scene of any kind attached to the film. Nothing mid-way through the credits, nothing after the credits, and nothing of real consequence to keep you in the theater any longer than you need to be. End of story. So, if you've been holding in a bathroom trip through more than two hours of dinosaur goodness up to that point, you are good to go once the credits begin rolling. Simple as that.
Colin Trevorrow directs the film after having directed the original "Jurassic World." The massive cast includes Chris Pratt and Bryce Dallas Howard returning as Owen Grady and Claire Dearing, with Laura Dern, Jeff Goldblum, and Sam Neill all coming back as Ellie Sattler, Ian Malcolm, and Alan Grant for the first time since "Jurassic Park." The rest of the ensemble includes DeWanda Wise, Mamoudou Athie, BD Wong, Omar Sy, Isabella Sermon, Campbell Scott, Justice Smith, Scott Haze, Dichen Lachman, and Daniella Pineda.
"Jurassic World Dominion" hits theaters on June 10, 2022.
From Jurassic World architect and director Colin Trevorrow, Dominion takes place four years after Isla Nublar has been destroyed. Dinosaurs now live—and hunt—alongside humans all over the world. This fragile balance will reshape the future and determine, once and for all, whether human beings are to remain the apex predators on a planet they now share with history's most fearsome creatures. Emily Carmichael ("Pacific Rim: Uprising") penned the screenplay alongside Trevorrow.