The Sting's Screenplay Sparked A Laundry List Of Lawsuits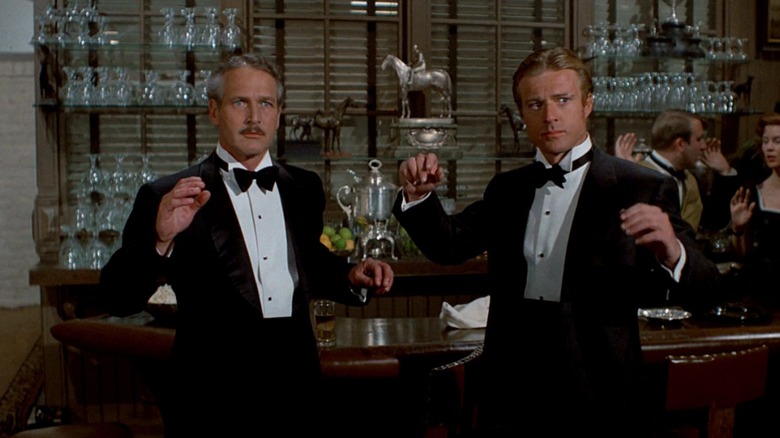 Universal Pictures
Who doesn't love "The Sting?" It's one of those ultimate rainy Sunday afternoon movies, or something easygoing to throw on when you're sick, the cinematic equivalent of a nice hot bowl of chicken noodle soup; comforting, satisfying, and full of tasty goodness. 
Like all the best crime capers, "The Sting" welcomes us into the gang for two hours while withholding a few key pieces of the puzzle, so we're in on the scam but also feel the twist in the tale, too. A huge part of the film's rewatchability is thanks to the laidback charms of Paul Newman and Robert Redford, reunited with George Roy Hill after their previous box office hit, "Butch Cassidy and the Sundance Kid."
"The Sting" really is the complete package. Beyond the charismatic leads, you also have Robert Shaw at his tight-lipped best as the villain of the piece, and a gallery of wonderful character actors including Robert Earl Jones, Charles Durning, and the incomparable Eileen Brennan, who I wish was in every movie. The combination of Hill, Newman, and Redford worked a charm once again on critics and audiences, and not only did "The Sting" win the Oscar for Best Picture in 1974, it also had Scott Joplin's 70-year-old "The Entertainer" jostling for top spot in the Billboard charts.
So yeah, what's not to love? It's hard to find a flaw in such a determinedly good-natured piece of entertainment. Yet for all the feel-good factors surrounding the film itself, the screenplay caused plenty of animosity offscreen, resulting in some big law suits.
So what happens in The Sting again?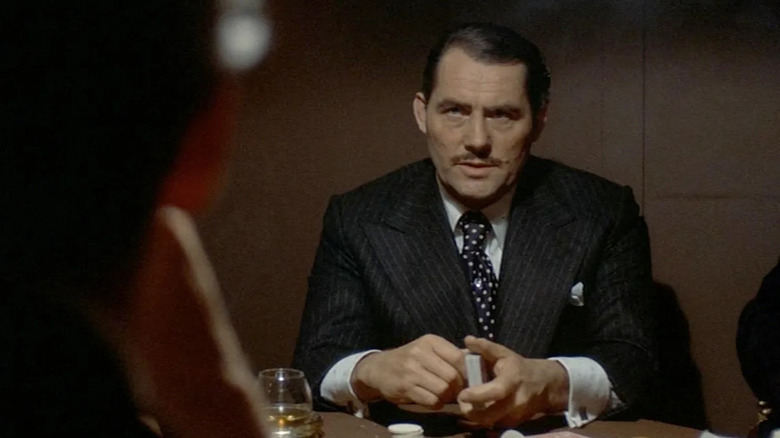 Universal Pictures
It's 1936 and America is still in the grip of the Great Depression. In Joliet, Illinois, we meet optimistic small-time grifter Johnny Hooker (Redford) as he pulls off a pigeon drop scam with his partners, Luther (Jones) and Joe (Jack Kehoe). Unfortunately for them, their victim is the bagman for a numbers racket run by Doyle Lonnegan (Shaw), a dangerous mobster with a penchant for gambling. In vicious retribution, Lonnegan has Luther killed, and Hooker decides it's time to skip town before he gets whacked too.
Hooker heads to Chicago, where he follows Luther's advice to track down Henry Gondorff (Newman), a legendary con artist currently lying low from the FBI. With a personal score to settle, Hooker persuades Gondorff to come out of retirement to target Lonnegan for his next big scam. Gondorff is reluctant at first, but the prospect of taking down a big fish like Lonnegan is just too much to resist.
Recruiting a large team of con artists, each with their own speciality, Hooker and Gondorff set up an elaborate scheme called "The Wire" which involves establishing a phony betting shop and delaying the results of horse races long enough to manipulate their mark into making certain bets. With the FBI and Hooker's nemesis, corrupt cop Snyder (Durning), closing in, can they keep the innately suspicious Lonnegan on the hook long enough to pull off a massive sting?
The Big Con and big money lawsuits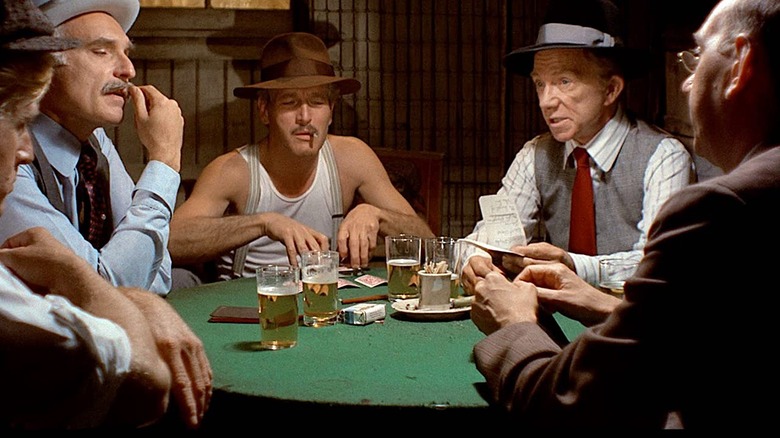 Universal Pictures
Professor David Maurer spent much of his career studying language, fascinated with the small subcultures of slang or argot used among specific groups of people. One of his first articles was "Speech Peculiarities of the North American Fisherman" in 1930 after spending a summer working on the fishing trawlers of Nova Scotia and Newfoundland.
His most well-known work came 10 years later with "The Big Con," focusing on an array of professional grifters working a "Big Store" confidence trick, and all their colorful language and special terms. It's a fun read and I'd definitely recommend it if you enjoy movies about con artistry like, say, "The Sting."
Maurer tried suing Universal and the film's screenwriter David Ward for copyright infringement for $10 million. Just skim-reading "The Big Con" makes it seem like an open-and-shut case; as Lois Stewart, an employee of the original publisher of "The Big Con" said (via Crime Reads):
["The Sting"] had the same names and same plot as Maurer's book. There's no doubt about that. I gave permission for the use of a few terms in the book but not to copy the entire story.
In 1976, Maurer and Ward settled out of court for an undisclosed figure, which was later revealed by the Los Angeles Times to be $600,000. After legal fees and other expenses, Maurer pocketed half the amount.
The same year, a much larger suit went to the courts. Followay Productions claimed they had bought motion picture and television rights to Maurer's book in 1952 and sued Ward, the Producers, Universal, and its parent company MCA, Inc for a total of $110 million (via AFI).
Given the subject matter of "The Sting," it seems somehow appropriate that several parties were maneuvering to make a big score off of the source material.