Triassic Parq Is The Musical Retelling Of Jurassic Park You Didn't Know You Needed
Andy Dudik for Blank Canvas Theatre
Just as William Shakespeare did with "Romeo and Juliet," a surefire sign of brilliant theatrical artistry is an opening monologue that tells the audience exactly what they're about to see. "Welcome to 'Triassic Parq.' It's the story of the dinosaurs of 'Jurassic Park' but we can't call it 'Jurassic Park' because we might get sued." 
Originally produced in 2010 at the New York International Fringe Festival, "Triassic Parq" is a musical parody of "Jurassic Park" as told from the perspective of the dinosaurs. While "Jurassic Park" tells the story of Dr. Alan Grant, Dr. Ellie Sattler, Dr. Ian Malcolm, Dr. John Hammond, and the Murphy kids as they try to survive the genetically engineered dinosaurs on Isla Nublar, "Triassic Parq" is about a community of female dinosaurs (played by actors of any gender identity) living in harmony, until one day, a T-Rex wakes up to discover she's spontaneously developed male genitalia, a result of the sex-change capabilities of the West African frog DNA used in her creation.
"Triassic Parq" continues the trend of turning beloved genre films into musicals by flipping the perspective of the storytelling and allowing for an entirely new interpretation of the generational favorite tale.  "Evil Dead," "Heathers," and "Cry-Baby" have all previously been given the same treatment, but this takes the concept to another level. As empathetic and loving as the doctors and scientists in "Jurassic Park" are, thanks to their inability to communicate with the creatures, the dinosaurs can only theorize and speculate why they're acting the way they are. "Triassic Parq" lets the dinosaurs explain their troubles in their own words through the majesty of song.
A musical 65 million years in the making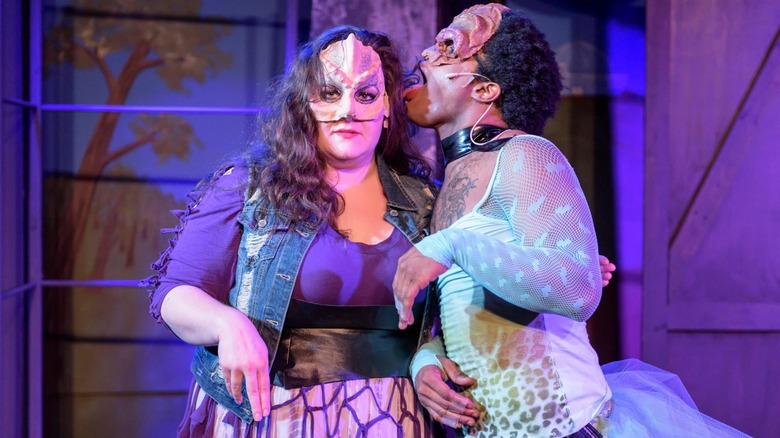 Andy Dudik for Blank Canvas Theatre
"Triassic Parq" was originally written and directed by Marshall Pailet, with lyrics and book (that's musical theatre talk for "script") by Marshall Pailet, Bryce Norbitz, and Steve Wargo. I was first introduced to the show back in 2015, when Blank Canvas Theatre in Cleveland, Ohio put on a production. BCT has a strong reputation for pursuing shows that most theatres would be too terrified to tackle, like "The Rocky Horror Show," "Cannibal! The Musical," and "Silence! The Musical," a musical riff on "Silence of the Lambs" in which I proudly played Catherine Martin at the bottom of Buffalo Bill's basement hole. For "Triassic Parq," knew nothing other than the fact the show was a play on "Jurassic Park," and when I saw there was an option to buy tickets for a midnight performance, I thought I knew what I could expect.
I was correct in that "Triassic Parq" is filled with edgy humor, sexual content, and a dildo protruding from a tutu to indicate the growth of new genitalia on a T-Rex, but I was not anticipating that a show poking fun at "Jurassic Park" would also be an incredible takedown on gender roles and incredibly affirming of transgender identities. Let's not forget that the reason the dinosaurs of "Jurassic Park" are able to thrive in the wild is because of the frog DNA used to fill their gene-sequencing gaps, allowing them to change sexes in a single-sex environment and thus reproduce. "Triassic Parq" has made that fact the beating heart of the entire story, even going so far as to paint the T-Rex not as a horrific monster, but as a misunderstood and tragic figure not unlike Angela Baker in "Sleepaway Camp." The dinosaurs are emotionally damaged and aren't intentionally trying to be violent, they've just got some really big feelings with nowhere to put them, and they're craving answers to questions they'll never receive.
Don't lose your dinosaur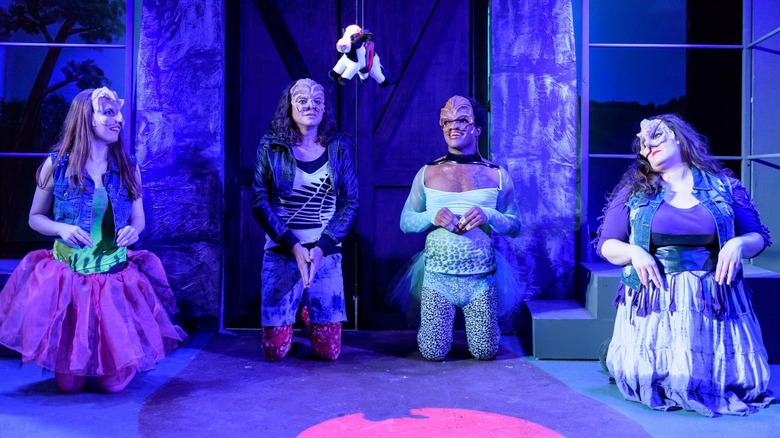 Andy Dudik for Blank Canvas Theatre
The dinosaurs of "Triassic Parq" diligently follow the teachings of the Velociraptor of Faith, a religious nut who disavows science and change, praising "The Lab," the place where the dinosaurs were created, and putting her in direct opposition to the Velociraptor of Science, who has since been banished for her "heathenous" beliefs. However, when T-Rex 1's gender changes, it throws their entire community into disarray. T-Rex 1 is proof that life will find a way, and the Velociraptor of Faith refuses to accept this new reality. Is the message a little heavy handed? Sure, but it's genuinely telling that a musical parody about "Jurassic Park" can explain gender nonconformity and transness better than most political pundits.
Just when things can't seem to get any worse, humans are visiting, nay, invading their home. These dinosaurs have enough to deal with right now, the last thing they need is a bunch of humans treating them like zoo creatures. Despite these very serious subjects, "Triassic Parq" approaches it all with relentless comedy, raunchy situations, and catchy songs, including "We Are Dinosaurs," a song that changes just enough from John Williams' iconic score as to not get sued. 
On the surface, "Triassic Parq" is yet another parody musical but underneath the chaos and carnage is a beautiful story of friendship, evolution, and learning how to affirm the changes in the lives of those you love. Life found a way!