Locke And Key Season 3 Teaser: The End Is Nigh For Netflix's Acclaimed Comic Adaptation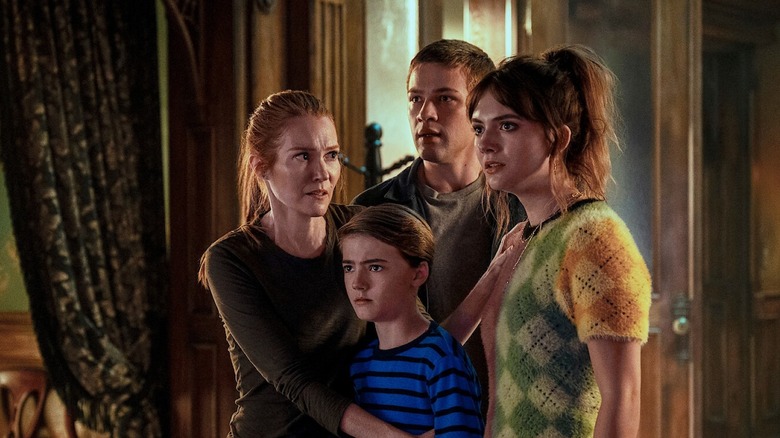 Netflix
"Locke & Key" is one of the best graphic novels of the 2010s, an H.P. Lovecraft meets Stephen King coming-of-age horror adventure full of magic, danger, intrigue, laughs, tears and more. 
The comic follows the Locke siblings as they move back to their ancestral home following the murder of their father, and there they discover a series of magical keys that grant all sorts of incredible powers. The problem is that there is also an evil entity looking for those keys, and it will stop at nothing to get them.
Despite its popularity, the comic had a long, arduous road to get to our screens, with a failed Fox TV show back in 2011, a failed movie trilogy, and a failed Hulu pilot from the director of "It." And then we finally got a proper TV show on Netflix.
Sadly, the Netflix version of "Locke & Key" is a bit hit or miss. Though the casting is phenomenal, the tone is completely different from the source material, which led to some really great changes from the comic, and some truly awful ones. After season two all but adapted the ending of the comic before introducing an entirely new thread, season three is set to deliver a totally original finale to this story, serving as the final season of "Locke & Key."
New beginnings, same endings
The trailer for the third and final season of "Locke & Key" seems to continue the show's trend of "remixing" the events of the comic, not completely changing things but also not following them to the letter. We see Tyler (Connor Jessup), who turned 18 last season and forgot all about the keys — an emotionally devastating addition to the show — followed by Bode (Jackson Robert Scott) finally activating the "Timeshift Clock" from the comic, which was suspiciously absent last season. That should make comic fans happy.
Of course, happiness does not come easy for the Lockes, since there is a band of evil British soldiers possessed by demons, led by Kevin Durand, looking for them. Oh, and apparently Dodge (Laysla De Oliveira) is alive? As little sense as that makes, it is at least somewhat comforting that the teaser seems to indicate a return to form this season. Sure, the events won't be the same, given that the show already adapted them last season, but the tone seems better this time, with the kids now able to properly use the keys to fight back. 
This approach to adapting the story may still backfire, but it's exciting to see an attempt at doing something different and fresh. 
"Locke & Key" season three premieres August 10, 2022 on Netflix.