Darth Maul's Entire Timeline Explained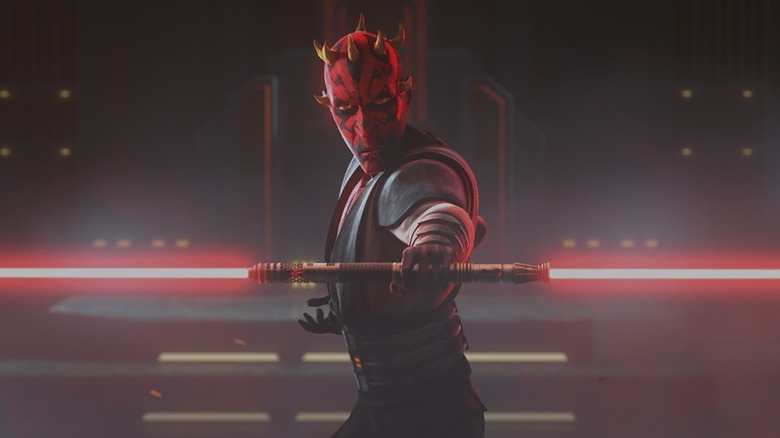 Lucasfilm
Darth Maul is one of the most iconic characters in the "Star Wars" franchise. Although opinions on the prequel trilogy are generally mixed, most fans would agree that Darth Maul's appearance in "Star Wars: Episode I — The Phantom Menace" is one of the best parts of the trilogy. Maul proved that you didn't need dialogue to be memorable, having only a few brief lines in the film. His double-bladed lightsaber was unlike anything that fans had ever seen before.
Maul appeared just long enough to leave the audience asking for more. After he kills the Jedi Master Qui-Gon Jinn (Liam Neeson), Maul is cut in half by Obi-Wan Kenobi (Ewan McGregor). His body tumbles down to the bottom of a Naboo chamber. However, the event didn't prove to be fatal. In the third season of Dave Filoni's animated series "Star Wars: The Clone Wars," Maul's survival is revealed. He becomes a major antagonist throughout "The Clone Wars," and appeared in both "Rebels" and "Solo: A Star Wars Story." Maul has been portrayed by a few different actors. In "The Phantom Menace," he is played by the stuntman Ray Park, but voiced by Peter Serafinowicz. Sam Witwer provides the voice for Maul in "The Clone Wars," "Rebels," "Solo," and various video games. Outside of the films and television shows, Maul has had other adventures in both the Legends and canon "Star Wars" stories. Here is Darth Maul's entire history, explained.
Maul's Non-Canon Legends History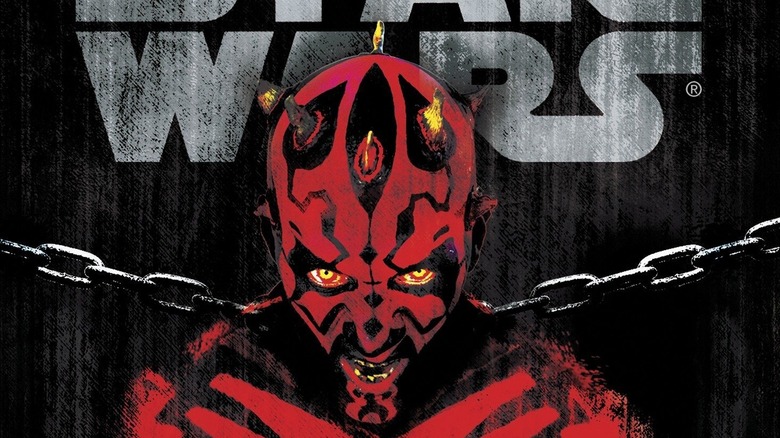 Lucasfilm
After Lucasfilm was purchased by the Walt Disney Company, the "Star Wars" timeline was completely relaunched. A majority of the content that was previously established in the Expanded Universe was deemed non-canon, as part of the "Legends" timeline. Although they're no longer considered to be official, many of these Legends stories are still worth checking out. Darth Maul has had many memorable appearances in these older stories.
Michael Reaves' 2001 novel "Darth Maul: Shadow Hunter" explored Maul's training under Darth Sidious during events that directly preceded "The Phantom Menace." The Sith have yet to reveal themselves to the galaxy, so Palpatine trains Maul in secret within the underbelly of the capital planet Coruscant. Maul handles his duties with discretion, leading many assassination missions for his master. After a member of the Trade Federation decides to betray Nute Gunray, Palpatine assigns Maul to track down the traitor. James Luceno's short story "Darth Maul: Saboteur" was included with the release of "Shadow Hunter." "Saboteur" explores another mission that Sidious assigns to his apprentice. In preparation for the Battle of Naboo, Maul helps take over mining colonies, so they can be claimed by the Trade Federation. In the 2014 novel "Maul: Lockdown," Maul fights in a gladiator arena at Sidious' command.
Maul's Backstory In The Modern Canon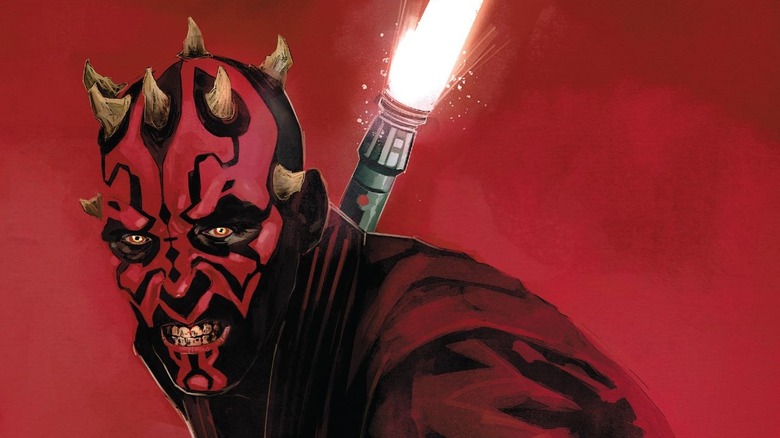 Lucasfilm
Disney was keen to flesh out Maul's backstory after his appearances in both "The Clone Wars" and "Rebels." "The Clone Wars" had only hinted at Maul's upbringing on the planet Dathomir, where he is raised by the Nighsisters and Mother Talzin, trained at a young age to be a ruthless warrior. Sidious senses Maul's strong connection to the force and takes him on as his apprentice.
The 2017 Marvel comic book series "Darth Maul" explores Sidious' training practices. Although Maul has faced many crime lords and small-time bounty hunters, he has yet to encounter a foe who is strong in the force. Sidious realizes that in order for the Sith to emerge from hiding, Maul must have experience fighting the Jedi. Maul tracks down a Jedi padawan named Eldra Kaitis and kills him. This series helped to flesh out Maul as a character, and it's hard not to feel a little bit of sympathy for him. Maul has been raised to be a killer since he was a child, and Sidious' mentorship is hardly nurturing. Is Maul a villain, or a victim? This series also explores Maul's indoctrination into the dark side. Sidious explains the history of the Sith Order, and how the Jedi forced them into hiding for 1,000 years. Shortly after, a one-shot issue of Marvel's "The Age of Republic" series depicted another mission by Maul to destroy a criminal cartel.
Maul's First Appearance in The Phantom Menace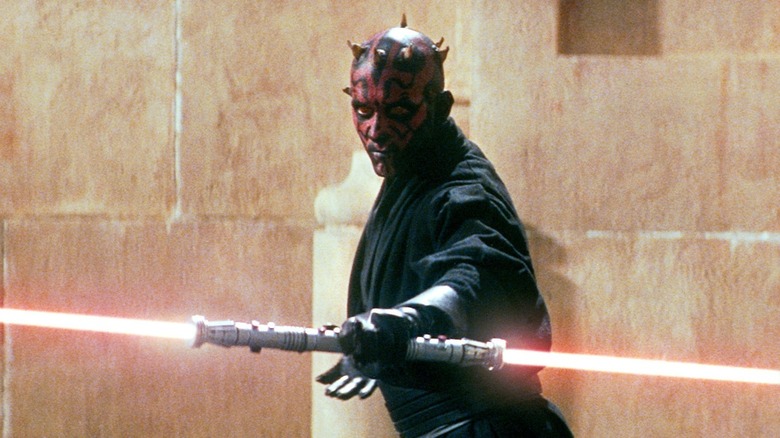 Lucasfilm
"At last, we will reveal ourselves to the Jedi. At last, we will have revenge." Maul's brief line in "The Phantom Menace" was enough to indicate that the Jedi were about to have their hands full. The Sith have been in hiding for a millennium, and Mace Windu (Samuel L. Jackson) explains that the ancient force-wielders operate under a "Rule of Two" system: there is only ever one master and one apprentice. Maul has trained in secrecy with his master, Darth Sidious (Ian McDiarmid), but finally gets his chance to face off with the Jedi.
"The Phantom Menace" featured the most intense lightsaber duel in the franchise thus far. In the original trilogy, we had only seen an older Obi-Wan (who was past his prime), Darth Vader (who was slower because of his cybernetic components), and Luke (who was just learning the ways of the force). The first prequel film finally showed what it was like when the Jedi and Sith were both in their prime. The prequels featured a lot of computer-generated imagery, but the practical stunt work in the "Duel of the Fates" sequence didn't require the advantages of digital editing. Maul's double-bladed lightsaber allowed him to engage both Obi-Wan and Qui-Gon at the same time. Qui-Gon's death marks a huge turning point in the saga, where Anakin is denied the mentor he truly wants, and Obi-Wan never gets the chance to bid farewell to his father figure.
Maul's Survival Revealed in The Clone Wars Season 3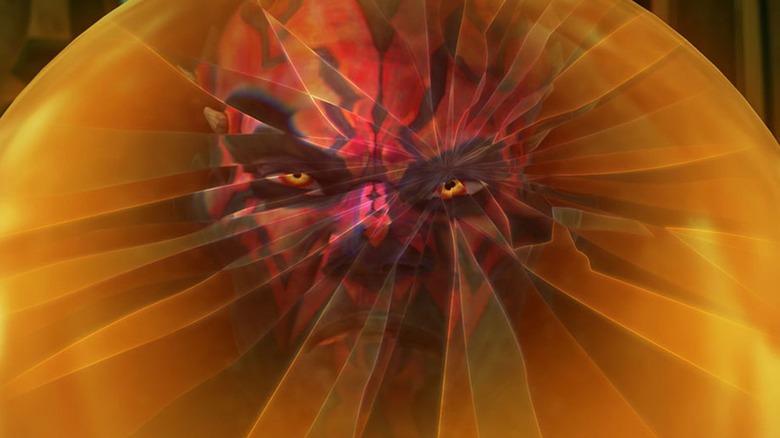 Lucasfilm
Maul was presumed dead at the end of "The Phantom Menace," and any storylines featuring his survival had been strictly considered to be "non-canon," even before the new timeline was launched. However, George Lucas and Dave Filoni decided that Maul was too good of a villain to waste. In the third season of "Star Wars: The Clone Wars," Maul's brother Savage Opress (Clancy Brown) learns that his brother is still alive.
Before he returns, we learn a little bit more about Maul's upbringing on the planet Dathomir. In the episode "Nighsisters," Darth Sidious (Ian Abercrombie) realizes that Count Dooku's (Corey Burton) protege, Asajj Ventress (Nika Futterman), has grown too powerful in the force. Sidious is well aware of how the "Rule of Two" works, and orders Dooku to kill Ventress. Ventress barely survives the assassination attempt. She returns to her home planet, Dathomir, and reunites with the ancient force-wielder Mother Talzin (Barbra Goodson). In the episode "Monster," Talzin helps Ventress select an apprentice of her own. Like his brother, Savage has trained as a warrior for his entire life. "Monster" shows the intense training regime that the men of Dathomir endure in order to learn combat skills. Ventress is impressed by Savage's abilities and recruits him to help get revenge on Dooku, but their assassination attempt is unsuccessful. Seeking a new master, Savage returns to Dathomir, where Mother Talzin reveals a vision that indicates Maul's survival.
Maul's Return in The Clone Wars Season 4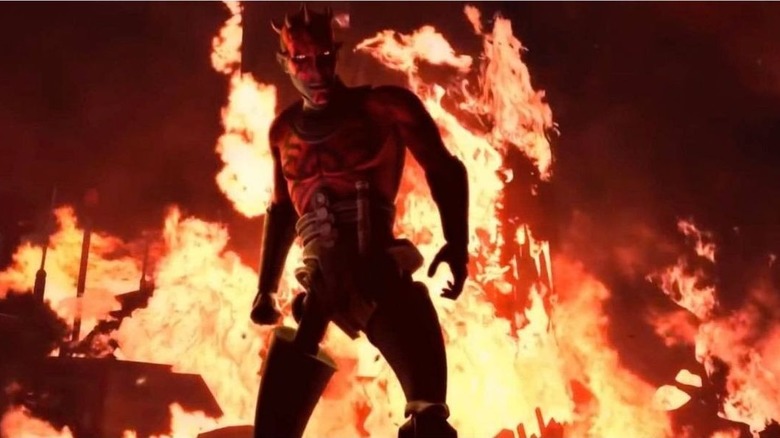 Lucasfilm
After the game-changing reveal at the end of the third season, "Star Wars: The Clone Wars" took its time bringing Maul back into the canon. In the aftermath of Ventress' rebellion against Dooku, the Separatists are dispatched to wipe out the Nightsisters. General Grievous (Matthew Wood) leads a droid invasion on Dathomir, wiping out the planet's infrastructure and forcing Ventress to go on the run once again. After flirting with the idea of becoming a mercenary in the episode "Bounty," Ventress realizes that her former partner, Savage, is more dangerous than she initially expected.
In the episode "Brothers," Savage travels through the ravaged junk planet Lotho Minor in search of Maul. Talzin's visions had only given him a rough idea of his brother's location. When the two brothers are finally united, Maul is hardly the same Sith that we first saw in "The Phantom Menace." He has descended into madness and has no knowledge of his past, crawling around with cybernetic spider legs. Savage successfully manages to bring his brother back to Talzin. Using the ancient art of Nightsister magic, Talzin restores Maul's consciousness and gives him new cyborg legs. Once Maul is finally restored to prominence in the episode "Revenge," he sets his sights on Obi-Wan Kenobi (James Arnold Taylor). Maul lures Obi-Wan into a trap and captures him. However, Ventress surprisingly comes to Obi-Wan's rescue and the two work together to escape from Maul and Savage.
Maul's Rise to Power in The Clone Wars Season 5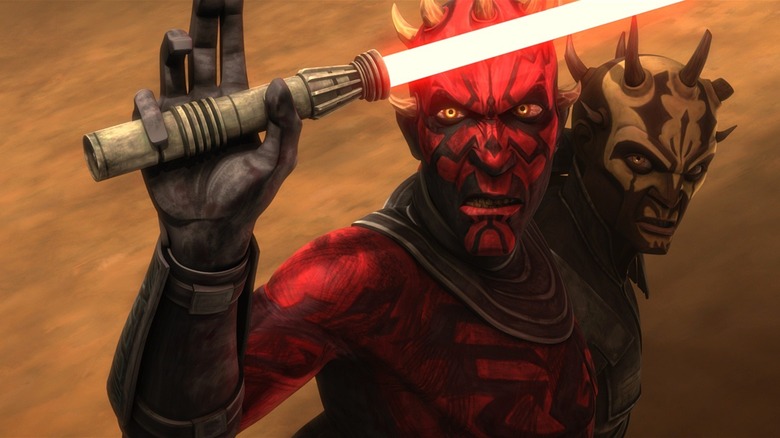 Lucasfilm
The events of the fourth season have left Maul furious. He meticulously plans the perfect way to kill Obi-Wan, as Maul doesn't want his vengeance to come at a random moment. He wants Obi-Wan to suffer like he has been suffering for the past decade. Maul also wants vengeance on his master, Darth Sidious, for leaving him to die. He decides to start his own empire and gathers various criminal groups together from across the galaxy.
In the episode "Revival," Maul unsuccessfully tries to recruit Hondo Ohnaka (Jim Cummings) and his pirates to join him. Although Savage manages to kill the Jedi Master Adi Gallia (Angelique Perrin), Obi-Wan escapes again, forcing Maul and Savage to regroup. In "Eminence" and "Shades of Reason," they take over the planet Mandalore. The Mandalorians follow an ancient code of chivalry, and must swear loyalty to whoever wields an ancient weapon known as "the darksaber." Maul challenges the leader of the Mandalorian Death Watch, Pre Vizsla (Jon Favreau), to a duel, then slays Vizla and claims his place as the planet's new leader. In the episode "The Lawless," Obi-Wan travels to Mandalore to rescue his former lover, the Duchess Satine Kryze (Anna Graves). Maul cruelly executes Satine in front of Obi-Wan, but the conflict is short-lived. Sidious makes a rare appearance outside of Coruscant to deal with his former apprentice, killing Savage and torturing Maul with force lightning.
Son of Dathomir: Maul's Scrapped Arc For The Clone Wars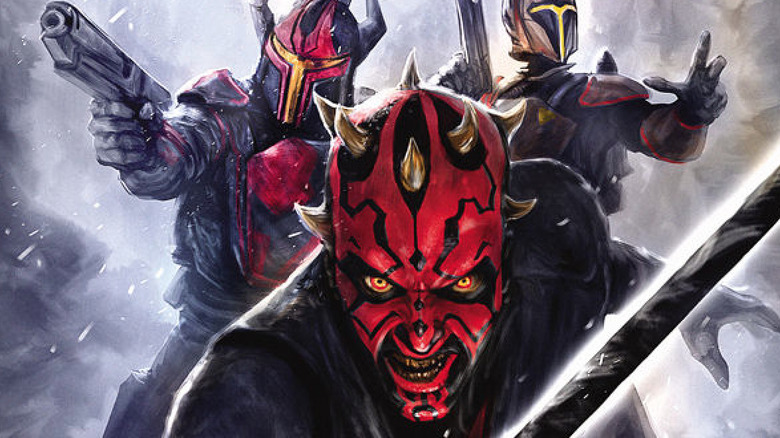 Lucasfilm
"Star Wars: The Clone Wars" was canceled at the end of its fifth season, leaving many storylines unresolved. However, many of the arcs that had been intended for later seasons of the show were adapted into other Expanded Universe material. The 2014 comic book miniseries "Darth Maul: Son of Dathomir" adapted the scripts for the canceled "The Clone Wars" episodes "The Enemy of My Enemy," "A Tale of Two Apprentices," "Proxy War," and "Showdown on Dathomir."
After he is captured by Sidious at the end of "The Lawless," Maul is taken to a Separatist prison. He finally gets the chance to meet Count Dooku, who replaced him as Palpatine's apprentice. Maul manages to escape and regathers with his criminal allies. After an intense showdown with General Grievous, Maul is once again forced to go on the run. He learns that Talzin is his biological mother, but Grievous kills her before they get the chance to reunite.
Maul's Siege Of Mandalore in The Clone Wars Season 7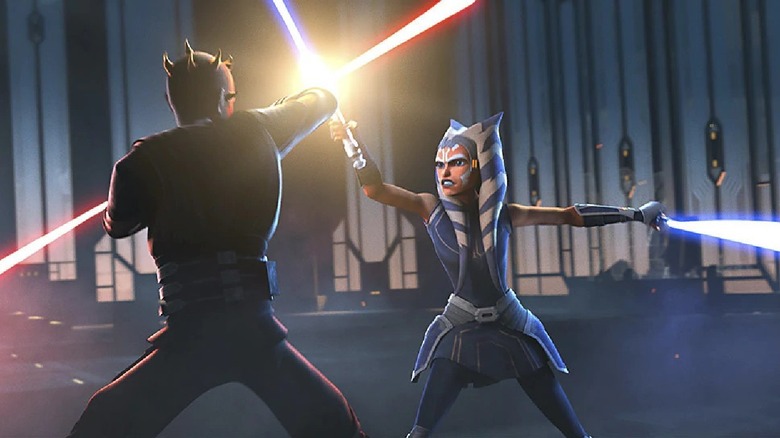 Lucasfilm
"The Clone Wars" fans were left heartbroken that their beloved series never received a proper conclusion. However, Disney+ finally released a seventh and final season of the show in 2020. The last three story arcs wrap up the events of the series, and directly lead into "Revenge of the Sith." Ashoka Tano (Ashley Eckstein) has to face the inevitability of the Jedi purge when she is betrayed by her clone troopers. This comes after she leads her last mission where she is dispatched to Mandalore to defeat Maul, who has regained control of Mandalore. 
While Obi-Wan and Anakin have to travel back to Coruscant to rescue Palpatine from General Grievous, Ashoka is left to lead Captain Rex (Dee Bradley Baker) and the 501st Legion to deal with Maul. After an intense lightsaber duel, Ashoka successfully captures Maul aboard a Republic transport. However, the chaos of Order 66 allows Maul to break out of jail.
Maul's Cameo in Solo: A Star Wars Story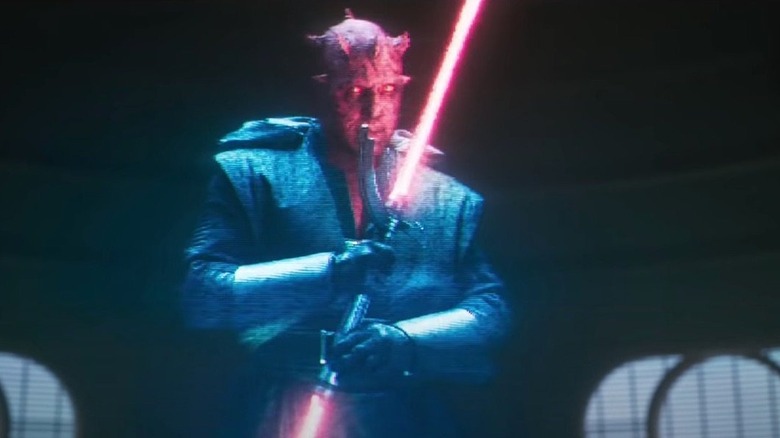 Lucasfilm
The criminal empire that Maul created in "The Clone Wars" became a powerful force of havoc in the "Star Wars" universe. Maul had gathered allies from the Mandalorian Death Watch, the Hutt clan, the Pykes, and the Black Sun. In "Solo: A Star Wars Story," Han (Alden Ehrenreich) makes the mistake of dumping a shipment of cargo that belonged to the crime syndicate known as "Crimson Dawn," which is allied with Maul's crime empire.
The Crimson Dawn mob boss Dryden Vos (Paul Bettany) allows Han, Chewbacca (Joonas Suotamo), Tobias Beckett (Woody Harrelson), and Qi'ra (Emilia Clarke) to steal a new shipment of cargo from the planet Kessell. Qi'ra is able to defeat Vos and takes his place as the new leader of Crimson Dawn. She receives a mysterious holographic message from Maul, who then commands Qi'ra to join him on Dathomir.
Maul Hides On A Sith Planet in Rebels Season 2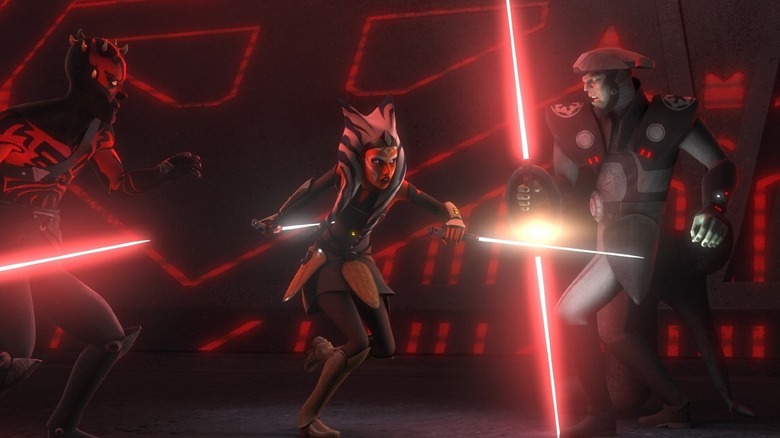 Lucasfilm
"Star Wars: Rebels" continued many of the storylines that were first introduced in "The Clone Wars." The series takes place over 10 years after the events of "Revenge of the Sith." The Galactic Empire rules the galaxy with an iron fist, and only a few brave freedom fighters are able to resist the fascist dictatorship. The rebels Hera Syndulla (Vanessa Marshall), Kanan Jarrus (Freddie Prinze Jr.), Sabine Wren (Tiya Sinclar), Zeb (Steven Blum), and the droid Chopper (Dave Filoni) lead a resistance group on the planet Lothal. Kanan is a former Jedi Padawan who survived Order 66. He discovers a force-sensitive boy, Ezra Bridger (Taylor Gray), and begins training him as his apprentice.
Hera receives orders from an enigmatic rebel leader named "Fulcrum," who at the end of the first season is revealed to be Ashoka's secret identity. In the Season 2 finale, "Twilight of the Apprentice," Ashoka, Kanan, and Ezra travel to the ancient Sith planet Malachor. When Ashoka and Kanan duel with Darth Vader's Imperial Inquisitors, Ezra discovers Maul in the ruins of a Sith temple. Maul helps Ezra elude the Inquisitors, but tries to turn him to the dark side. Maul is able to escape from Ashoka and Kanan using a TIE Fighter. Ezra wrestles with his darker impulses for the rest of the series.
Maul Duels Obi-Wan Kenobi in Rebels Season 3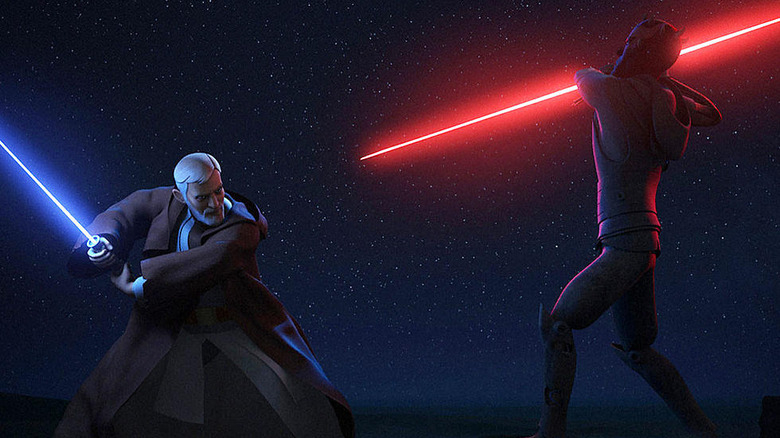 Lucasfilm
Maul had forsaken his title as a Sith but remains devoted to the dark side, attempting to court Ezra to be his new apprentice throughout the events of the third season of "Rebels." Kanan and Ezra are forced to form an unlikely alliance with Maul to search for an ancient Holocron. Kanan fears that Maul's influence is corrupting Ezra, who has begun to adopt some of Maul's qualities, believing that the only way to defeat the Empire and Sith is to be just as brutal as they are.
In the episodes "The Holocrons of Fate" and "Visions and Voices," Maul finally gets access to an ancient Holocron. This allows Maul to finally track down his old nemesis, Obi-Wan Kenobi, to Tatooine. Ezra is called by a similar vision, seeking out Obi-Wan to ask for his guidance. Obi-Wan shares his wisdom with Ezra but encourages him to leave before Maul arrives, knowing that this is one battle that he must fight on his own. The highly-anticipated duel between Obi-Wan and Maul in the episode "Twin Suns" is relatively brief, with both characters having grown slower in their old age. Maul is only holding on to his animosity, while Obi-Wan retains hope that Luke will restore peace to the galaxy. Obi-Wan lands a fatal blow, and before he dies Maul tells Obi-Wan that the "Chosen One" will avenge them both.
The Legacy of Darth Maul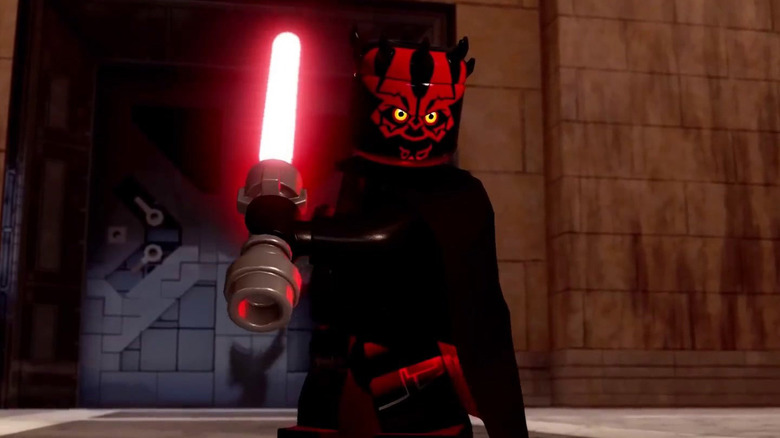 Lucasfilm
Maul has been embraced by all types of "Star Wars" fans. If you ever get the chance to attend a comic con event or "Star Wars Celebration," you will surely see many fans dressed in cosplay as their favorite Sith apprentice. Maul has also been a favorite among "Star Wars" gamers, with Sam Witwer returning to voice the character in "LEGO Star Wars: The Complete Saga," "Battlefront II," and "Disney Infinite 3.0."
Younger fans that did not make it out to the movie theater in 1999 finally got the chance to see Maul on the big screen in 2012. Lucasfilm had planned to theatrically re-release the first 6 films in the "Star Wars" saga in 3D, beginning with "The Phantom Menace," and Maul was a huge part of the marketing campaign. If you compare the re-release trailer with the original teaser for the film, there is significantly less Jar Jar Binks and way more footage of Maul. The re-release of "The Phantom Menace" coincided with the airing of the fourth season of "The Clone Wars."
Non-Canon Appearances: Star Wars Tales Comics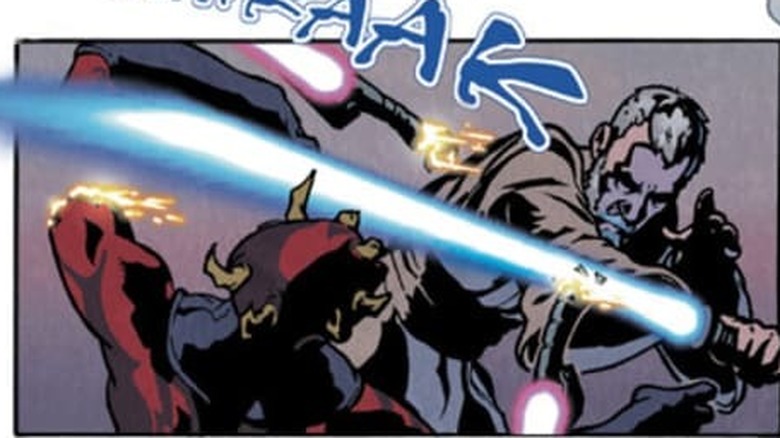 Dark Horse Comics
"Star Wars Tales" and "Star Wars: Visionaries" are some of the best comic book runs that Dark Horse ever released. The two series were anthology collections of adventures set in the galaxy far, far away. The Dark Horse writers had a fun time bringing Maul back in an unofficial capacity.
Before they dueled at the end of "Star Wars: Rebels," Obi-Wan and Maul faced off on Tatooine in the "Star Wars: Visionaries" one-shot "Old Wounds." Maul's depiction in "Old Wounds" is very similar to how he appears in "The Clone Wars." His severed torso is replaced with cybernetic legs. Similar to "Rebels," Obi-Wan kills Maul (for the second time), saving a young Luke. Who would win in a fight, Darth Vader or Darth Maul? This was a question that the "Star Wars Tales" writers addressed in the one-shot "Resurrection." An ancient cult called the Prophets of the Dark Side uses ancient magic to create an identical clone of Maul. After an intense duel, Vader destroys the resurrected clone.