Domhnall Gleeson Thought They Should Have Cut This About Time Scene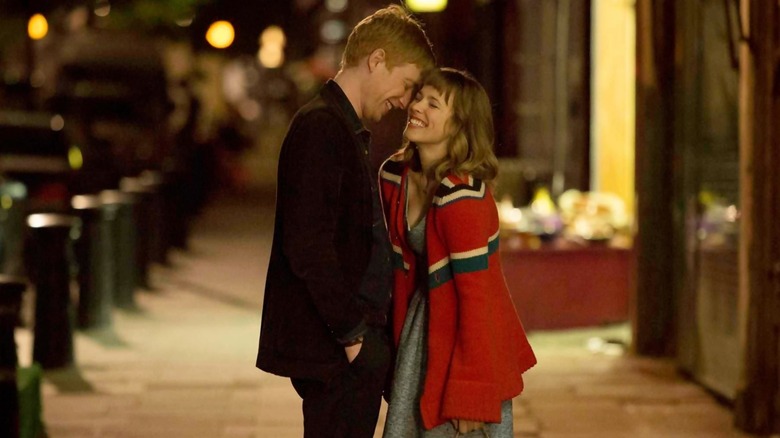 Universal Pictures
Richard Curtis' 2013 romance "About Time" is just one of the sweetest things you'll ever see. In the director's tradition — Curtis is the screenwriter behind twee, sentimental comedies like "Four Weddings and a Funeral," "Notting Hill," and "Bridget Jones's Diary," and director of "Love, Actually" — "About Time" believes in the power of love, the strength of sentimentality, and the theory that humanity is bound together by romance. The conflicts in "About Time" are very gentle, the stakes no lower than the integrity of the human heart. 
The premise is a little odd. Domhnall Gleeson plays Tim Lake, a young man who learns on his 21st birthday that all the males of his family have developed the supernatural ability to time travel. One can sneak into a closet, concentrate really hard, and reappear in their body from a few moments before. The Lake men use it to relive small, pleasant moments. Tim decides to use it as a means to improve his romantic standing, and to pursue a young woman named Mary (Rachel McAdams) with whom he is smitten. Despite the odd mechanics of the plot, "About Time" will quickly fall into an earnest ode to savoring each moment. 
Despite the film's sweetness, Gleeson, in a 2021 interview with Entertainment Weekly, felt there was one misguided scene where it looks like he was trying to murder his paramour. 
Smothering Rachel McAdams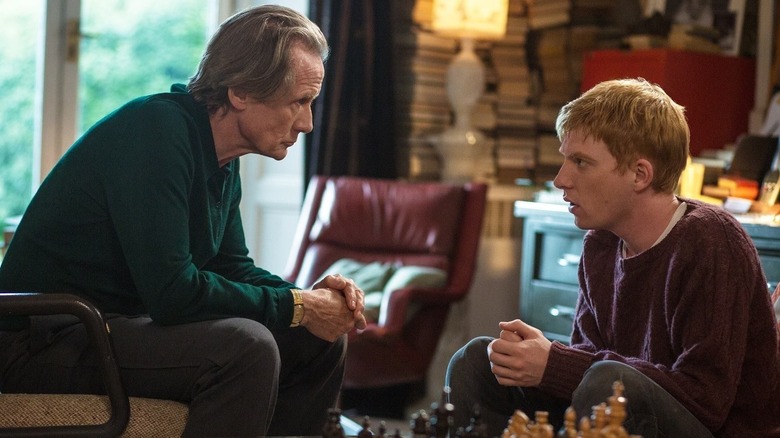 Universal Pictures
In the interview, conducted by Olga Ogunnaike, Gleeson recalls a scene wherein he and McAdams were shooting in the rain when a gust of wind blows McAdams' clothes up in her face. Gleeson's character was meant to step in and help her, but his panic and gesticulation, he feels, read as something far more violent. Indeed, when Gleeson saw the shot in question, he asked Curtis to remove the scene for its violent underpinnings: 
"It looks like I'm trying to smother Rachel McAdams with that red veil. It looks like I'm trying to kill her. I remember saying to Richard Curtis that I don't think we should keep that bit in, I think that looks incredibly violent."
The shot in question did make it into the final cut of "About Time," as Curtis assured Gleeson that his actions would be interpreted correctly. Curtis was right. Any viewer with a barely-sophisticated eye would be able to see it as a moment of comedic panic and not an act of assault. 
A suitable candidate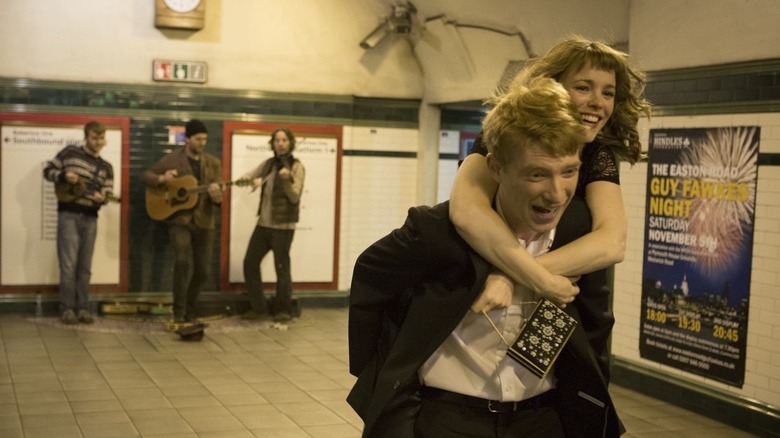 Universal Pictures
Gleeson also revealed a small amount of trepidation he felt going into a project like "About Time," having never starred in a romantic comedy prior (his previous two films were "Anna Karenina" and "Dredd") seeing himself as inappropriate romantic leading man material; it might be telling that Gleeson would eventually be hired to act in a "Star Wars" movie as a gnashing villain and not as a dashing hero. 
"I like romantic comedies very much, and I like Richard's romantic comedies, like I love 'Notting Hill,' but I never really considered myself a suitable candidate. So I was delighted to do it and it seems to be one of the things that stuck with people, strangely."
Perhaps it was his own self-perceived status as a heavy that brought Gleeson concern about looking violent toward his co-star. Luckily for us all, Gleeson is a talented enough actor to easily slip into the role of romantic lead, and it doesn't get much more romantic than a Richard Curtis film. "About Time" is a case of an actor displaying his range as a performer, proving that he is capable of a great deal. 
"About Time" is currently available to stream on Tubi. Richard Curtis, after having directed "Love, Actually," "The Boat that Rocked," and this film has said he's retired from directing and will stick to writing from now on, preferring to spend the time with his family.