The Princess Trailer: Joey King Is A Warrior Princess In The New Action Flick From Furie Director Le-Van Kiet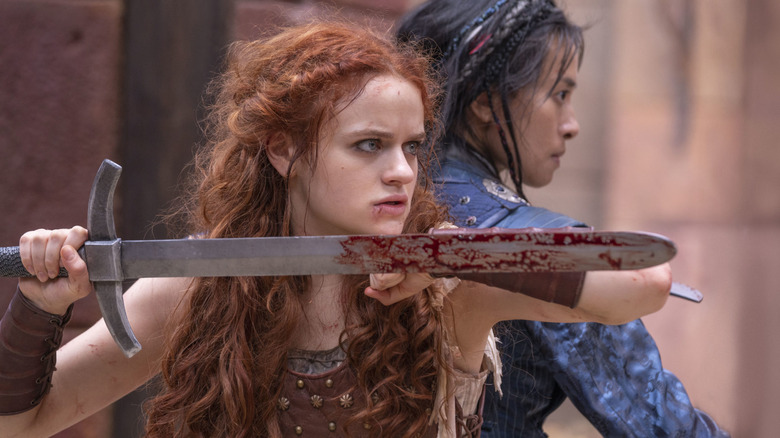 20th Century Studios
If you've seen one damsel-in-distress movie featuring a princess locked up in old castles and forced to wait on the whims of villainous princes, you've seen them all, right? Well, what a certain upcoming princess-themed movie proposes is ... maybe not!
As much as classic Disney stories have perfected the template for traditional princess stories aimed directly at children (and their longsuffering parents who'll no doubt end up watching them countless times, too. Here's to you, moms and dads!), we've seen several attempts in the past decade or 2 to modernize and update this fantasy genre to reflect our rather less old-fashioned sensibilities these days. There's absolutely nothing wrong with a throwback romance that wades into somewhat clichéd waters, to be sure, but why not aim a little higher — and maybe a little bloodier?
"The Princess" looks to offer exactly the kind of high-octane thrills that we might not necessarily expect from a story with all the familiar fairytale trappings. From filmmaker Le-Van Kiet, who carries plenty of action cred after having directed the Vietnamese action film "Furie," this movie will become the latest 20th Century Studios offering to premiere on Hulu. Check out the trailer below!
The Princess trailer
Never f*** with the wrong princess.
Joey King ("The Act," "The Kissing Booth") stars as the eponymous royal daughter, betrothed against her will to a sadistic and thoroughly unsuitable match and locked in a tower within her father's castle for her troublemaking ways. For typical stories in this vein, you could expect her to sit around and wait for some plucky hero to come by and rescue her. "The Princess," however, has a completely different idea up its sleeve. The first bloody slow-motion shot of King's unnamed princess taking up a chain and whipping it into the face of one of her captives is all one needs to see to realize that this film is operating on a wavelength all to itself. And, yes, it ought to go without saying that this looks like an absolute blast.
Written by Ben Lustig ("The Thirst") and Jake Thornton ("Final Fantasy"), "The Princess" also stars Dominic Cooper ("Captain America: The First Avenger," "Preacher"), Olga Kurylenko ("Quantum of Solace," "Black Widow"), and Veronica Ngo ("Star Wars: The Last Jedi," "The Old Guard"). The R-rated film is set to debut on Hulu in the United States (Star+ in Latin America and Disney+ everywhere else) on July 1, 2022.
When a beautiful, strong-willed princess refuses to wed the cruel sociopath to whom she is betrothed, she is kidnapped and locked in a remote tower of her father's castle. With her scorned, vindictive suitor intent on taking her father's throne, the princess must protect her family and save the kingdom.