The Best Sci-Fi Movies Of 2022 So Far According To Rotten Tomatoes — Did They Get It Right?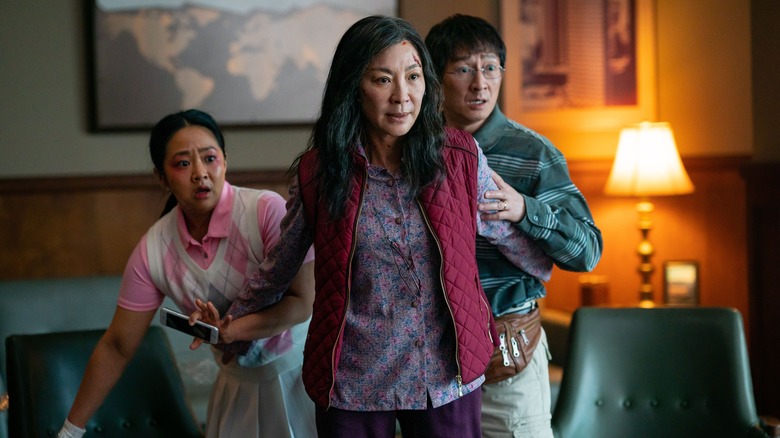 A24
Between theaters, streaming, and physical media, it can take longer to decide which movie to watch than it takes to watch one. 
Thankfully, we have places like Rotten Tomatoes to make that decision easier. If you're not familiar, Rotten Tomatoes is an aggregator of reviews for movies and television. The site's Tomatometer takes the positive and negative reviews of a film, giving a final score out of 100% based on what percentage of those critics had a favorable response.
Generally speaking, it's an incredibly useful way to gauge not just what the consensus is on that movie you've been looking forward to, but also what might be worth checking out in an ever-growing sea of entertainment. Of course, it's important to keep in mind that the best judge of a movie's quality is you. Aggregators like Rotten Tomatoes should be used as a push in the right direction not as the objective arbiter of art. Be your own critic!
With that in mind, we've narrowed down a list of the films that Rotten Tomatoes suggests are the best sci-fi films of 2022, based on average ratings from a variety of critics around the world. While some are more straightforwardly science fiction in the classic sense, there's an eclectic mix of genre-bending flicks and some that might inspire debate over whether they deserve the "sci-fi" tag altogether. Let's see if they got it right.
1. The Second Age of Aquarius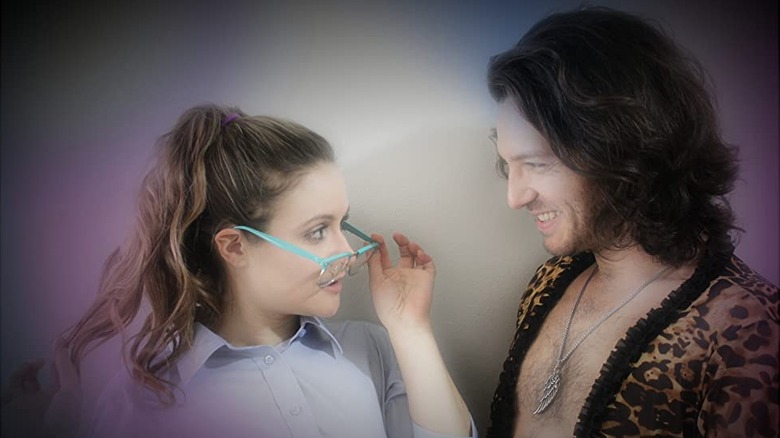 Secondageofaquarius
The highest-rated film on our list is "The Second Age of Aquarius", a sci-fi comedy by director Staci Layne Wilson.
This '60s-tinged indie feature follows Alberta Stevens (Christina Jacquelyn Calph), a programmer whose adoration for the late rock star Russell Aquarius (Michael Ursu) leads her to digitally recreate him. Her dreams become a reality when her program brings Aquarius back to life. He's convinced he's simply tripping and ready to rock again.
It's an adaptation of the short story "Fandom/Phantom", which was published in a short fiction anthology by the director and her co-writer, Darren Smith, back in 2015. While the pair may not have the budget or scope to turn their story into the next "Tommy," there's at least a sense of independent spirit and heart that plenty of films with 10 times the production value lack. 
Is it the best sci-fi movie of the year? Well, given that the 100 percent Tomatometer rating for "The Second Age of Aquarius" is based on just six favorable reviews, it's hard to compare it to some other selections on this list that pull their ratings from hundreds of critics. It's unlikely a wider audience would rate this film so highly, but it's worth checking a film out if it grabs your attention — no matter how big or small the project.
2. Beyond the Infinite Two Minutes
Biting at the heels of the top slot, the Japanese comedy sci-fi flick "Beyond the Infinite Two Minutes" comes in at number two on our list.
The brainchild of first-time director Junta Yamaguchi and screenwriter Makoto Ueda — who previously worked on quite a few animated features — this time-warping indie is a brilliant example of quality sci-fi done on a small budget. The film is led by a young musician (Kazunari Tosa) whose reality is turned upside down when he's contacted via a video call from himself. This other self is calling from the downstairs café, two minutes into the future. With the help of his friends, he begins to experiment with the time-space anomaly, leading to inevitable and hilariously fun repercussions. 
It's the kind of movie that undoubtedly takes meticulous planning and rehearsal, but Yamaguchi and his young cast throw so much excitement and chaos into the mix that you don't really need to think about it. Just enjoy the ride. It's no surprise that "Beyond the Infinite Two Minutes" is often compared to Shinichirou Ueda's indie zombie hit, "One Cut of the Dead," And if you ever get a call from your own number ... maybe just let it go to voicemail.
3. Everything Everywhere All at Once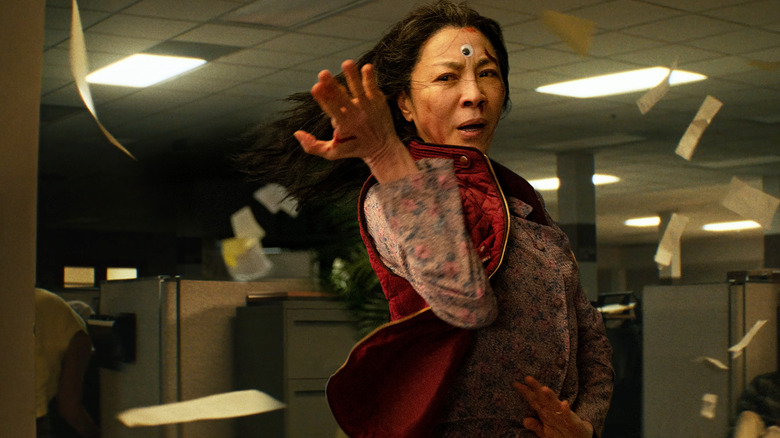 A24
It's no surprise to see such a high spot on the list go to "Everything Everywhere All at Once," the spectacular second feature film by the directing duo of Dan Kwan and Daniel Scheinert.
In 2016, Kwan and Scheinert made their debut with "Swiss Army Man," a bonkers black comedy in which a shipwrecked Paul Dano befriends a decaying corpse played by Daniel Radcliffe. Their sophomore effort, "Everything Everywhere All at Once," which has earned a 95 percent approval rating on Rotten Tomatoes, is further proof of the filmmakers' ambitious vision and energy.
Led by screen legend Michelle Yeoh, "Everything Everywhere All at Once" is the multiversal tale of a Chinese-American woman who must save reality by traveling through the countless universes parallel to our own and defeating an all-powerful entity. Blending sci-fi, comedy, drama, action, and just about every cinematic style you could ask for, it's the sleeper hit of the year with both critics and audiences alike.
It's refreshing to see a non-franchise, non-IP film receive such an overwhelmingly positive response while also succeeding at the box office. The fact that it's a sci-fi film is even better!
4. The Long Walk
True to its name, the fourth highest-rated film on this list had a long journey to a wide release in 2022. Although it was completed in 2019 and screened at festivals, including the 76th Venice International Film Festival and the 2019 Toronto International Film Festival, it's only recently become readily available to general audiences.
"The Long Walk" is the third collaboration between Laotian-American director Mattie Do and screenwriter Christopher Larsen, following 2013's "Chanthaly" and 2016's "Dearest Sister." In this remarkably thoughtful and haunting fusion of science fiction, horror, and drama, an old man (Yannawoutthi Chanthalungsy) living on the outskirts of near-future Vientiane is accompanied by the ghost of a young woman (Noutnapha Soydara) whose tragic death he witnessed as a child. Orphaned by the loss of his mother to cancer and the subsequent abandonment by his father, the man has spent a lifetime in near solitude with only the spirits of the terminally ill local women he has euthanized to keep him company. After the young woman's spirit shares her ability to travel back in time, he embarks on a dangerous journey to correct the tragic trajectory of his life.
It's clever, emotionally complex, and utilizes its various genre pinnings in subtle, compelling ways. "The Long Walk" may be too much of a slow burner for some audiences, but those looking for a rich, unique take on science fiction concepts would be wise not to overlook Do's latest.
5. After Yang
The fifth film on our list, "After Yang," was helmed by video essayist and filmmaker Kogonada, who also recently directed multiple episodes of the Apple TV+ series "Pachinko".
With an impressive cast that includes Colin Farrell, Jodie Turner-Smith, Justin H. Min, and Haley Lu Richardson, "After Yang" follows a family whose cyborg child, Yang (Min), has begun to break down. This crisis prompts the father (Farrell) to investigate whether Yang can be saved instead of replaced so as not to upset their adoptive daughter, who has become incredibly close with the cyborg. We'll let you find out where his investigation ultimately leads him, but the film uses its science fiction trappings to explore ideas of identity, belonging, and love to create a visually stunning package.
As shown by "Beyond the Infinite Two Minutes," it's true that you don't need a big budget, fancy special effects, or a star-studded cast to make an effective sci-fi film. Some of the most thought-provoking and creative sci-fi flicks are so good because they do a lot with a little. Having said that, having the means to bring a story to life in a way that makes the most of the medium of cinema is how we get beautiful experiences like "After Yang".
6. An Ideal Host
In sixth place is another indie film that might've passed under your radar: the Australian sci-fi horror comedy "An Ideal Host."
Nadia Collins stars as Liz, a well-adjusted young woman whose dinner party plans are thrown into turmoil when her alcoholic and socially destructive ex-friend, Daisy (Naomi Brockwell), decides to turn up unannounced. As the evening begins and drinks are poured, an inevitable clash of personalities and old grudges ensues, and Liz's dreams begin to crumble. When the film begins to introduce horror and sci-fi elements into the mix, the party descends into an entirely different kind of chaos, resulting in an unforgettable soiree for all involved.
Sure, "An Ideal Host" doesn't quite have the chops to go up against some of the more notable big-concept films on this list, but it's still full of fun group dynamics and some surprisingly gnarly special effects. For the sake of avoiding spoilers, we'll leave out the full details of that last part, but it's worth checking out if you're down for something from Down Under.
7. Cosmic Dawn
The second film from director Jefferson Moneo, "Cosmic Dawn," lands at number seven on our list.
Camille Rowe plays Aurora, a young woman whose childhood experience of witnessing a UFO abduction has forever marked her as an outsider. When she comes across a book written by the mysterious leader of a local UFO cult, Aurora joins the group, learning much about herself but little about their enigmatic leader, Elyse (Antonia Zegers). Her experiences lead her closer and closer to the truth of what happened in her past.
"Cosmic Dawn" is a deceptively low-budget affair with some truly gorgeous production design and cinematography in addition to strong performances. It's an entertaining, well-crafted throwback that would fit nicely into a triple feature with films such as "Beyond the Black Rainbow" and "Mandy." Cosmic Dawn leans hard into its vintage sci-fi aesthetics but feels modern in its approach to the genre.
8. Exposure 36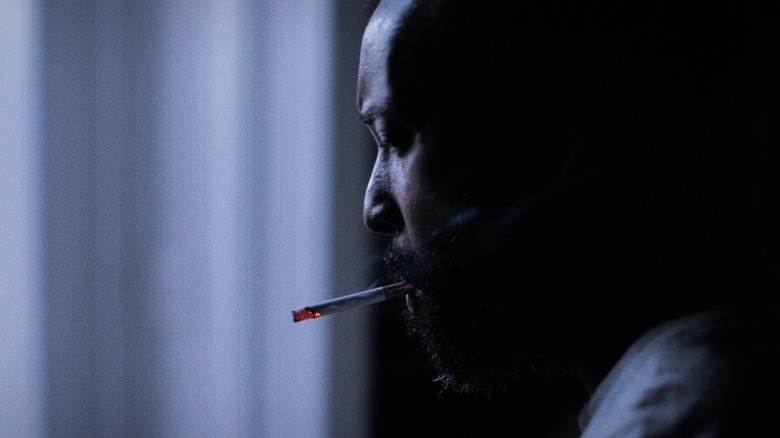 N2M Productions
Coming at No.8 is first-time director Mackenzie G. Mauro's apocalyptic tale of regret, "Exposure 36."
"Exposure 36" takes place in New York City during the final three days before a major weather event is set to wipe out humanity. Charles Ouda plays protagonist Cam, a photographer turned drug dealer whose business has boomed as his regular clients face the end of the world. Already traumatized by the loss of his ex-girlfriend, Cam doesn't seem too phased by the idea of everything coming to an end. He just wants to use up his final roll of film. When a friend of his goes missing circumstances, that friend's sister (Jennifer Leigh Whitehead) convinces Cam to unravel the mystery.
There are some interesting ideas floating around in "Exposure 36," especially Cam's snapshots of the people and places of a dying world. There are no guarantees he'll even live to see them developed, but seeing things through to the end drives him to keep taking snaps. Unfortunately, the sci-fi elements of "Exposure 36" and their resulting themes are so fringe that it mostly abandons them after the first act, and the film instead chooses to focus on a considerably less interesting kidnapping plot. There's the potential for a much more haunting and provocative story here. Unfortunately, Mauro doesn't manage to see it through. 
9. The Changed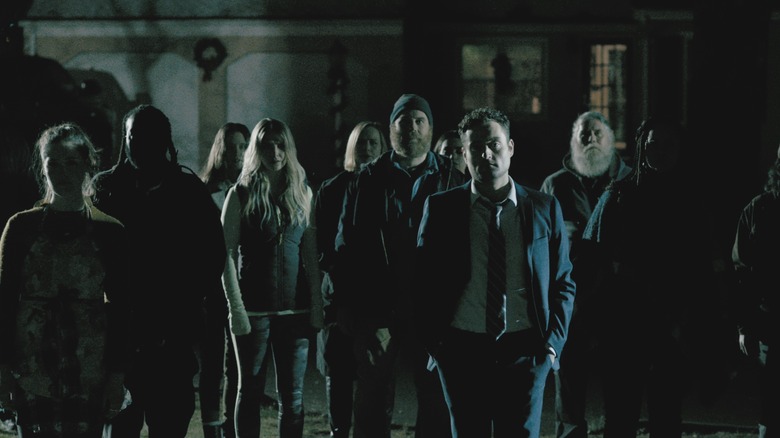 Quiver Distribution
Coming in at No. 9 with a Rotten Tomatoes score of 82 percent is sci-fi chiller "The Changed" from genre veteran Michael Mongillo.
Following up Mongillo's 2017's horror flick "Diane," "The Changed" still has one foot in the horror genre but gives it a science fiction spin. Starring horror legend Tony Todd ("Candyman," "Final Destination"), "The Changed" follows a group of friends (Clare Foley, Jason Alan Smith, Carlee Avers) who begin to believe that their neighbors and fellow townspeople are slowly being turned into ... something else.
It's a familiar premise in the vein of the several excellent (and not-so-excellent) adaptations of "Invasion of the Body Snatchers" over the decades, but Mongillo's screenplay attempts to inject some modern flair into the classic setup. It might not knock anybody's socks off, but there's a clear attempt to do something different with some pretty eerie imagery. Plus, you can't go wrong with an appearance by Tony Todd.
10. Ultrasound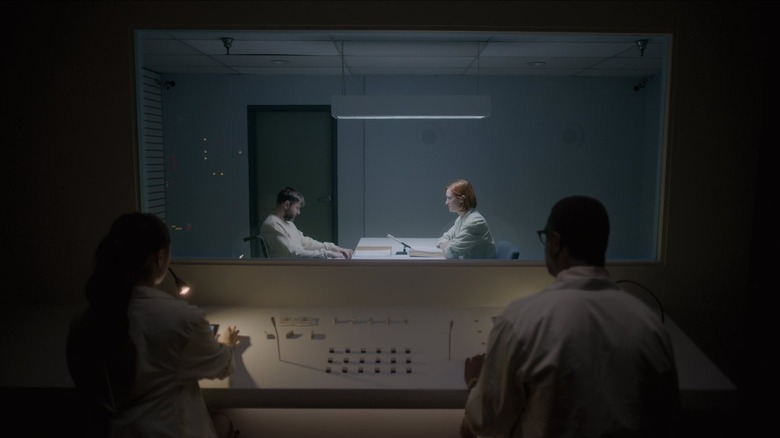 Magnet Releasing
"Ultrasound," the directorial debut of Rob Schroeder, is a complex and intriguing sci-fi thriller with an excellent cast.
Conor Stechschulte's screenplay adapts his graphic novel, "Generous Bosom," which caught the attention of Schroeder and began its transformation into a feature film. Three major plots weave and intersect within "Ultrasound": Glen (Vincent Kartheiser) meets a strange couple after his car breaks down outside their home on a stormy night; Katie (Rainey Qualley) struggles with a pregnancy resulting from an illicit affair with an up-and-coming politician; Scientist Shannon (Breeda Wool) begins to question the true nature of her top-secret project. It might not seem like it, but these plot threads are deeply related. Although the film struggles to pack it all into a runtime under two hours, there are some very clever twists and turns.
Breeda Wool, who also stars in recent films like "Mass" and the Stephen King TV series "Mr. Mercedes," is especially compelling in her role as Shannon, a morally conflicted professional who may be the key to everything happening — whether she likes it or not.
11. King Car
At No. 11 is "King Car," the latest feature from Brazilian director Renata Pinheiro.
While last year brought us Julia Ducournau's body horror masterpiece, "Titane," Pinheiro's vision of human-to-car communication is a rather different (and far less traumatizing) one. Luciano Pedro Jr. stars as Uno, a young man whose father operates a taxi company. When a new law is passed that outlaws the operation of older vehicles, the family business is at risk. Thankfully, Uno can speak to cars. The titular "King Car" shares a telepathic bond with the young man, and they band together to save the day. 
However, the film doesn't stop there. Spiraling off into an even more interesting web of interpersonal relationships and conflicts, "King Car" becomes a deeply interesting and bitingly funny satire beyond its talking car conceit. It would be an awful shame for "King Car" to be overlooked for its surface similarity to "Titane," as there's an equally unique voice and some great production value to back it up. "King Car" is certainly worth a look if you're interested in something screaming from out of left-field.
12. Men
Coming in at the surprisingly low position of No. 12 is "Men," the latest film from writer-director Alex Garland.
Garland is a name familiar to many genre cinema fans, having penned the screenplays for films like "28 Days Later," "Sunshine," "Dredd," "Ex Machina," "Annihilation," and the Hulu television series "Devs," which he also directed. While Garland spent much of his early career as Danny Boyle's screenwriter, he has stepped behind the camera for quite a few of his recent projects.
The plot of "Men" was been kept mostly unclear prior to its release, but in broad strokes, it is as follows: Harper (Jessie Buckley) is a young woman on holiday by herself in rural England after the death of her husband. Harper's idyllic getaway becomes increasingly more bizarre and frightening as the local men (all played by Rory Kinnear) begin to target her.
Gendered violence is an understandably touchy topic, and that seems to (understandably) be a primary focal point of discourse around Garland's film. Whether you ultimately enjoy it or not, it's certainly worth checking out what all the buzz is about in this surreal nightmare of a flick.
13. Dual
At unlucky No. 13 is Riley Stearns' black comedy "Dual," starring Karen Gillan and Aaron Paul.
"Dual" isn't Stearns' first black comedy. Deadpan, morbid satire has become somewhat of a signature style for the writer-director. However, "Dual" is his first step into the realms of sci-fi, and the result is a wickedly funny and oddball tale of clones and fights to the death.
Karen Gillan stars as Sarah, a young woman who learns she is terminally ill. Thanks to the marvels of modern medicine, she's able to have an identical body produced, which will learn all there is to know about her life and continue in her stead as if nothing ever happened. But when Sarah is inexplicably given a clean bill of health, she's faced with a life-or-death dilemma: Who gets to continue to live as Sarah? Unfortunately for her, clones also have the right to life in this near-future world, and the law dictates that the two must fight in a duel to the death to determine who will remain Sarah.
It's a genuinely interesting moral dilemma, and Stearns doesn't stray too far into the script's comedic side to ruin its sci-fi and moral intrigue. Scenes in which Sarah and her clone interact are both technically well-done and entertaining, and Karen Gillan is (as always) an excellent choice for these kinds of roles.
14. The Adam Project
Coming in dead last is "The Adam Project," another team-up between Ryan Reynolds and director Shawn Levy.
Reynolds stars as the eponymous Adam, a pilot from the dystopian future who accidentally travels back in time to meet his twelve-year-old self. Once there, Adam must try to reverse the chaotic future-to-be. It might sound a little bit like "The Long Walk," but stylistically, this film couldn't be more different. "The Adam Project" is an SFX-heavy action adventure with a loaded cast of A-listers that includes Mark Ruffalo, Jennifer Garner, Catherine Keener, and Zoe Saldaña. 
Fans of more cerebral sci-fi tales (and older viewers) might find this one more appropriate for younger audiences. It's certainly more akin to J.J. Abrams' "Star Trek" than it is "The Next Generation." Having said that, it's a perfectly competent popcorn flick — the exact kind of movie that Ryan Reynolds is perfect for.