Joyland Review: A Longing Examination Of Gender And Sexuality [Cannes]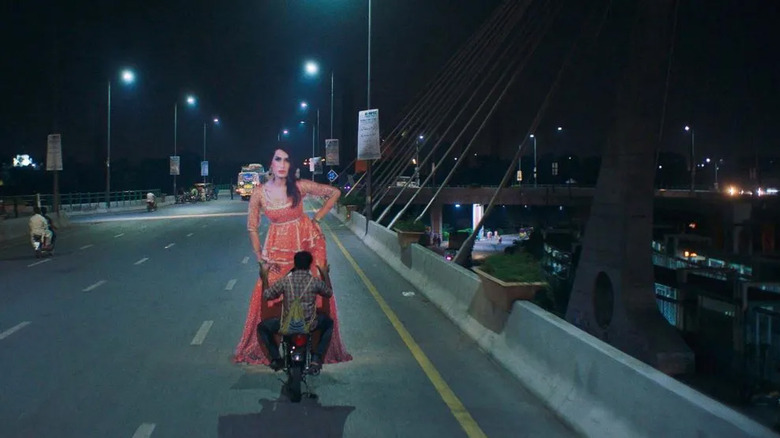 Film Constellation
It's no exaggeration to say that "Joyland" is ground-breaking. Saim Sadiq's directorial debut is Pakistan's first entry into the Cannes Film Festival, but it's also a much-needed examination of love, gender, and sexuality in a culture that's tentatively moving forward. "Joyland" tells the story of the Rana family — a clan steeped in tradition. And where the film begins with a birth, it's not an entirely joyous occasion.
A girl is born, but the family is in desperate need of a boy. Haider (Ali Junejo) rushes to his sister-in-law's aid ... but quickly proves just how inept he is at just about everything. Although essentially a family drama, "Joyland" begins deep in comedy territory as the youngest son flaps about, unable to step up and be a man — in the traditional sense. It's initially played for laughs as Haider gets things wrong while his father (Salmaan Peerzada) rolls his eyes and relents having such a useless son. He's a sensitive soul, and when his father (Salmaan Peerzada) asks him to slaughter the family goat, he just can't bring himself to do it.
It's his wife Mumtaz (Rasti Farooq) who ends up doing the bloody deed. But as "Joyland" takes quiet steps into drama, you realize just how toxic this attitude really is. Haider isn't just comically inept — he's sidelined because of his lack of traditional masculinity. His wife works as a make-up artist while he's a stay-at-home husband, taking care of the family's children.
His family looks down upon him. And it only gets worse when he meets an erotic dancer.
A sexual awakening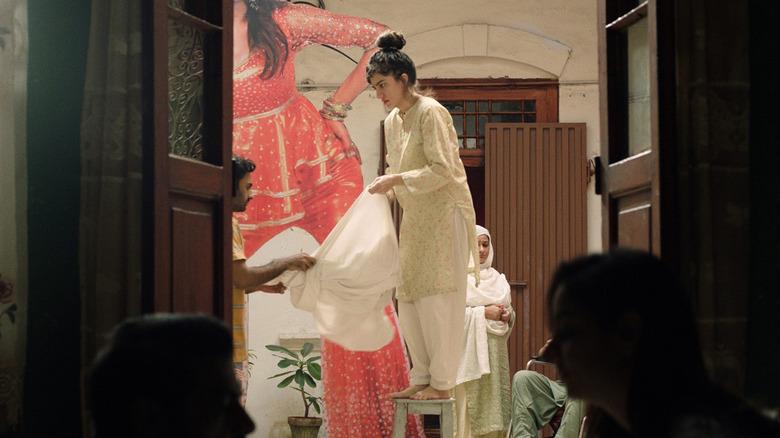 Film Constellation
Everything changes when Haider lands a new job. He's been a failure in his father's eyes for a long time, in a culture where the man of the house is expected to step up and take care of his family. But now it's his time to shine, even if he is forced to be coy with the details. Hilariously, the perpetually repressed Haider has a job as a background dancer at an erotic theatre, working with the glamorous trans dancer, Biba (Alina Khan).
There's no messing about — Biba is a strong-willed, furiously independent woman. There's only one problem: Haider can't dance. It's a beautiful setup that brings Haider and Biba naturally closer as they work on Biba's dance routines, and as the pair get ever closer, you're kept wondering just how far their relationship will go. After all, Haider is a married man. The pair's budding relationship is as funny as it is tender. Junejo portrays Haider's lack of self-awareness perfectly, often coming across like a deer caught in the headlights. He wears Haider's quiet repression on his face throughout, with a subtlety that makes him as much of a tragic figure as a comic one.
Equally, Alina Khan is wondrous as the trans starlet, Biba. She's feisty, fierce, and outspoken — everything that Haider isn't. It's easy to see why he might fall for her. But the real star is Rasti Farooq who takes charge as the beleaguered Mumtaz — a smart, independent woman who finds herself forced into subjugation. She's dominant, headstrong, and wants to live her own life, but is forced to live up to the expectations of the family. Farooq's weary performance is just sublime.
The comedy slowly turns to tragedy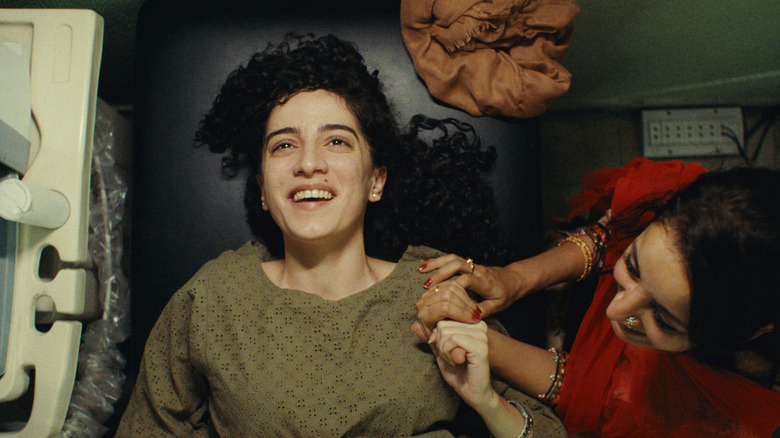 Film Constellation
At first glance, it's easy to think of "Joyland" as an amusing yet poignant statement. A loud, brash oversimplification of an issue with far more nuance than it gets here. However, you'd be entirely wrong. "Joyland" uses the comedy of Haider's situation to punctuate an ultimately tragic story. Haider is trapped in his own life, as are several of the characters around him, and it's unclear whether any of that can ever really change. The patriarchal culture which dominates Pakistan is skewered by the film's increasingly poignant drama, with Haider struggling to work out what he really wants, or who he really is.
The bright lights and pop music beats of the erotic theatre are a purposeful distraction. Director Saim Saddiq uses these over-the-top surroundings to hide a deep, sensitive story that tackles ideas about gender, sexuality, and love in a culture that's trying to get with the times. The questions "Joyland" poses aren't just interesting, they're necessary.
And the way Saddiq approaches the subject is more subtle than it might seem at first. "Joyland" is a wonderful film about longing and desire with a melancholy undertone that you just don't expect. Shifting gear in the film's final act, the secrets and lies collapse, laying bare a family in turmoil. Here lies the real story as the layers of melodrama peel away. Unexpectedly, "Joyland" is a profoundly moving film that might just make a difference.
/Film Rating: 7 out of 10
"Joyland" premiered as part of the Cannes Film Festival 2022.