Disney's Pinocchio Teaser Trailer: Star Light, Star Bright...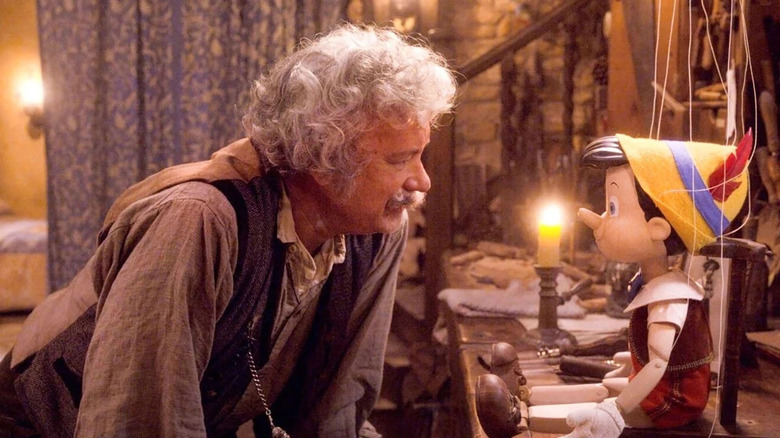 Disney+
When you wish upon a star, it seems, you get a new "Pinocchio" film, even if you didn't ask for one. Disney is rebooting the beloved 1940 animated film of the same name as a live-action movie — and after several years of development, the first trailer has arrived.
However, let's not confuse this movie with the other anticipated "Pinocchio" movie coming up. Guillermo Del Toro is helming a stop-motion animation version of the legendary folklore story which is slated for release in December 2022. The voice cast for Del Toro's film features the likes of Ewan McGregor, Cate Blanchett, Finn Wolfhard, Ron Pearlman, Christoph Waltz, and Tilda Swinton. Despite its release already set for the winter, there hasn't been too much promotional material released for this movie — which will be distributed by Netflix — save for a sneak peek in January 2022.
As for Disney's revamped version of their golden-age classic, this film is helmed by director Robert Zemeckis, who wrote the script alongside Chris Weitz. Zemeckis is perhaps best known for his work on the "Back to the Future" series and "Who Framed Roger Rabbit." The Disney+ film will be released in September 2022, and features a strong and intriguing cast.
Pinocchio teaser trailer
Tom Hanks dons a white curly wig and an interesting accent as Geppetto, the woodcarver who raises Pinocchio as his real son, while "The Haunting of Bly Manor" star Benjamin Evan Ainsworth will voice the titular character. Joseph Gordon-Levitt voices Pinocchio's friend Jiminy Cricket, a literal cricket who voices the boy's conscience, and Broadway veteran Cynthia Erivo will also star as The Blue Fairy. Keegan Michael Key as the menacing fox "Honest" John, Luke Evans as the Coachman, and "Goodfellas" star Lorraine Bracco as Sofia the Seagull round out the cast.
Read the synopsis for "Pinocchio" below.
Academy Award® winner Robert Zemeckis directs this live action retelling of the beloved tale of a wooden puppet who embarks on a thrilling adventure to become a real boy. Tom Hanks stars as Geppetto, the wood carver who builds and treats Pinocchio (Benjamin Evan Ainsworth) as if he were his own son. Joseph Gordon-Levitt is Jiminy Cricket, who serves as Pinocchio's guide as well as his "conscience"; Academy Award® nominee Cynthia Erivo is the Blue Fairy; Keegan-Michael Key is "Honest" John; Academy Award® nominee Lorraine Bracco is Sofia the Seagull, a new character, and Luke Evans is The Coachman. Also in the cast are Kyanne Lamaya as Fabiana (and her marionette Sabina), Giuseppe Battiston as Señor Stromboli and Lewin Lloyd as Lampwick.
"Pinocchio" will debut exclusively on Disney+ on September 8, 2022.