Hayden Christensen And Ewan McGregor's Brotherly Bond Came From Star Wars Lightsaber Training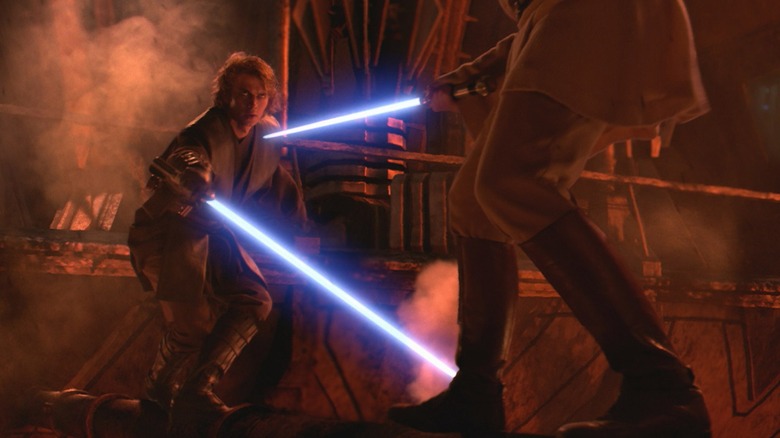 Lucasfilm
As "Star Wars" Celebration continues, Ewan McGregor and Hayden Christensen are reflecting on "Star Wars: Attack of the Clones" as the film marks its 20th anniversary this month. The pair spoke about the origins of their "brotherly bond" at the event today, and /Film was there to capture it.
McGregor and Christensen credit what the latter calls "Jedi training camp," an extensive pre-production training in Australia, for kick-starting the pair's friendship. "For me, that was always the most fun," Christensen says, describing an on-location boot camp that involved practice fighting and choreography beginning about two months before filming started. After praising stunt coordinator Nick Gillard's choreography, which the Anakin Skywalker actor says is "like elaborate dances," Christensen explained that the boot camp gave him a chance to bond with McGregor. "That was sort of where Ewan and I got to spend a lot of time together and sort of form our brotherly bond," he said to enormous applause.
Building trust by bending props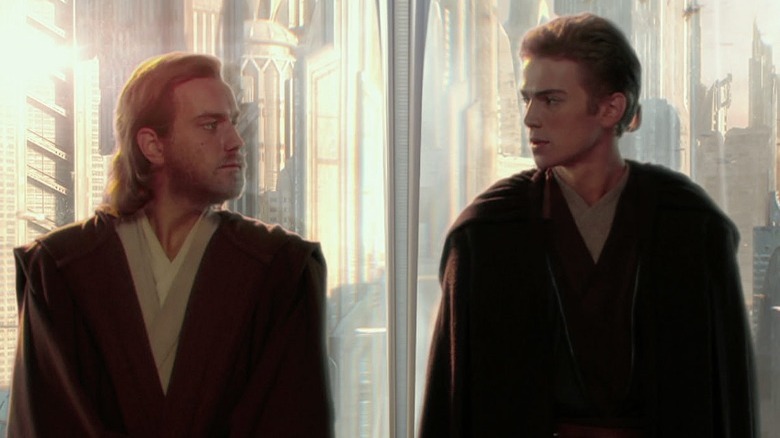 Lucasfilm
Christensen went on to explain that the pair's master-apprentice relationship "came very naturally" for him, because, as he puts it:
"I really looked up to Ewan. That I think lent itself to the work and Ewan was so gracious with me and kind of took me under his wing and that was just kind of how our relationship started. And then, of course, the friendship sort of evolved and that also came very naturally."
McGregor agrees that the pair "got on straight away," and says that part of their bond came from the level of trust such rigorous training required. He explained that lightsaber training at that time involved a sort of metal saber, and after days of full-contact training, the props would end up bent from the force of the faux-battle. "To fight with each other, you have to really trust each other," he added. "You can't get it wrong. You have to trust each other enough to make the wrong move because you can hurt each other, you know."
The pair apparently grew to trust one another quickly, as McGregor says they also spent lots of time together off-set while in Australia. As potentially painful as that training sounds, it clearly paid off, as the pair have some of the best chemistry of any "Star Wars" duo to date. Both actors are reprising their roles for the new Disney+ series "Obi-Wan Kenobi," although it sounds like the prop lightsabers might be softer (or just fully CGI) this time around.
"Obi-Wan Kenobi" airs Fridays on Disney+.