Guardians Of The Galaxy: Cosmic Rewind Review: An Adrenaline-Amping Mix Of Marvel, Music, And Imagineering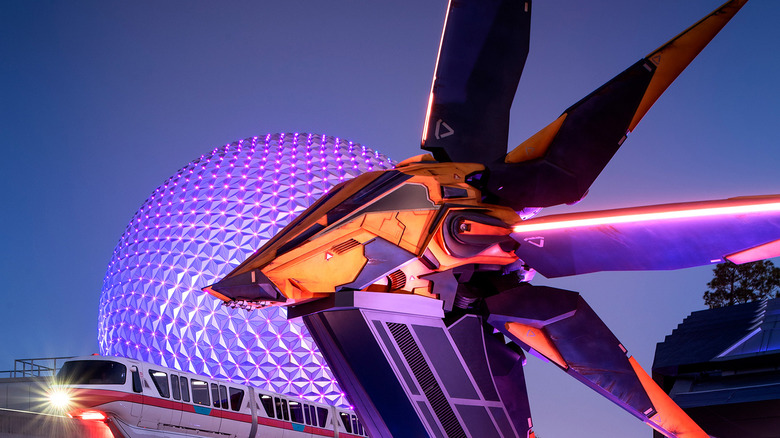 Disney
Before shuttering its doors in Epcot's Future World in the summer of 2017, the long-running Universe of Energy attraction featured a number of audio-animatronic dinosaurs, including an Allosaurus and Stegosaurus that looked as though they were going to tear into each other. The attraction's replacement — the just-opened Guardians of the Galaxy: Cosmic Rewind — doesn't include battling Jurassic beasts, but it does its predecessor one better with the inclusion of a Celestial, a towering Marvel menace that makes those dinos look like playful puppies.
Of course, this upgrade might not impress longtime Epcot faithfuls still pining for the days when the park's biggest draws weren't based on popular IPs. For Marvel fans and coaster enthusiasts, however, this new indoor thrill ride will easily rank right up there with Walt Disney World's best reasons to get up early and snag a spot in the virtual queue.
The former camp will immediately be struck by the Nova Corps Starblaster prominently displayed outside the new Wonders of Xandar pavilion. More than just a nice bit of fan-service, the full-size replica speaks to the scale, scope, and budget of the attraction awaiting inside. Unlike California Adventure's Guardians of the Galaxy: Mission BREAKOUT!, Cosmic Rewind isn't an old ride with a pretty new Marvel paint job, but a from-the-ground-up project leveraging Disney Imagineering's latest tech.
The result is the company's largest indoor roller coaster, and its first to include a reverse launch. Toss in its Omnicoaster ride system — which allows its vehicles to rotate 360 degrees — and Cosmic Rewind is essentially Space Mountain on steroids. While I'd heard plenty about the various systems, mechanics, and pixie dust powering the ride though, most of the jargon was lost on me ... until I boarded it for the first time.
Before saving the galaxy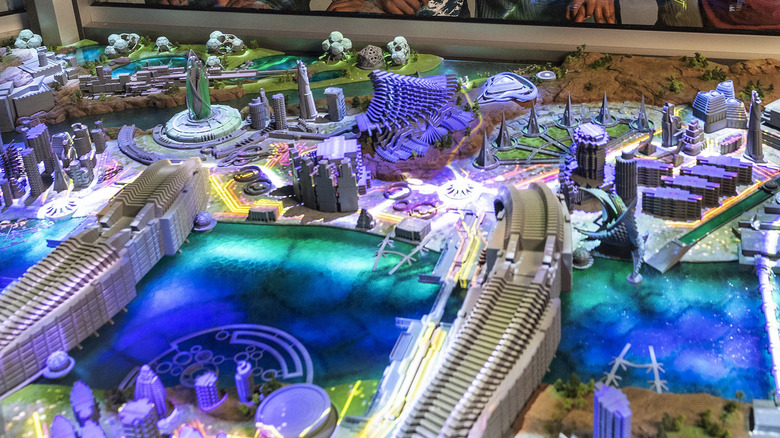 Disney
But I'm getting ahead of myself. You can't strap into any Disney attraction without having a story-driven justification for doing so. Between that Starblaster you'll snap selfies with outside and the backward launch just begging to lift your butt off the seat inside, there's a good deal of set-up and pre-show exposition to consume.
As the story goes, you're visiting the Wonders of Xandar Pavilion, Epcot's first "Other-World Showcase" pavilion. Inside you'll learn about the Xandarians through a variety of exhibits, including a city-planning model not unlike the one Walt Disney himself used when concepting his original ideas for Epcot. There's also a Galaxarium, an impressive, projected planetarium-like display, as well as some ship replicas and Nova Corps uniforms to ogle. It's all fictional, of course, but nicely pulls off the "edutainment" aesthetic of an actual World Showcase pavilion seen elsewhere in the park.
By the time you arrive at the various video screens playing looped interviews with the Guardians on "Good Morning Xandar," the attraction starts to shed its pseudo-serious side in favor of showcasing the shenanigans Star-Lord, Gamora, Drax, Rocket, and Groot are known for. There's bickering, bantering, and even some enthusiastic call-outs to the Epcot of old, as Peter Quill apparently visited the park as a kid. The queue is entertaining enough to pass the time while waiting, and the faux World Showcase Pavilion is a clever touch, but there's nothing quite on the eye-catching level of Avatar: Flight of Passage's floating-tank Na'vi or Rise of the Resistance's holographic Rey.
On Glenn Close's orders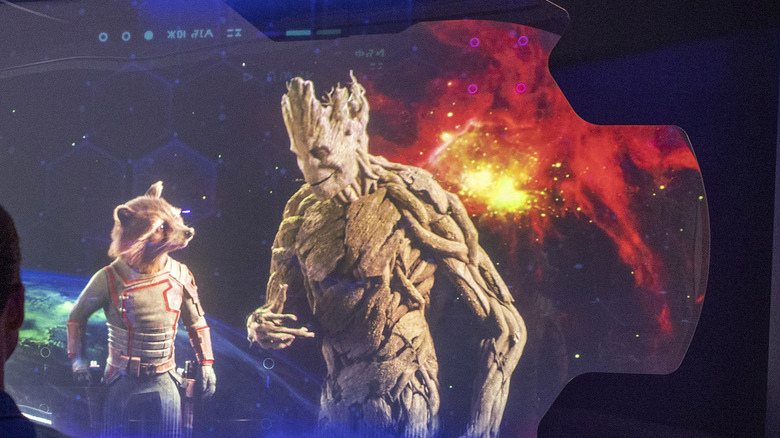 Disney
The pre-show antics gain some considerable pep once Glenn Close — reprising her Nova Prime role from the first "Guardians"' film — shows up with some shiny Xandarian tech. Via video, she introduces the Cosmic Generator, a portal-jumping device that makes lightspeed look about as technologically advanced as a toaster oven. Better yet, she wants to beam us up to her ship and demonstrate the gadget's power in person. This leads to one of the attraction's cooler, non-coaster tricks. I won't spoil it for you here, but it just might have you scooping your jaw from the floor much in the way you did the first time Rise of the Resistance sprung that hangar-bay full of Stormtroopers on you.
Once on the ship, things go south in the way they always do on theme park attractions, and guests quickly go from clueless tourists to fresh Guardian recruits tasked with saving the galaxy. Again, no major spoilers, but I'll say that aforementioned Celestial shows up and, well, he's not a big fan of the human race. Beginning with that exhilarating reverse launch — the attraction's most intense moment — a high-speed chase through the stars ensues, and all that Imagineering trickery starts to kick in.
Much like Space Mountain, Cosmic Rewind has you feeling like you're hurtling through a starscape at top speed. But it's also a "story-coaster," so you're not just sightseeing through the cosmos. Multiple, massive screens project plenty of cinematic action starring the Guardians and the big bad, believably selling the idea we're right along with them for this seat-of-the-pants adventure.
Smooth ride, sweet tunes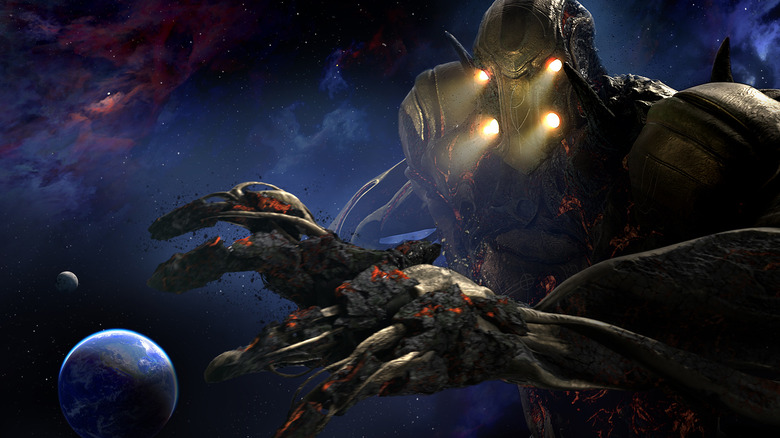 Disney
The Omnicoaster cars further cement this sensation, as they don't wildly, randomly spin, but are rather directed and controlled to ensure you're always facing the action. In addition to immersing you in the story, this technology also does its part to save your back and stomach. Its fast, thrilling, and packed with twists, turns, and other track-led surprises — though no inversions — but it never feels erratic or jerky. As someone who's had his spine rattled on many a roller coaster, I can't stress enough just how incredibly smooth Cosmic Rewind feels when leaning into its curves.
Of course, the satisfying motion also complements the attraction's prominent use of music. Tapping into the popularity of Peter Quill's affection for mix tapes, Cosmic Rewind randomly plays one of six tunes — September (Earth, Wind, & Fire,) Disco Inferno (The Trammps,) Conga (Miami Sound Machine,) Everybody Wants to Rule the World (Tears for Fears,) I Ran (Flock of Seagulls,) and One Way or Another (Blondie.) Your mileage will vary depending on your tastes — I rode five times and sadly never heard any of my '80s faves — but there's no denying that the combination of music and a vehicle that essentially feels like it's dancing to it is incredibly infectious. Layer in some piped-in banter between the Guardians, and riding Cosmic Rewind feels a bit like you've been invited to briefly star in one of the films' pulse-pounding set pieces.
Epcot gets its E-Ticket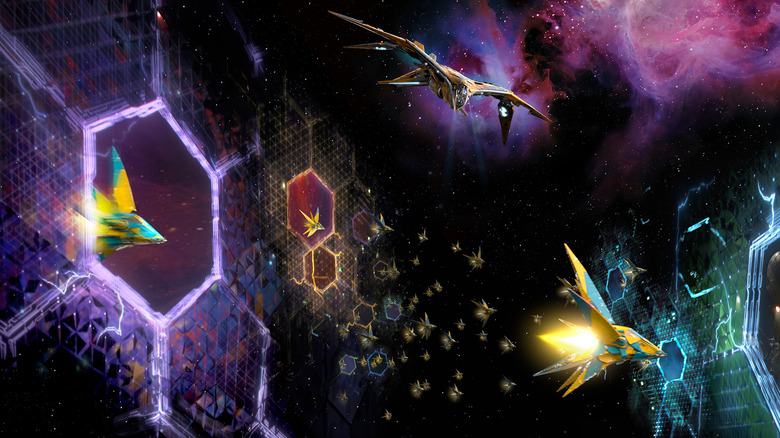 Disney
If I had to gripe about Epcot's latest thrill ride, I'd say it's a little light on practical effects and models. At a couple of points during the three-minute-ish ride, you spiral around large models of planets and moons, and it feels like old-school Disney magic in the best possible way. The wall-swallowing screens are impressive in their own right, sure, but I wouldn't have said no to, say, an audio-animatronic Celestial limb taking a final grasp at me before the attraction's day-saving conclusion.
Nostalgia-fueled nitpicks aside, Cosmic Rewind is a triumph, a fantastic mix of Marvel fan-service, Imagineering innovation, and head-bobbing music (even if, like me, you got Gloria Estefan on two of your five rides) that easily ranks among Walt Disney World's top attractions.